Back in September last year OnePlus confirmed that the company is working on its first Smart TV with a premium design.  Today it has revealed the name and logo of the company's first smart display/TV device. "The 'OnePlus TV' is representative of the company's values, vision and proud focus on delivering user-centric breakthrough innovation," said the company.
OnePlus said that the TV will feature smart capabilities coupled with the company's 'burden-less' design philosophy to offer users a smooth and connected experience.
OnePlus said that it is committed to the vision of a connected home environment. The company will continue to evolve the OnePlus TV, as well as the brand's other mobile devices, to develop innovations that make sense for its users to always create the best experience possible.
The company did not reveal the launch date of the TV, but a recent certification revealed that it is working on 43-inch, 55-inch, 65-inch, and 75-inch 4K LED TV models, so we can expect it soon.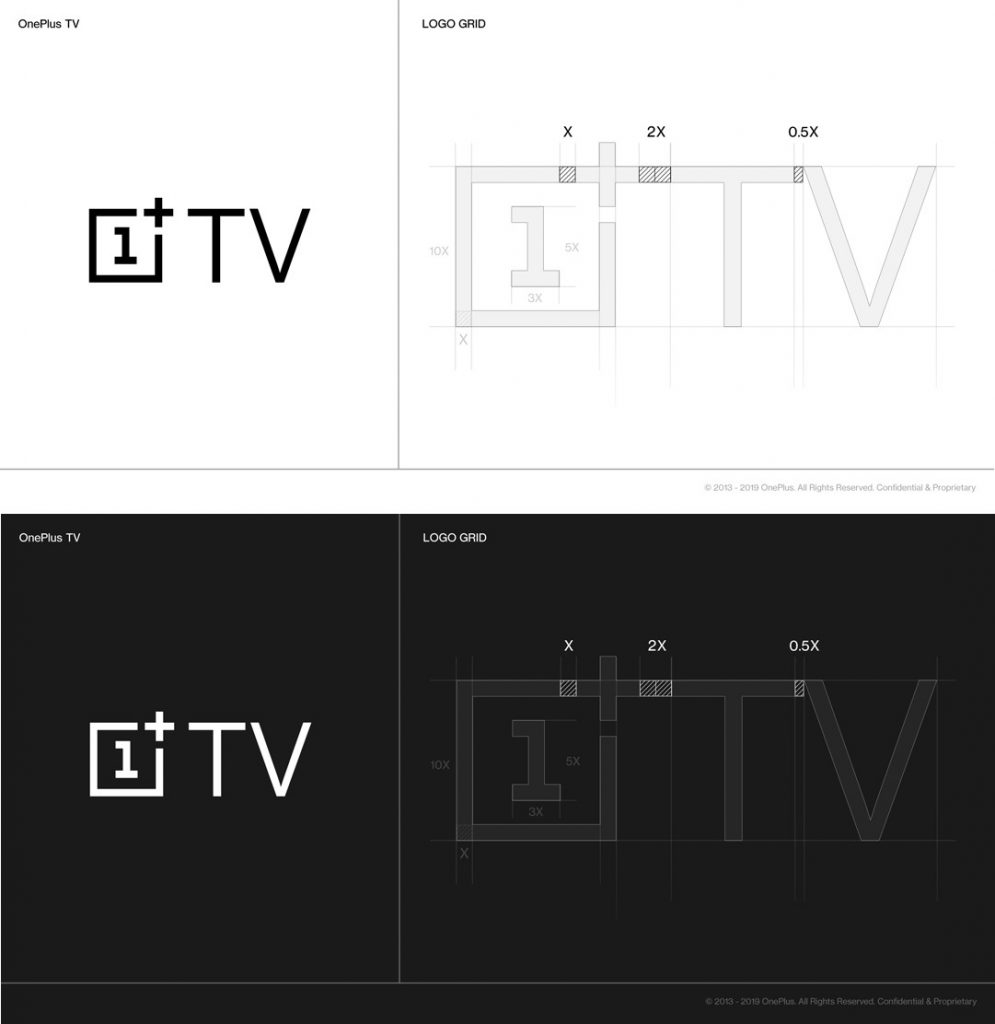 Regarding the logo, OnePlus said:
With the logo design, we've followed the similar concept – as you can tell from the poster below to help us illustrate how we created it. The gap between the "+" and the logo edge is twice as the one between the "+" and the letter "T", which is also twice as the one between "T" and "V".

We were inspired by classic geometric progression, which can be seen from so many classic art forms, such the ancient Hindu symbol, the mandala, and the famous ancient Greek temple, Heraion of Argos. And looking closer, you can tell that we've used the same thickness for both logo and the letters to ensure an aesthetics of "symmetry" and "unity".

We've seen a couple of options in the industry when it comes to logo design for a new product – either using the same logo as the brand logo or designing a brand-new one. We simply added a "TV" behind our brand logo; however, there's some thought behind it: We've explained the meaning behind "OnePlus" – "One" represents "at the moment" and "Plus" means endless possibilities for the future, and we sort of made a tribute to this concept when we designed this logo – this is our OnePlus way to show the world that it is our first step to explore the endless possibilities in a broader spectrum.