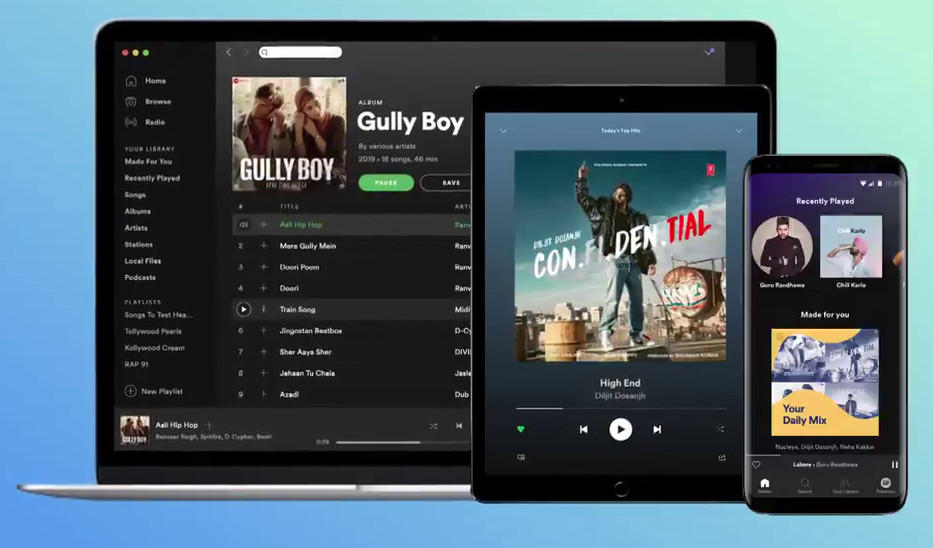 Spotify has finally launched in India, making it the 79th country in the world to get the music streaming service. It offers premium subscription as well as free shuffle play that lets you play any artist, album, or playlist in shuffle mode.
For Indian users, it offers Multi-language music recommendations in Hindi, Punjabi, Tamil, and Telugu with tailored Daily Mix, Home, Radio, and Search results and recommendations as well as Starring playlists from the most popular Bollywood, Tollywood, Kollywood, and Punjabi actors and City playlists that tracks what's trending in Mumbai, Delhi, Bangaluru, and Chennai.
It offers 30-day free trial for premium subscribers, Student plans with 50% discount and prepaid plan with 20% discount on yearly plan, check out the list of plans below.
Premium subscription Plans
Monthly subscription – Rs. 119/month after 30-day free trial
Prepaid plans – Rs. 13 for a day, Rs.39 for a week, Rs. 129 for a month, Rs. 389 for 3 months, Rs. 719 for 6 months (13% off), Rs. 1189 for 1 year (20% off)
Student plans at 50% off – Rs. 59.00/month subscription, Rs. 66 for 30 days for pre-paid
For pre-paid subscription it accepts even Paytm or UPI, in addition to Debit or Credit Cards. You can download Spotify from here. The company has not launched Premium for family in India yet. This lets you get six separate Premium accounts (you plus up to 5 family members) with one discounted monthly subscription. Spotify said that it has more than 200 million users, including more than 87 million subscribers worldwide.