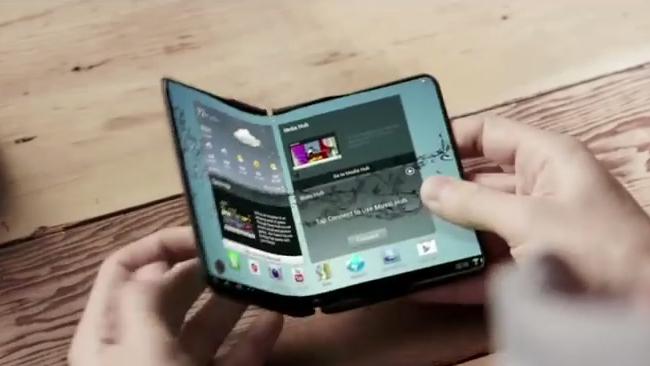 In an unreleased Android Pie firmware that is meant for the Galaxy S9, present are the references of upcoming Qualcomm Snapdragon 8150 chipset as well as Samsung's first foldable smartphone that is code-named "Winner." Samsung's foldable smartphone doesn't come as a surprise since the rumors about the phone are in the news for a while now. 
Samsung has already confirmed that Foldable phone, but the launch date still remains as a confusion. We know that it will come with triple rear cameras, OLED display. Samsung said to have showcased an in-folding prototype of the foldable smartphone to the industry partners at a secret meeting during the CES 2018 earlier this year.
The prototype said to pack three OLED panels of 3.5 inches each, two of them when combined creates a 7-inches screen when the smartphone is unfolded, while the third panel was placed on the outside of the in-folding prototype as an information ticker. When unfolded, the phone is said to follow the footprints of the Galaxy Note 8. According to rumors, the device was initially expected to launch early next year as the mass production is said to begin early November. But contradicting reports suggest that there are chances of Samsung introducing it later this year.
We've learned that the device could cost around $2,000 at launch. While we can't confirm any specifications for the device, we have spotted the device is the latest leaked Android Pie build for the Galaxy S9. We can also see four Samsung Galaxy S10 models in the same location where "Winner" now appears.
Since the filename has "winnerlte," this tells us that this particular model has an Exynos chipset since a Qualcomm Snapdragon variant would most likely be named "winnerqlte." It might be powered by the Exynos 9810 or Exynos 9820, which was rumored to launch with the Samsung Galaxy S10.
Moving along, in the same framework files, there are references to a policy file for an unreleased Qualcomm Snapdragon 8150 chipset. While this may not be the first time we are hearing about Snapdragon 8150, it does corroborate with earlier reports. The Snapdragon 8150 is marketing name for SNapdragon 845 successor which is expected to be named as the Qualcomm Snapdragon 855.
The Snapdragon 8150 is rumored to be the first Qualcomm chipset with a dedicated NPU that allows the chipset to crunch large amounts of data for faster machine learning applications. It is possible that the Snapdragon 8150 is most likely present for the Samsung Galaxy S10 series and not the foldable smartphone. It is likely that Samsung S10 series will be including the Qualcomm Snapdragon 8150 with the Qualcomm Snapdragon X50 modem.