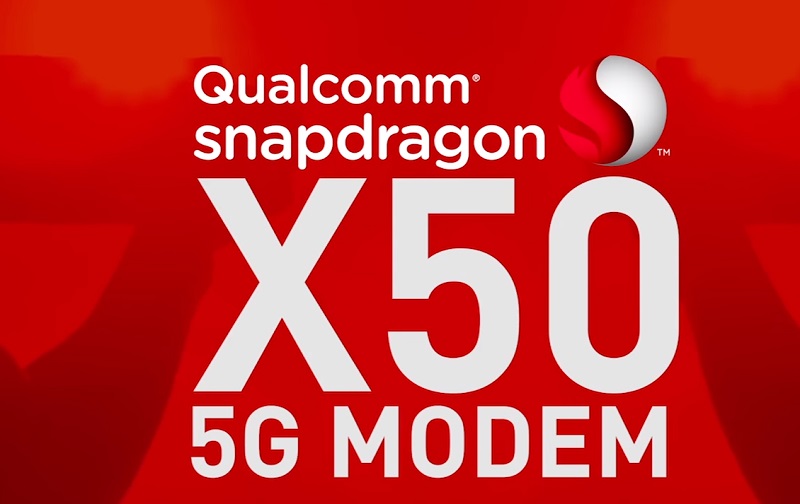 Qualcomm unveiled X50 5G modem at 2016 4G/5G Summit in Hong Kong. The X50 5G modem supports download speeds of up to 5Gbps which is 5x faster than the fastest 4G modem. It uilizes wide bandwidths available in the 28 GHz millimeter wave (mmWave) band combined with advanced signal processing technologies.
The X50 5G modem can be paired with a Qualcomm Snapdragon processor which has an integrated Gigabit LTE modem and can work together with it via dual connectivity. In addition to supporting 4G LTE and mmWave 5G, the complete 4G/5G multi-mode platform is designed to help provide dual-connectivity to both (so a mobile device can connect simultaneously over both generations of technology) to achieve seamless mobility between the two.
The X50 5G can connect using up to 800 MHz of bandwidth via 8×100 MHz carrier aggregation. Using advanced multiple input, multiple output (MIMO) techniques such as adaptive beamforming and beam tracking, the Snapdragon X50 5G modem can extend the range of mmWave transmissions to non-line-of-sight scenarios, and support mobility.
Cristiano Amon, executive vice president, Qualcomm Technologies, Inc., and president, QCT said,
The Snapdragon X50 5G modem heralds the arrival of 5G as operators and OEMs reach the cellular network and device testing phase. Utilizing our long history of LTE and Wi-Fi leadership, we are thrilled to deliver a product that will help play a critical role in bringing 5G devices and networks to reality.  This shows that we're not just talking about 5G, we're truly committed to it.
The Snapdragon X50 5G modem is expected to begin sampling in the second half of 2017, and the first products integrating it are expected to surface throughout 2018.
httpv://www.youtube.com/watch?v=OqSGyhFxQJs