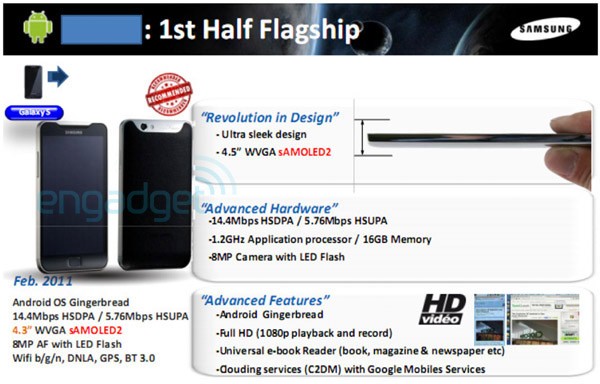 You may have seen the first shot of the Google Nexus S, which is rumored to be the first device to run Android 2.3 a.k.a Gingerbread, it's manufactured by Samsung and Engadget posted the shots, and now Engadget is back again with some new screenshots, but this time it's not the Nexus S. Most probably, this is Samsung's second Gingerbread device, but this one is not related to "Nexus" series, this leaked phone could be the Samsung Galaxy S2. Have a look on the specs:
4.3 or 4.5-inch Super-AMOLED (described as Super-AMOLED 2)
8 MP with Auto-focus and LED flash
1.2 GHz processor
Android 2.3 (Gingerbread)
1080p video capture and playback
Described as a 'universal e-book reader'
14.4Mbps HSDPA / 5.76Mbps HSUPA
As you can see the image, the smartphone comes with a very sleek design, which is quite awesome, and as we can see, Samsung will unveil this handset officially in Feb. 2011, it means that Samsung is going to unveil this phone during the MWC 2011 in Barcelona. There is an image after the break, in which you will see that the phone is running Android OS with Samsung TouchWIZ UI. I think Samsung is going to do the same thing HTC did. The Nexus One is the Google device with stock Android UI, where HTC Desire is almost equal to the Nexus One in specs, but the main difference is that the HTC Desire has Sense UI which makes it different from the Nexus One. So may be the Nexus S will feature Android 2.3 with Stock Android UI, where this leaked phone will come with TouchWIZ UI and some little differences. What do you think people?