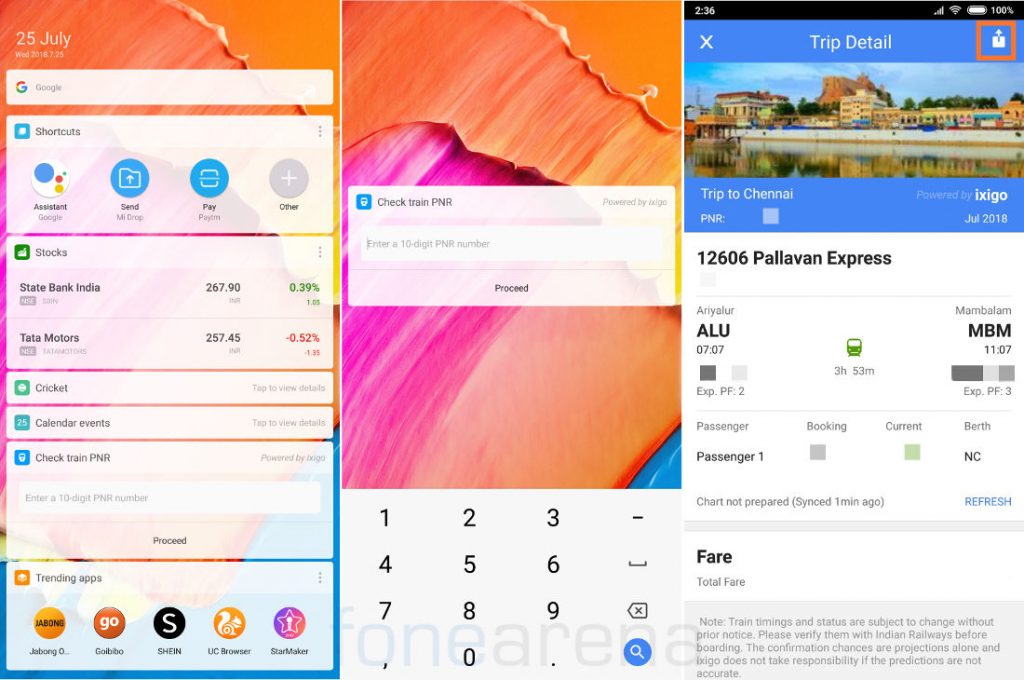 Update 2 – July 2018: Xiaomi has added couple of new cards including 'Check train PNR' and 'Trending apps' to MIUI App Vault. Xiaomi has partnered with Ixigo for 'Check train PNR' service which can be used to check PNR status without leaving the home screen. Users need to enter their 10 digit PNR number for their upcoming train journey to see all the details. The card also shows recently checked PNR numbers which is really helpful as users don't need to enter PNR number each time they check PNR status for the same journey.
Apart from new cards, users can now fold-unfold empty cards so that they can see more information on the screen. Users can click on 'Tap to view details' to unfold a card and click again to fold a card but only Notes, Calendar, Cricket and Stocks cards are supported as of now. MIUI team might extend this functionality to more cards in future.
Earlier: Last month, Xiaomi added a 'Stocks' card to MIUI App Vault and also listed it on the Play Store. Now, Xiaomi has added another card which shows Today's `Deal on app vault from shopplus, clicking on any deal it redirects to Shopclues.com. 'Unreleased' tag is now gone on the Play Store.
Also, MIUI users now have an option to turn off the App Vault, option for the same can be found under Settings -> Home screen & Recents. The feature to turn off App Vault is only available on MIUI Global Beta ROM as of now.
Earlier: Xiaomi's MIUI is amongst the most popular Android skins with more than 300 million worldwide users. MIUI is a heavy skin on top of Android, but what sets it apart from other Android skins is its feature richness and customizations. MIUI focuses towards providing a rich user experience and to fulfill this, MIUI is loaded with many system apps like Calculator, Recorder, Mi Explorer, Mi Drop, App Vault, Mi Video, Yellow pages and many more. Xiaomi never bothered to list these apps to Play Store and kept it exclusive to MIUI users but after the launch of company's maiden Android One device Mi A1 last year, Xiaomi slowly started listing in-house MIUI apps on Play Store.
Company listed its feature-packed Calculator, Mi Drop, Mi Explorer apps on play store last year, and last week Xiaomi listed its smart assistant called App Vault on Play Store. The app is listed as a unreleased app, and currently it's not compatible with Non MIUI devices.
After listing the app on Play Store, Xiaomi has rolled out an update for the app which adds one more card to the App Vault. The latest addition to the smart cards is a new Stocks card which provides stock prices in real time on the screen, Xiaomi has partnered with Webull to provide the real time data for the cards.
Users can manually add companies in which they are interested using the 'Add icon' in front of 'My Companies', Users can also choose the display settings as per their preferences, 'Color Scheme' option lets user choose Up, Down color amongst Green, Red and Red, Green schemes, 'Stocks display option' gives an option to highlight Stock name or Stock Code.
This could be seen as an outcome of MIUI Partnership Day which was held in India during Nov 2017 with a vision to work closely with developers in the country to further build MIUI Global App Ecosystem and localize the MIUI user experience. As of now, App Vault offers very few cards as compare to MIUI China ROM as MIUI China team works closely with partner developers to provide various features such as scanner, tap plus, and more.