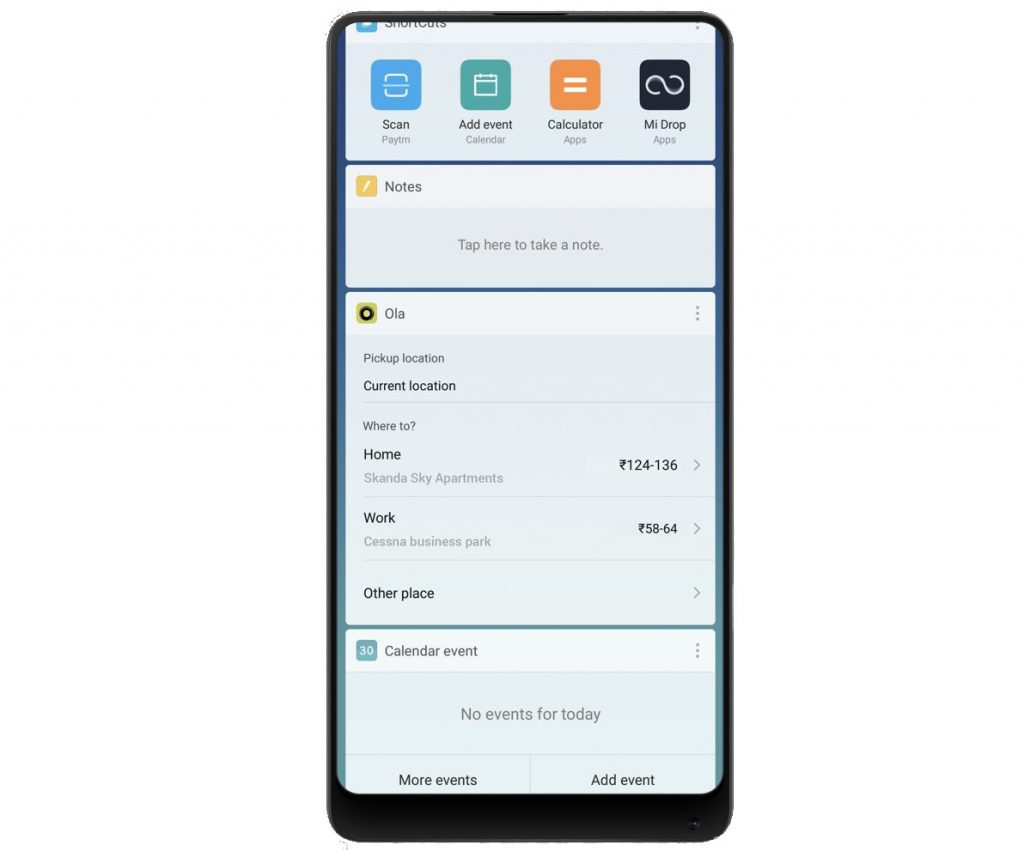 Xiaomi announced the latest iteration of its Android skin MIUI back in November with tons of new features including Split Screen, Interactive and Fresh UI changes, New Gallery App, Calendar Cards, App Vault, New Notification Shade, Mi Video App, New Mi Explorer and Mi Drop. We have already covered some of these features in posts earlier and in this post, we will be giving an overview of App Vault.
MIUI focuses on making life simpler and App Vault tries to bring convenience on your tips. App Vault shows cards for various services and is an attempt similar to Google Now cards  for showing all the important information in one place, MIUI quick cards can be accessed in a similar fashion by swiping left on the home screen. As of now, only 5 cards are available on App Vault but Xiaomi claims to have support for 12 kinds of services, and hopefully, more cards will be added with time.
Users can choose maximum 5 cards available at the moment, which are Shortcuts, Cricket, Calendar events, Olacabs and Notes. Cricket card shows the scores of ongoing game for the teams selected by users, users can choose international as well as Domestic teams. Users can also review their selection of teams from card setting which can be accessed by tapping on the three dots next to card.
Out of cards available at the moment, only the Shortcuts card can be customized by the user, these shortcuts can be chosen to perform various actions for various apps. App Vault also features Calendar and Notes cards that shows the events from the calendar and can help in taking notes directly from homescreen without launching the app.
The latest addition to family of cards is card for a third party service Olacabs, this card provides an option to book a Cab (Olacabs) directly from the screen without launching the Ola app but users need to have Ola app installed on the phone, users must connect their Ola account with App Vault to be able to book a cab directly without launching the app. Ola quick card shows the fare of favorite locations (Home, Work etc) in real time on the screen.
As of now, App Vault offers very few cards and Cricket score card doesn't get updated in real time. MIUI China ROM offers a lot many cards for services available in China as compare to MIUI Global ROM because MIUI China team works closely with partner developers to provide various features such as scanner, tap plus, and more. Xiaomi also held MIUI Partnership Day in November in India and Indonesia to work closely with developers in the countries to further build MIUI Global App Ecosystem and localize the MIUI user experience.
Over a hundred developers from various companies including UC Browser, Baidu, Hindustan Times, Inmobi, Hungama, Truecaller, Zomato, Bigo Live attended the MIUI Partnership Day and it would be interesting to see more quick cards for third party services.