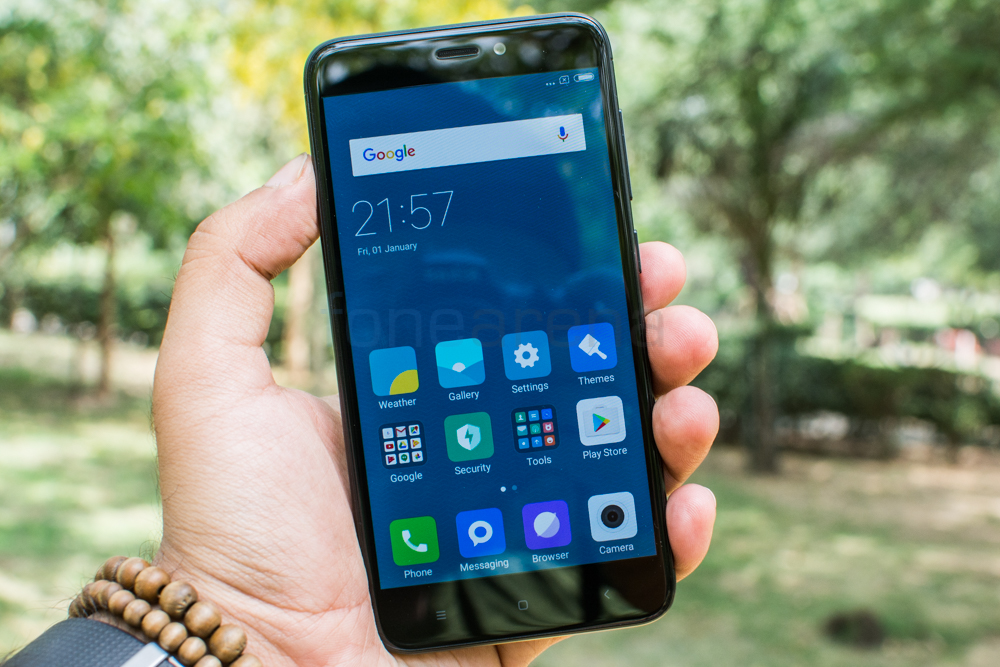 [Update – November 21: Xiaomi has started rolling out stable MIUI 9 update for the Redmi 4 after rolling out Nightly build last week.]
Earlier: Xiaomi launched Redmi 4 running MIUI 8 based on Marshmallow back in May, the company rolled out Nougat based Stable ROM to the users a fortnight ago just before the MIUI 9 Global launch. As per the announcement, Redmi 4 was kept in the second batch of devices along with Mi 5, Mi Max and others which were supposed to receive the update in mid-Nov. Yesterday evening, some users started reporting that they are receiving a new OTA update as Nightly build on their Redmi 4 devices.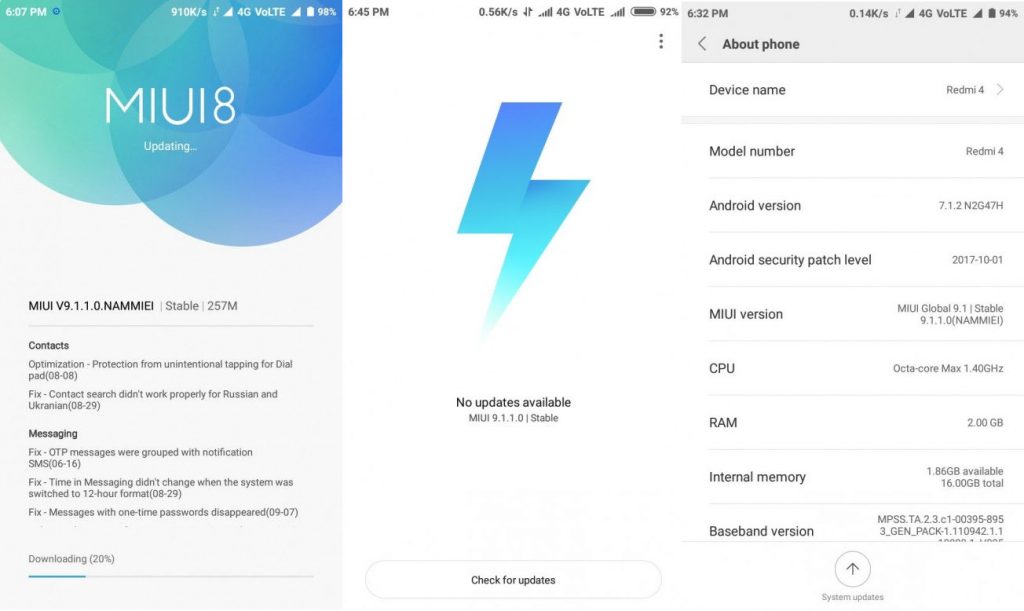 The new update comes as MIUI 9.1.1.0.NAAMIEI and is 257 MB in size. This update also brings October security patch along with major changes like split screen, quick switch, screen recorder, new system animation and a lot more, for more details on MIUI 9 refer to this post.
Note that this is a Nightly build and Xiaomi releases Stable Nightly updates to random users to get feedback and the same update is rolled out to all users as a Stable build if feedback goes well, in case you wish to read more about Nightly ROMs refer to this post.
This update will be rolled out to all the users starting 20th November if there are no critical bugs found, but if you are impatient you can download the Recovery ROM here and flash on your device using updater method. Xiaomi is also asking for feedback from the users who have received this update, in case you have got the update on your device you can submit your feedback here.
Check out the changelog below,
Highlights

New – Switch for turning Battery saver automatically when charged (07-19)

New – New display formats for update logs in Updater (07-25)

New – Search for apps in the Dual apps settings (08-03)

New – Quick ball goes back to the edge after 3 seconds of inactivity (08-30)

New – Reading mode can turn on and off at sunset and sunrise automatically (05-03)

New- Mi Picks gets a new name and a new icon! Meet Apps! (08-21)

Optimization – Protection from unintentional tapping for Dial pad (08-08)

Optimization – Redesigned home page (08-24)

Optimization – Devices with rare Bluetooth profiles are hidden in the device list (08-29)

Optimization – Simplified and improved the design of the virus scan result page (09-07)

System

Optimization – Increased system decryption speed (06-23)

Optimization – Devices with rare Bluetooth profiles are hidden in the device list (08-29)

Fix – Home screen loaded too slow with Android 7.1 (06-23)

Fix – Apps changes Wi-Fi connection status without the user's permission (06-23)

Fix – Developer option couldn't be opened using Bahasa Indonesia (08-15)

Fix – Music stayed in the Notification shade after exiting the app (08-15)

App Lock

New – Added the App lock step before unlocking using  a new fingerprint for the first time (08-15)

Contacts

Optimization – Protection from unintentional tapping for Dial pad (08-08)

Fix –  Contact search didn't work properly for Russian and Ukrainian (08-29)

Messaging

Fix – Time in Messaging didn't change when the system was switched to 12-hour format (08-29)

Fix – Messages with one-time passwords disappeared (09-07)

Lockscreen, Status Bar, Notification Bar

Optimization – Notification shade response (07-04)

Fix – Female voice for English (Waiting for Wi-Fi) in the Notification shade (08-15)

Fix – Music player stopped  working in the Lock screen after 10-15 minutes (08-15)

Fix – Wallpaper Carousel couldn't load online resources (a Play Store update was required) (08-22)

Home screen

New – Animated icons for selected apps in the default theme (09-01)

Optimization – Users can set their main Home screen in the editing mode (08-29)

Optimization – New animation for launching and closing apps (09-01)

Fix – Issues with icon size for Clock. Calendar and Weather (05-16)

Themes

Optimization – Redesigned home page (08-24)
Camera

Fix – Language support Issues (09-12)

Settings

New – Search for apps in the Dual apps settings (08-03)

New – Reading mode can turn on and off at sunset and sunrise automatically (05-03)

Optimization – Introducing Button and gesture shortcuts (09-15)

Optimization – Media volume can be turned back on using volume buttons in DND mode (09-14)

Optimization – Floating notifications are restricted by default in DND mode (09-14)

Optimization – Vibration response in DND mode (09-14)

Optimization – Improved timers for silent/DND (09-14)

Downloads

New – Downloads keeps waiting when the connection is established again in case it was interrupted (09-05)

Recorder

Fix – Adjustments for Recorder and Second space (06-23)

Calendar

New – Holiday cards for Russia (06-28)

New – Introducing football cards with the info about major international leagues and matches (08-15)

Battery Usage

New – Switch for turning Battery saver automatically when charged (07-19)

Security

Optimization – Simplified and improved the design of the virus scan result page (09-07)

Scanner

Fix – Scanner couldn't work normally (09-12)

Quick Ball

New – Quick ball goes back to the edge after 3 seconds of inactivity (08-30)

Other

New- Mi Picks gets a new name and a new icon! Meet Apps! (08-21)

Fix – Google widget disappeared because of the Dual apps (06-20)