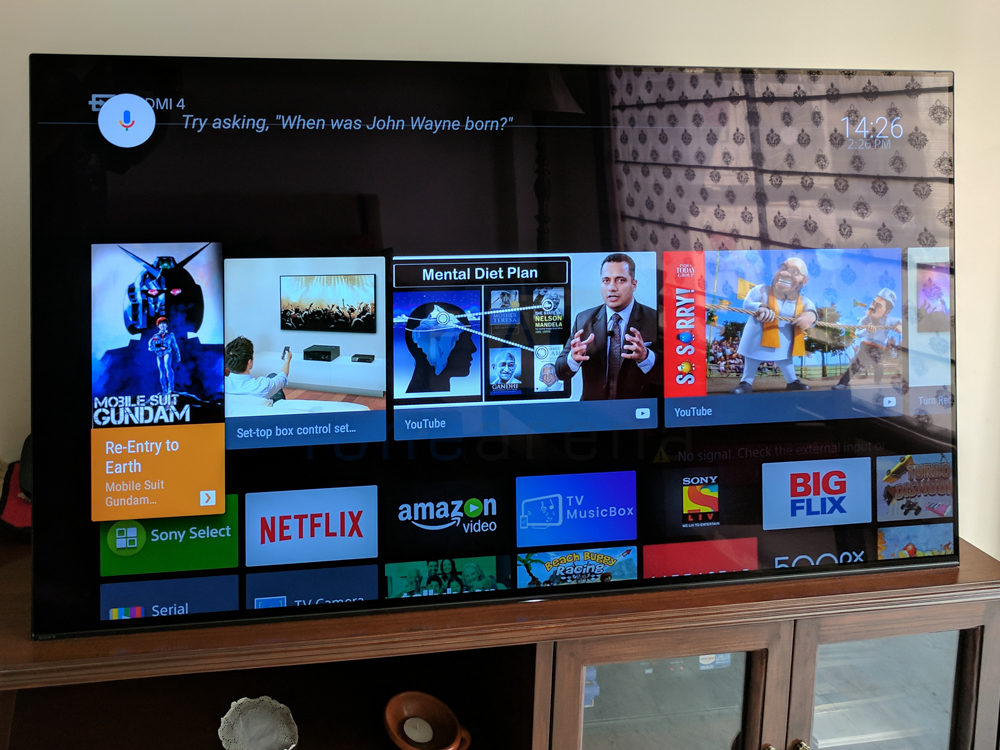 The future is OLED. The deep blacks and simply jaw-dropping contrast levels, viewing angles possible using the tech create an image that almost pop out from the screen. So it's really no surprise that the top end television in Sony's line up sports an OLED panel similar to LG and Panasonic's line up. We've been testing out the Bravia A1 KD-55A1 for the last few weeks and here's what we think about it.
Design
Sony has a legacy of groundbreaking design. Look through the entire current product portfolio and everything they've built over the years and you'll see an underlying current of minimalism and restraint. Monolithic, as Sony calls it, has been the design trend for the television line up for the past few years. The KD-55A1 or the A1 as we'll call it from here on is no exception to this. The front of the television is a stark panel with negligible bezels and virtually no branding.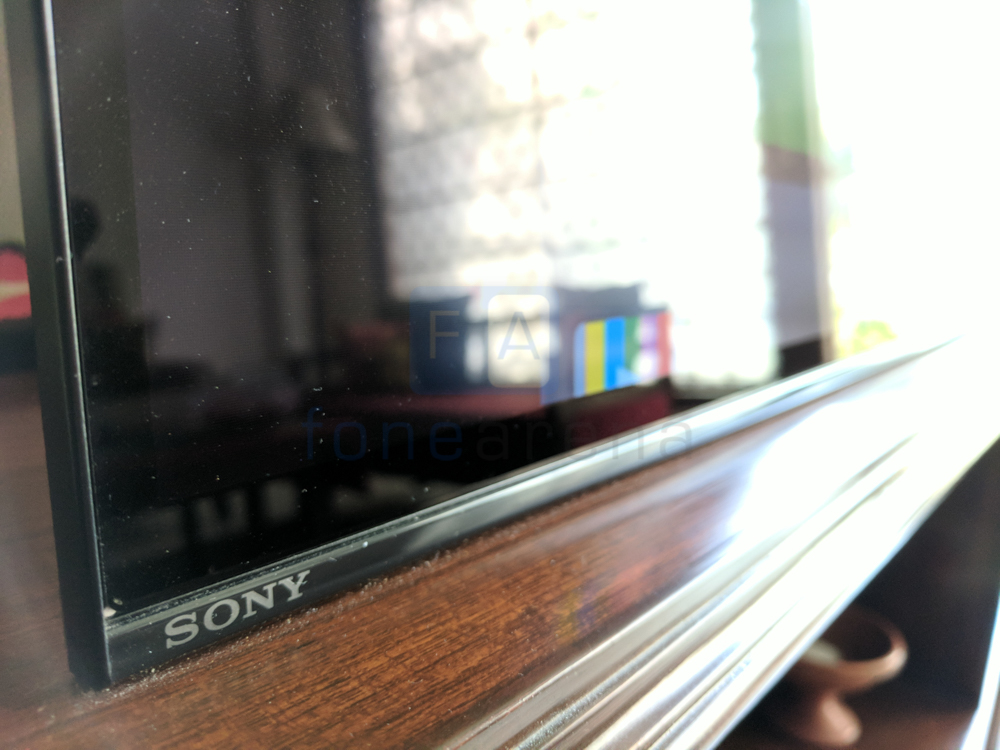 An almost invisible Sony logo sits towards the bottom left corner. Meanwhile, a white light can be spotted along the center of the bottom bezel when the television is switched on.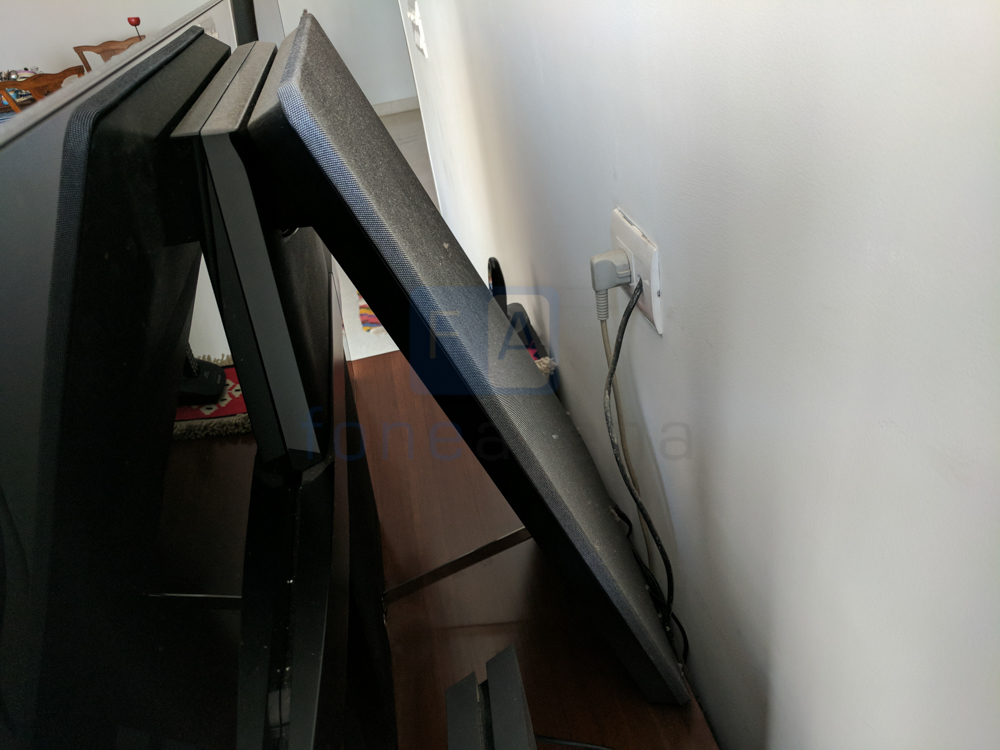 The A1 eschews a traditional stand for an innovative new mechanism that is potentially good to look at but also makes the television hard to retrofit into your existing decor. A somewhat thick leg folds out from the back and lies at an angle to host up the television. If you're wall mounting this screen then it'll simply fold back in. Where the issue lies is that unless you've built your entertainment console around this television, you'll either be left with a screen that is placed too low. This is because the Bravia A1 rests the display directly on the surface, unlike most other televisions that have it hoisted and lifted on a stand. A fabric cover over the rear leg helps hide away the cabling as all the ports are located under it.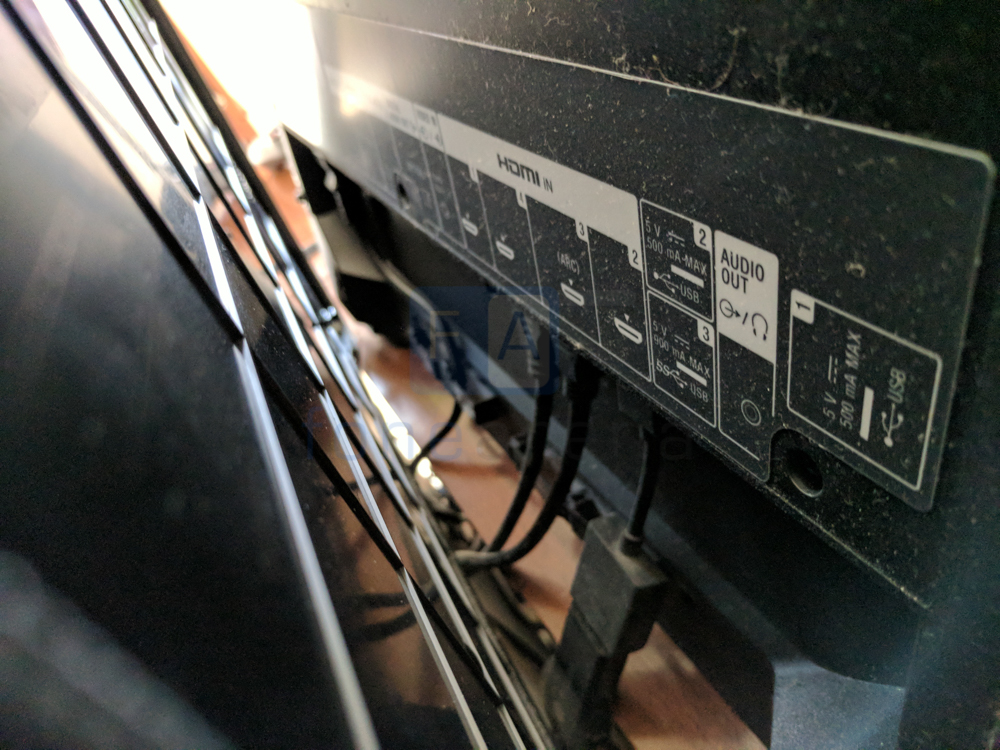 There's a plethora of connectivity options including 4 HDMI ports all of which support HDCP 2.2. There's ARC support as well in addition to composite input, RS-232, ethernet. You can even plug in up to 3 USB drives. Notably, Sony no longer supports MHL on their televisions but neither do most phones. You do get Miracast and Chromecast support built-in. There's WiFi b/g/n/ac support though we found the implementation to be a bit spotty. You'd expect a 55-inch television to have a robust antenna built in but the A1 would on occasion drop the connection even when in the same room as the router. If you're planning to stream 4K content, you'd be well advised to plug in your television directly to the router.
Smart Television Functionality
Sony's smart televisions use the Android TV platform which gives it access to Google's Play store, a whole host of media applications as well as Chromecast support. The platform itself is fairly robust and all streaming services are well represented. Sony also bundled in a couple of its own apps like Sony Liv. Sony Select helps you get hold of more television optimized apps and there are shortcuts for a couple of games that run on Android TV. The performance though remains lacking. We've complained about this on previous Sony televisions too. The interface has a tendency to lag and there are stutters all the way around. Not something you expect on a top of the line television. As far as possible, we'd recommend that you opt for a dedicated streaming box like the Nvidia Shield, Apple TV 4K or even the new 4K capable Fire TV. So far only LG seems to have success with delivering a fluid smart television experience using WebOS.
Image Quality
Let's talk image quality. This is a high-end television so obviously, we expected the Bravia A1 to perform well. What we weren't prepared for was how good native 4K content looks on it. We're absolutely not exaggerating when we say that the A1 is easily one of the best panels you can get your hands on at the moment. Color reproduction is natural without the over saturation that OLED is known for. Because of the nature of OLED panels, the black levels are so good it's like peering into the deep dark blackness of nothingness.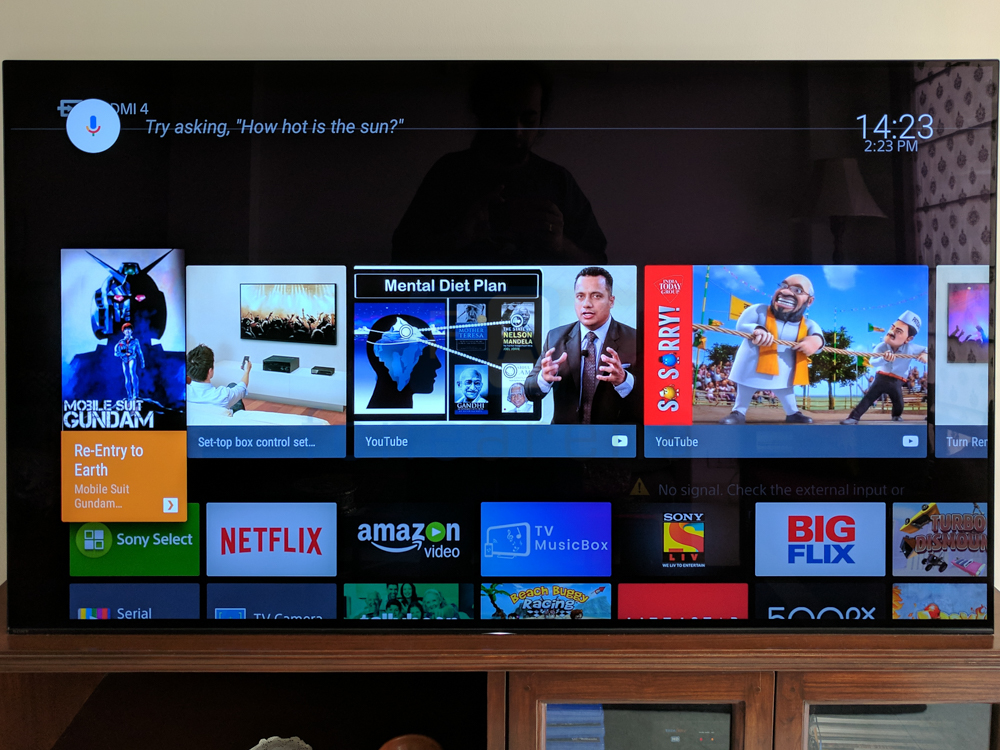 High contrast content hence looks fantastic in a way that LCD panels can rarely match up to. No matter how good the local dimming is, it is hard to compete with the inky blackness of an OLED screen. Brightness levels are not quite as impressive as some of the best LCD panels out there but even in a sun-facing setting, viewing the screen was never really an issue and it was possible to discern content despite glare. The television maxes out at approximately 700 nits which isn't all that great especially when viewing HDR content but not a deal breaker either. This does drop down further in the Cinema modes where we started to feel that the image was a bit too dull.
Sony has built-in its proprietary Motionflow technology here and you can adjust it between True Cinema and Standard settings to suit your personal preference. Generally speaking though, even in default settings, judder was minimal and you won't notice any even during fast-paced sports. Talking about fast-paced content, the input lag measures between 30-40ms depending on the setting. Hardcore gamers might want to keep this in mind before investing in the television. Interestingly, the A1 does a very good job at upscaling HD content. High bitrate Full HD videos approach native 4K levels but even OTA HD video looks decent enough. Sony's algorithms take a subtle approach to upscaling content without overdoing brightness and saturation levels as is often the case on some televisions.
Sound
In addition to the screen tech, Sony has done significant work on the audio side of things too. New on the A1 is Acoustic Surface tech that literally turns the screen itself into a speaker. Crank it up loud enough and you can feel the display area vibrate gently to create sound. No, this does not have any adverse effect on the image quality.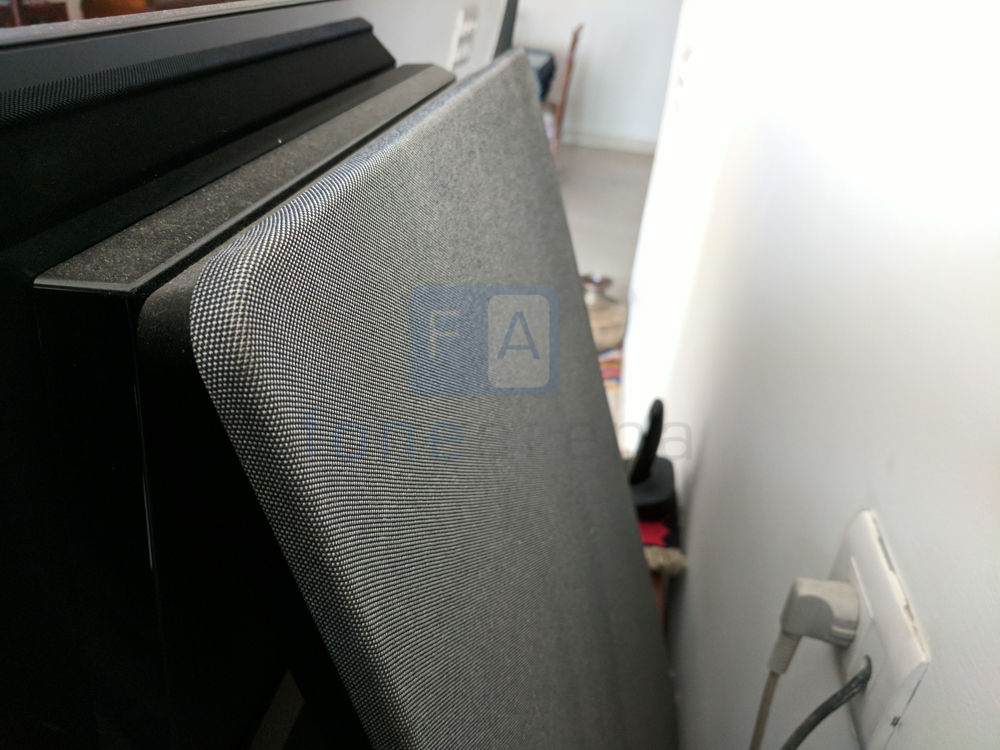 The rear leg houses a sub woofer for added depth. While from a technological standpoint, the implementation is very impressive and almost critical to remove the speakers from the panel area, the actual audio quality isn't all that great. The speakers create a fairly expansive soundstage but volume levels are decidedly low compared to conventional flat speakers. The focus is more on the mids and to a lesser extent the highs for clear vocals. Bass while present is certainly no match for a dedicated subwoofer. All in all, the built-in speakers on the Bravia A1 are certainly not bad but you should do yourself a favor and get a dedicated soundbar or surround sound system to really do justice to the television.
Conclusion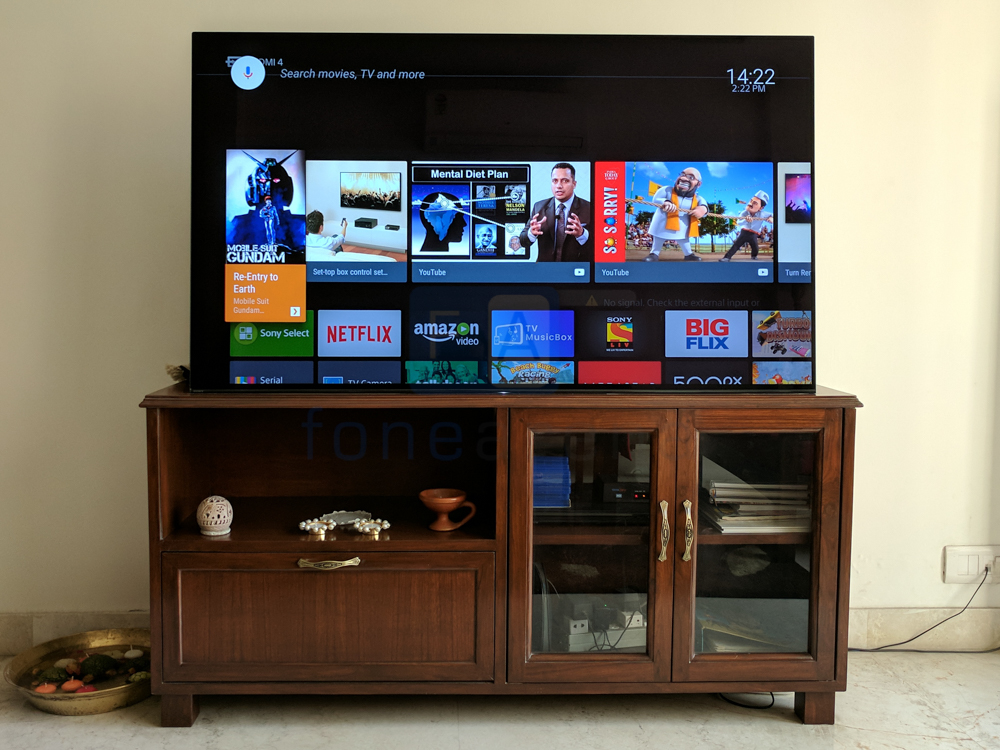 The Sony Bravia A1 in its 55 and 65 inch form factors is a no-brainer recommendation. There's not much else that competes with it. Sure, it's an expensive television but that comes with the territory. The Sony Bravia KD-55A1 is a beautiful mix of design and outstanding image quality. It might not have the best sound quality but we expect anybody spending Rs. 3,64,900 on the A1 would already have a good sound system handy.