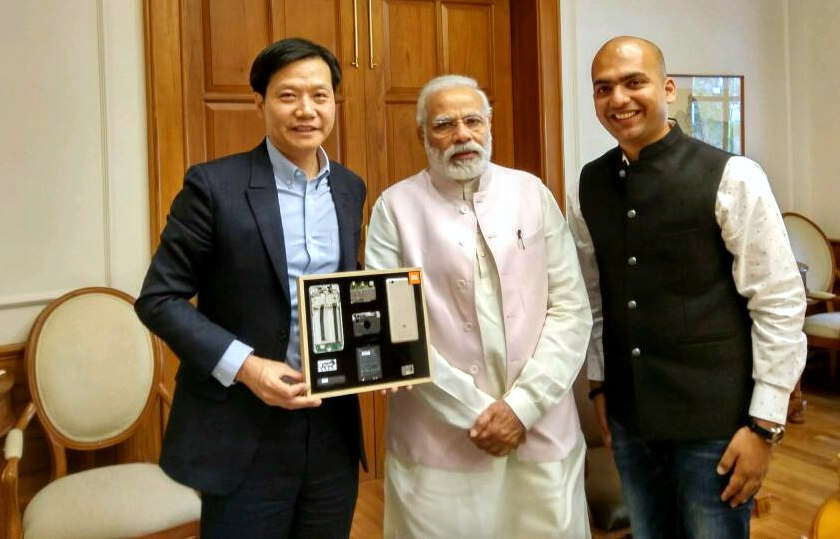 Xiaomi CEO along with Xiaomi India Head and VP met PM Narendra Modi today. Xiaomi said that the CEO shared the company's journey so far in India, and how smartphones are changing the lives of Indian consumers.
Regarding CEO and India head's meeting with the Prime Minister, Xiaomi said:
We have been an early adopter to our PM's "Make in India" initiative and in March we reaffirmed our commitment with our second manufacturing plant in Sri City, Andhra Pradesh.

They spent time together discussing Xiaomi India's manufacturing and growth plans. Mr Modi was very supportive of our approach. #MakeInIndia
[HTML1]
The Xiaomi CEO in an interview to ET said that the the company has 50% market-share in online space and is aiming to achieve growth in the offline market as well.
"Online and offline markets will contribute nearly equal shares to Xiaomi's sales in China in a couple of years, a balance that the company may achieve in India over time. We are hoping for offline sales to be 50% of our total sales at some point in the future." said Lei Jun.
Xiaomi said that it sold 4 million smartphones smartphones in India last year. This month the company said that it sold 1 million Redmi Note 4 smartphones in just 45 days of launch. It also recently said that it sold 250,000 units of the Redmi 4A in just 4 minutes in the first sale on Amazon.in last week.
Xiaomi at the Redmi 4A launch in India last week said that over 95% of its phones sold in India are made in India. The company also opened a second manufacturing plant in India recently in Sri City. Reason for ramping up manufacturing and opening the second plant is supply-demand mismatch, said the company. It will expand manufacturing in India to resolve issues around shortage of supply in the face of high local demand. It may even look at exports from India.
Update: Story updated to reflect correct data.