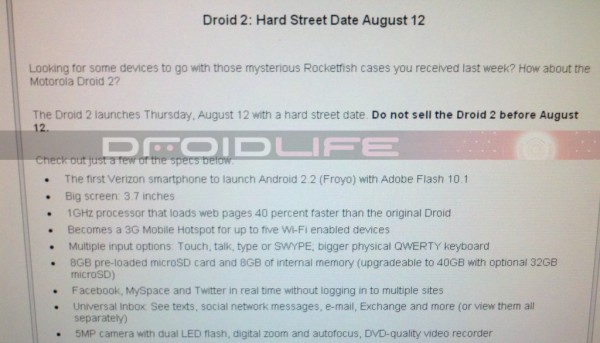 Recently, we heard a rumor from BGR that the Droid 2 is hitting Verizon shelves on August 12th, and now here is a proof (image above) which is showing that the Droid 2 is coming to your near Best Buy store on August 12th, and that's a 100% confirmation from Best Buy. Thanks to Droid-Life for discovering this image. The image is a little blurry, so read what the image is saying after the break:
Droid 2: Hard Street Date August 12
Looking for some devices to go with those mysterious Rocketfish cases you received last week? How about the Motorola Droid 2?
The Droid 2 launches Thursday, August 12 with a hard street date. Do not sell the Droid 2 before August 12.
Check out just the few of the specs below:
The first Verizon smartphone to launch Android 2.2 (Froyo) with Adobe Flash Player 10.1
Big Screen 3.7 inches
1 GHz processor that loads web pages 40 percent faster than the original Droid
Becomes a 3G mobile hotspot for up to five Wi-Fi enabled devices
Multiple input options: Touch, talk, type or SWYPE, bigger physical keyboard
8 GB pre-loaded microSD card and 8GB of internal memory (upgradeable to 40 GB with optional 32 GB microSD card)
Facebook, MySpace and Twitter in the real time without logging into multiple sites
Universal inbox: See texts, social network messages, e-mail, Exchange or more (or view them all separately)
5MP camera with dual LED flash, digital zoom and autofocus, DVD quality video recorder
So folks are you ready for the Droid 2? Or you like the Droid X?