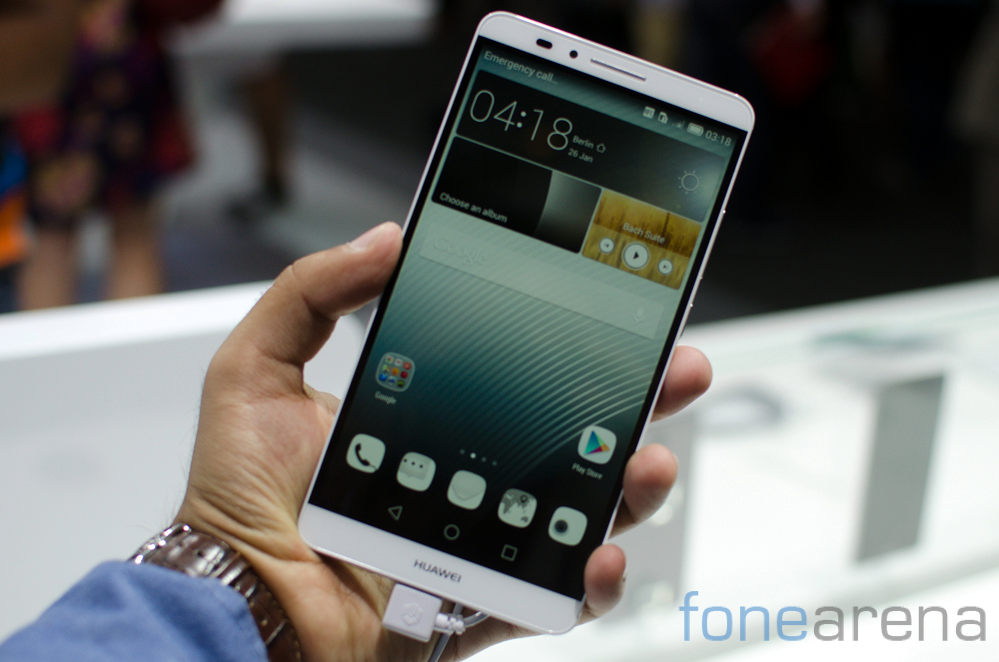 When considering the performance of a handset, attention is inevitably turned towards benchmarking applications such as GeekBench 3, 3D Mark and AnTuTu (to name but a few). When comparing performance across iOS and Android, the benchmark applications that can be used are limited but both GeekBench 3 and 3D Mark reveal some interesting facts.
Comparing the iPhone 6 Plus and Ascend Mate 7, the benchmarks reveal some surprising results. Apple are unique in that they control both the hardware and software elements of their handsets whilst Huawei (and other Android OEMs excluding Google) have to compensate for a lack of deep integration with the core OS by using much higher specs.
The Ascend Mate 7 sports a quad-core Kirin processor with 3GB RAM and 32GB internal storage whilst the iPhone 6 Plus has a dual-core Apple A8 CPU, 1GB RAM and 64GB storage (there's also 16GB and 128GB iPhone 6 Plus variants available). On paper, the iPhone 6 Plus isn't as powerful and therefore the Ascend Mate 7 should easily win this benchmark comparison but what do Geekbench 3 and 3D Mark show?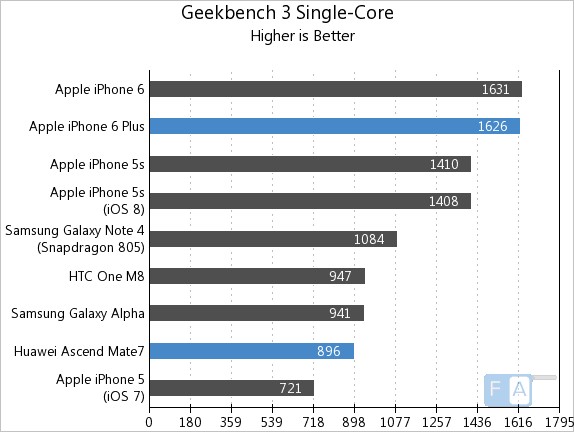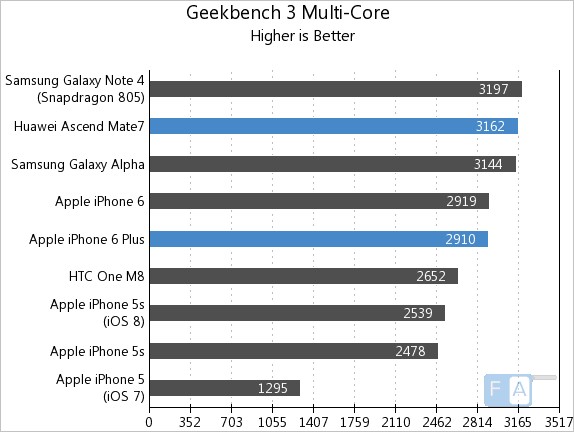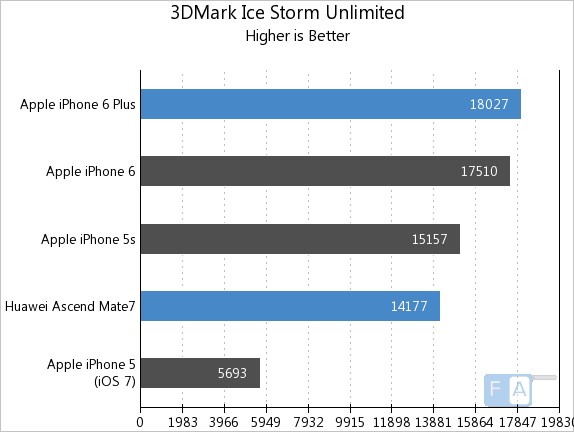 Well that's a surprise – the iPhone 6 Plus wins the Geekbench 3 single-core test by a large amount whilst the Ascend Mate 7 ranks eith. Switch to the multi-core test and the Mate 7 is the cream of the crop, closely followed by the iPhone 6 Plus and the Galaxy Alpha. Using 3D Mark however, the results are much different with the iPhone 6 Plus grabbing top spot whilst the Ascend Mate 7's score of 14177 ranks very low and falls between theiPhone 5s and the iPhone 5.
The results show that whilst Apple does benefit from the integration of hardware and software, it does so when testing the CPU, Power and efficiency of a handset. However, in the 3D Graphics tests, it doesn't fare as well but still comes in quite respectively (it's interesting that the Xperia Z3 ranks higher).
The Ascend Mate 7 benchmark results show that Huawei is able to optimise the multi-core performance (as it uses its own chipset) but isn't able to produce a handset that ranks highly in the 3D Mark test; the Mate 7 results here were shocking and we'd definitely have expected more from a 2014 flagship smartphone.