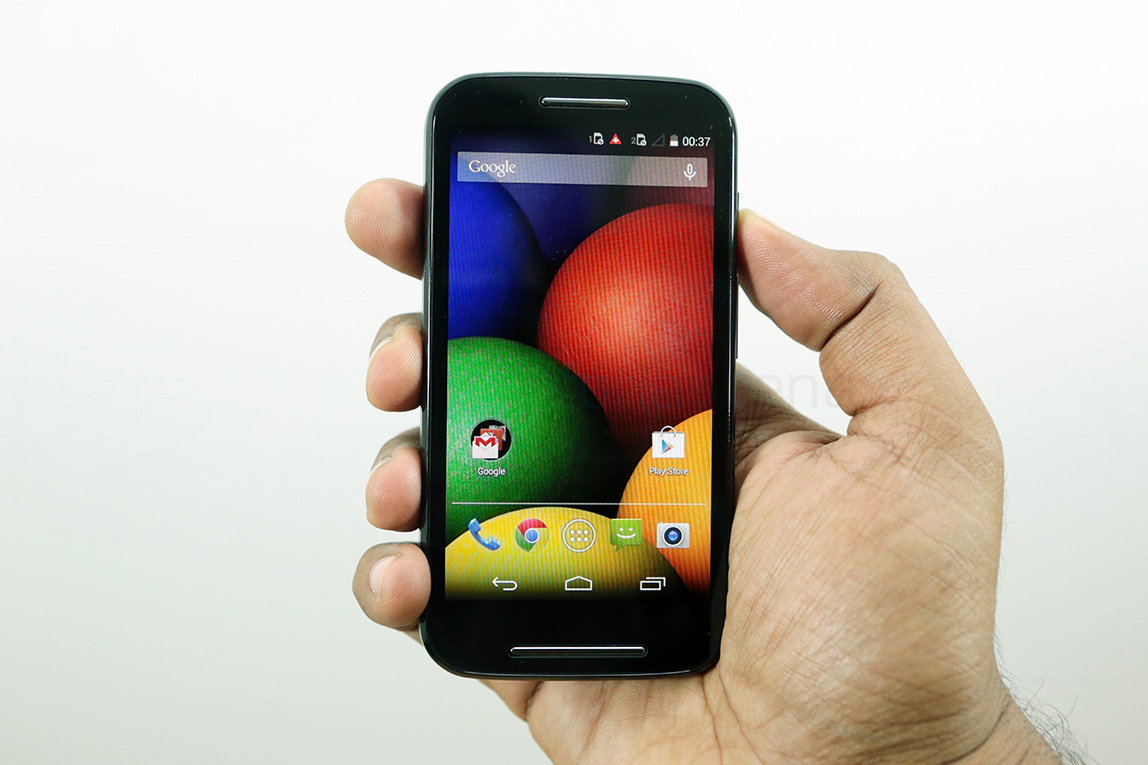 After the most successful Moto G that was launched in India earlier this year, Motorola released another budget smartphone called Moto E at a price tag of just Rs. 6,999, even cheaper than the Moto G. Unlike the Moto G, the Moto E was launched in India first and is also cheaper compared to some markets. Looking at the specifications, it is clear that Moto E is worth the price. Did it live up to its expectations? Let us find it out in the complete review.
Unboxing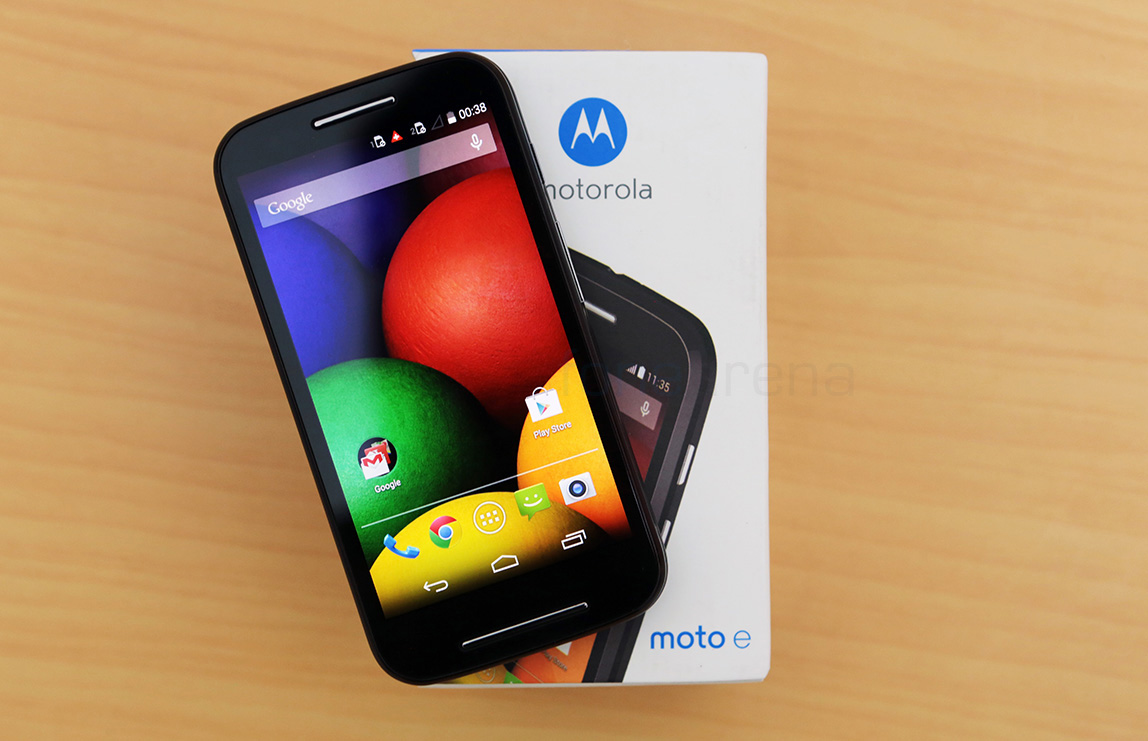 We unboxed the Moto E earlier this month. Check out the unboxing video below.
httpv://www.youtube.com/watch?v=EaMZVUY4yjk
Box Contents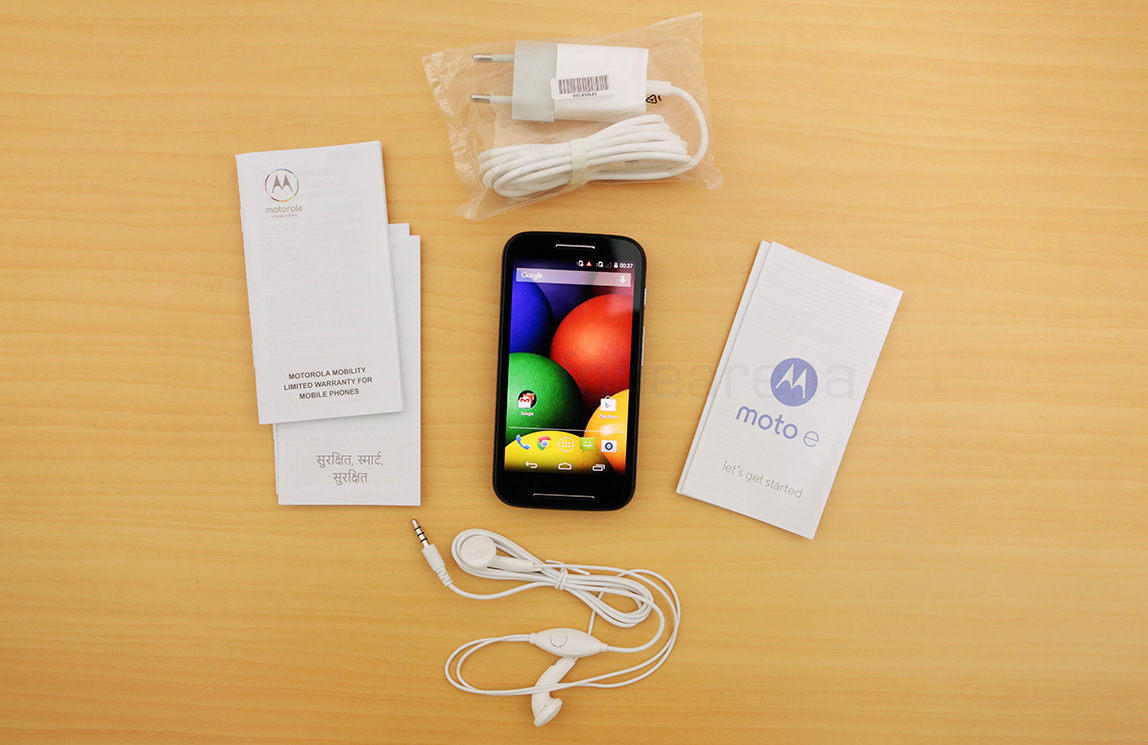 Motorola Moto E Dual SIM phone in black
White earphones with microphone for hands-free calls
Instruction manuals in English and Hindi
Travel/Wall charger with non-removable micro USB cable
Video Review

httpv://www.youtube.com/watch?v=De2x6XgAQ4k
Design and Hardware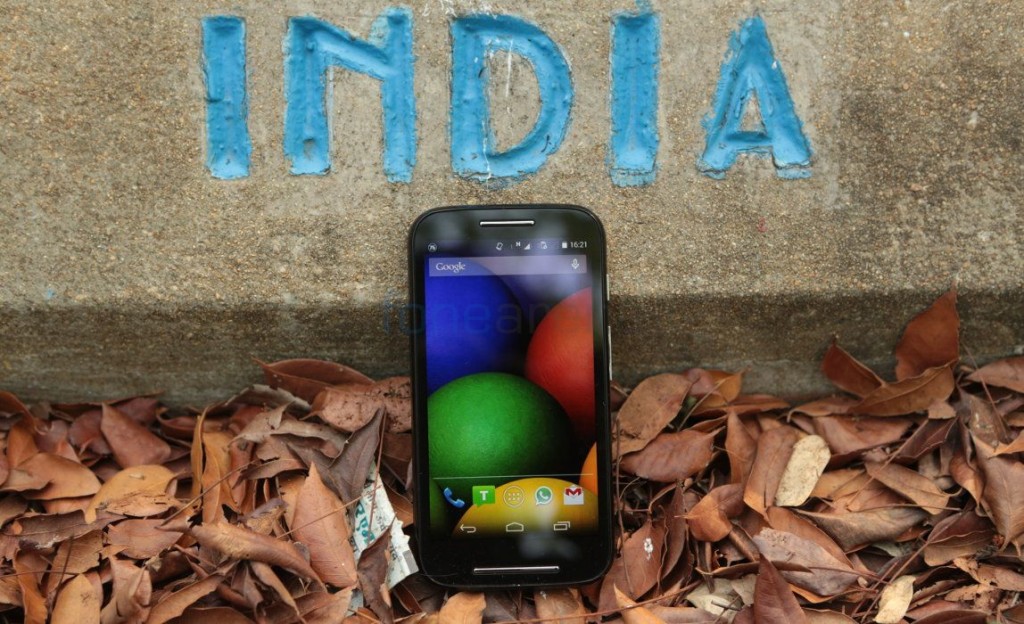 The Moto E has a similar curved design as the Moto G. It has a 4.3-inch (960 x 540 pixels) IPS display at 256 ppi pixel density with scratch-resistant Corning Gorilla Glass 3 protection. It also has anti-smudge coating that prevents fingerprints. The Moto G's display was one of the best in the range, and the Moto E doesn't disappoint either in its price range. It has good viewing angles and the sunlight legibility good too, but it has a slight yellow tint in white backgrounds and the viewing angles are average.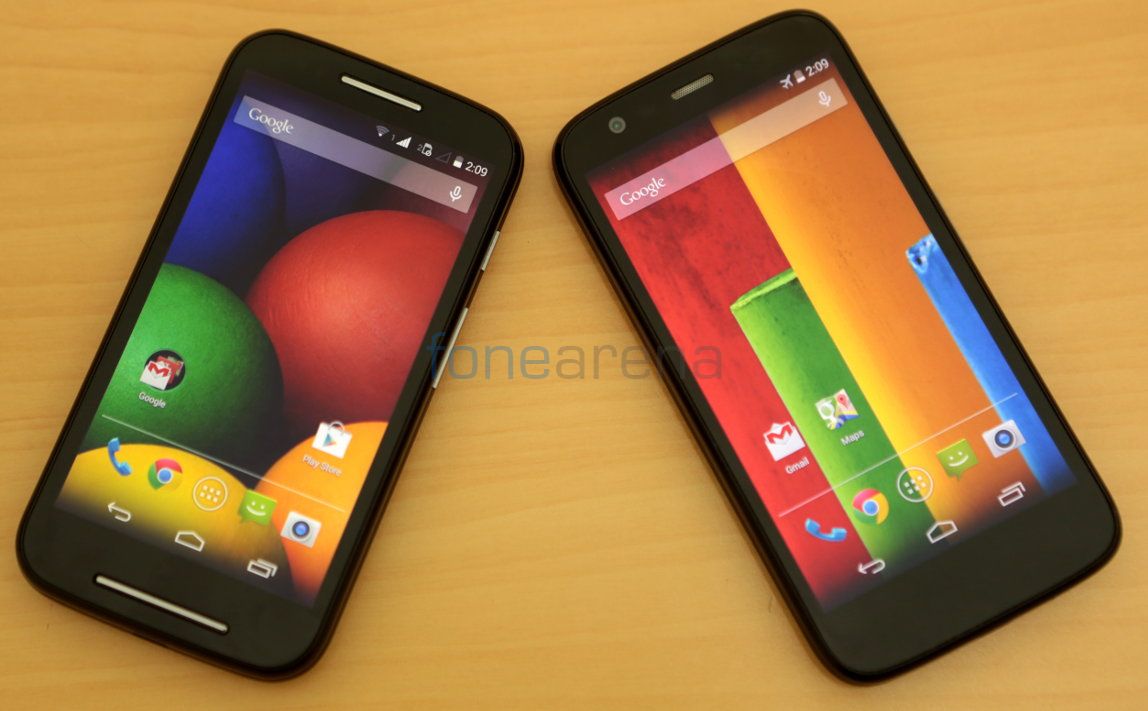 Blacks are deeper on-par to the Moto G's display. Considering the price tag, this is definitely a pretty good display on a smartphone compared to other smartphones in this range since most other OEMs offer low-resolution display with low pixel density.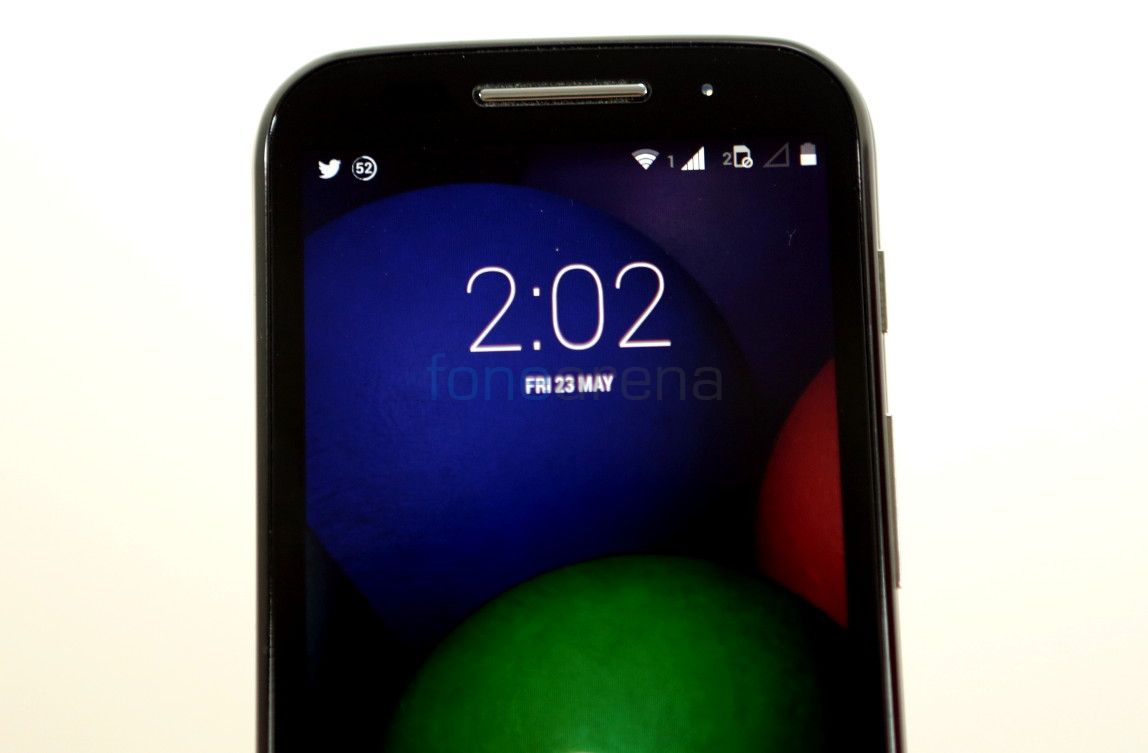 On the top there is a earpiece with chrome finish. There is also a LED notification light that glows only in white color, similar to Moto G. On the other side there are the usual set of proximity and ambient light sensors that are hardly visible due to the black bezel. The phone lacks a front-facing camera, so if you looking to capture selfies, you'll be disappointed.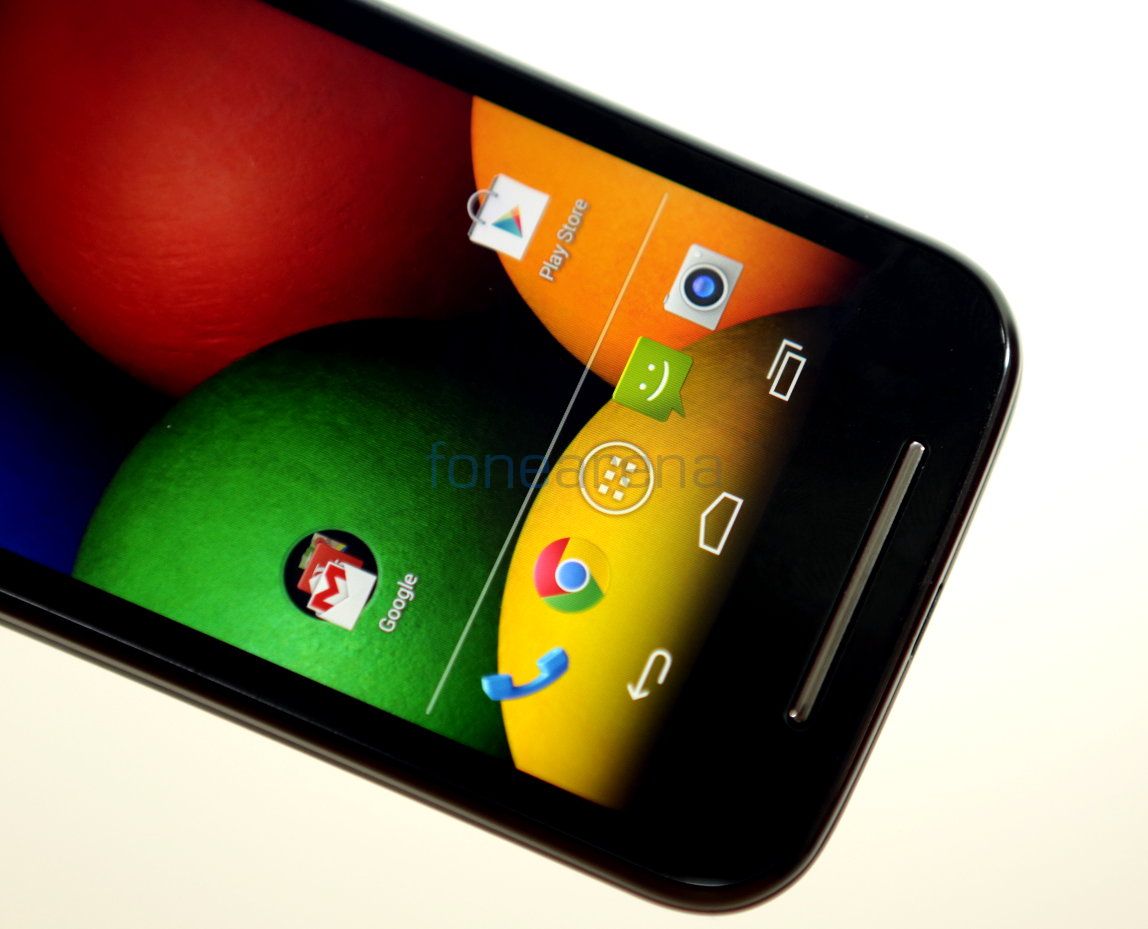 It has on-screen buttons for controls and there is a large loudspeaker grill below the screen. This too has a chrome finish, similar to the earpiece. Since both these have gaps, these gather dust easily.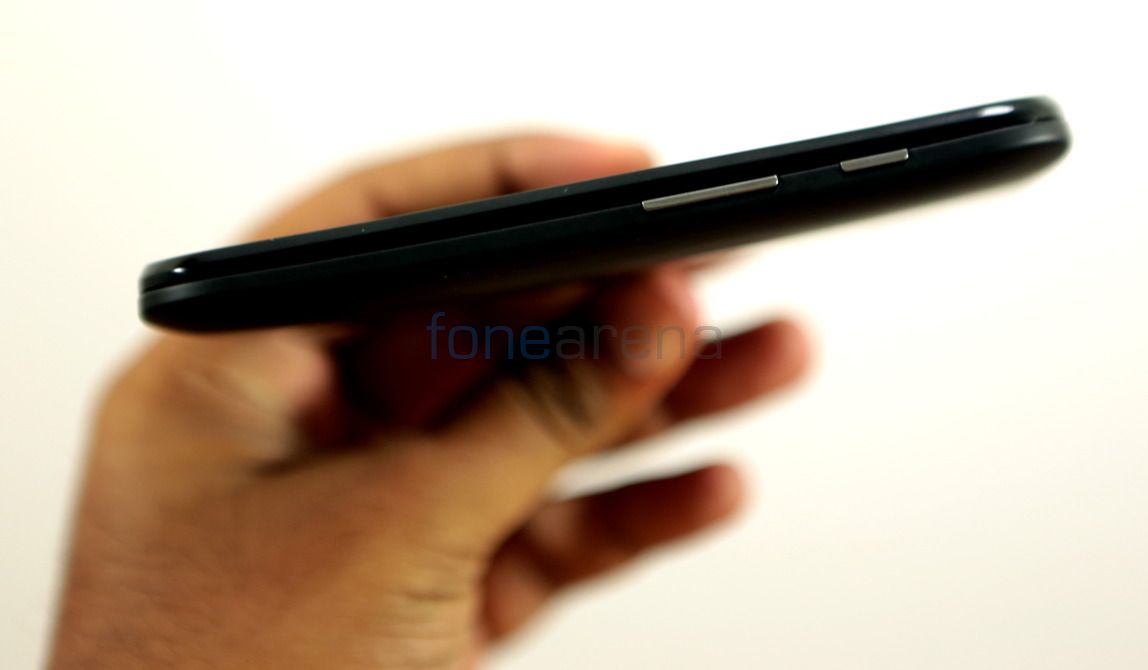 The Moto G was wedge shaped with curves on the sides, making it pretty thin on the edge, but the Moto E looks more rounded on the sides. It is 12.3mm thick, bit thicker than the Moto G. The power button and volume rocker placement are similar, and have chrome finish. Between the bezel on the front and the back cover, it has a shiny plastic finish, exactly similar to Moto G.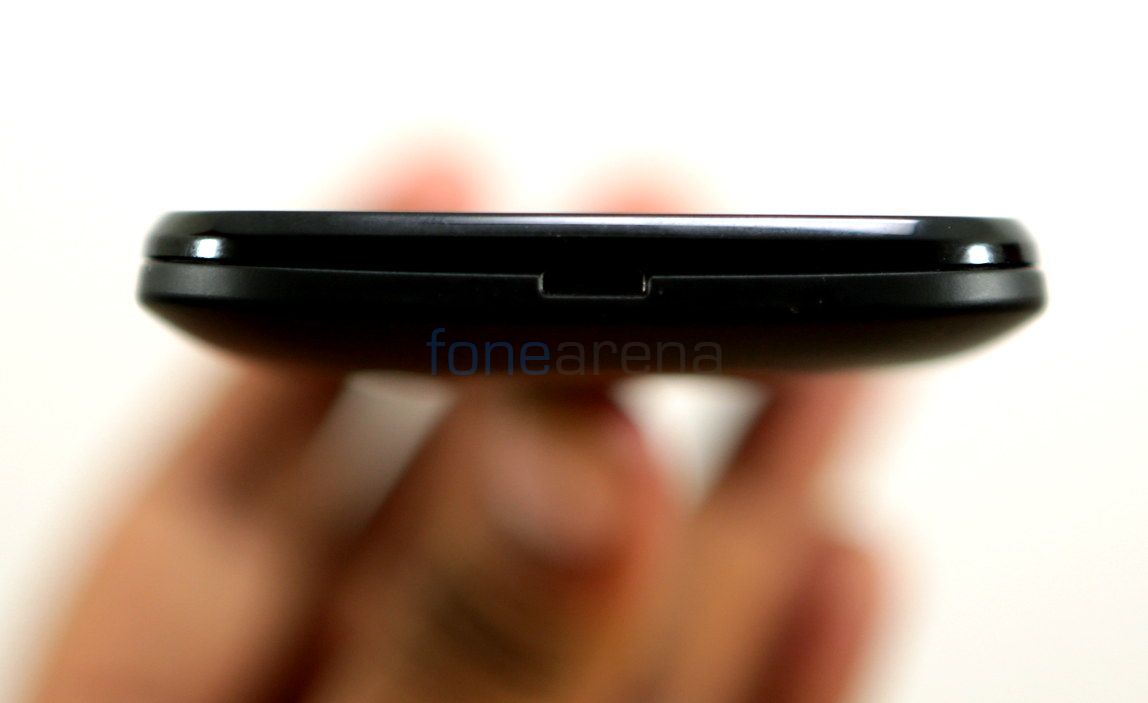 On the bottom there is a micro USB slot. Since the phone doesn't come with a micro USB cable separately, you need to get a separate cable to connect the phone to a PC for data transfer.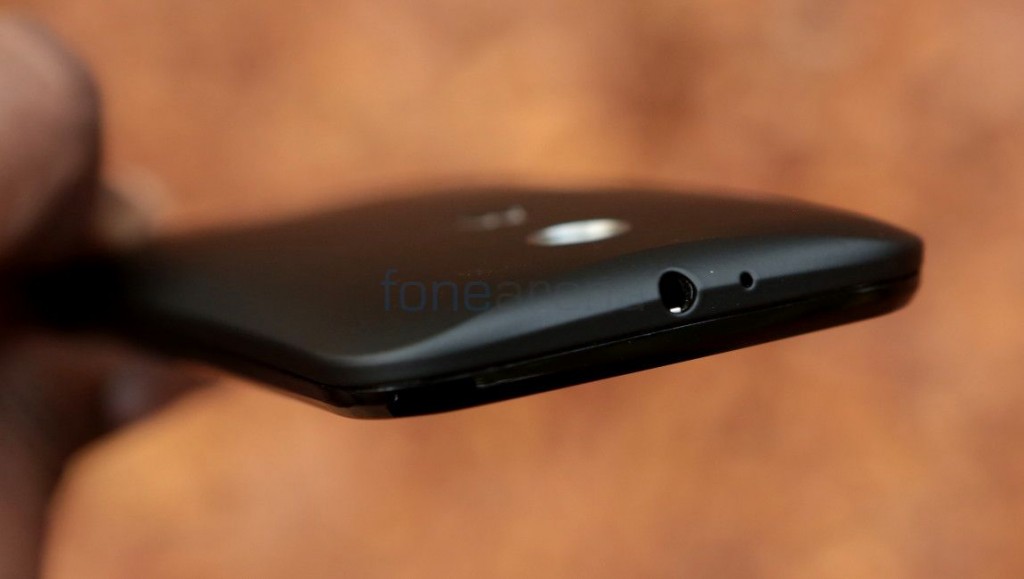 On the top there is a 3.5mm audio jack and a tiny microphone hole. Motorola has done a great job by offering secondary microphone even at this budget.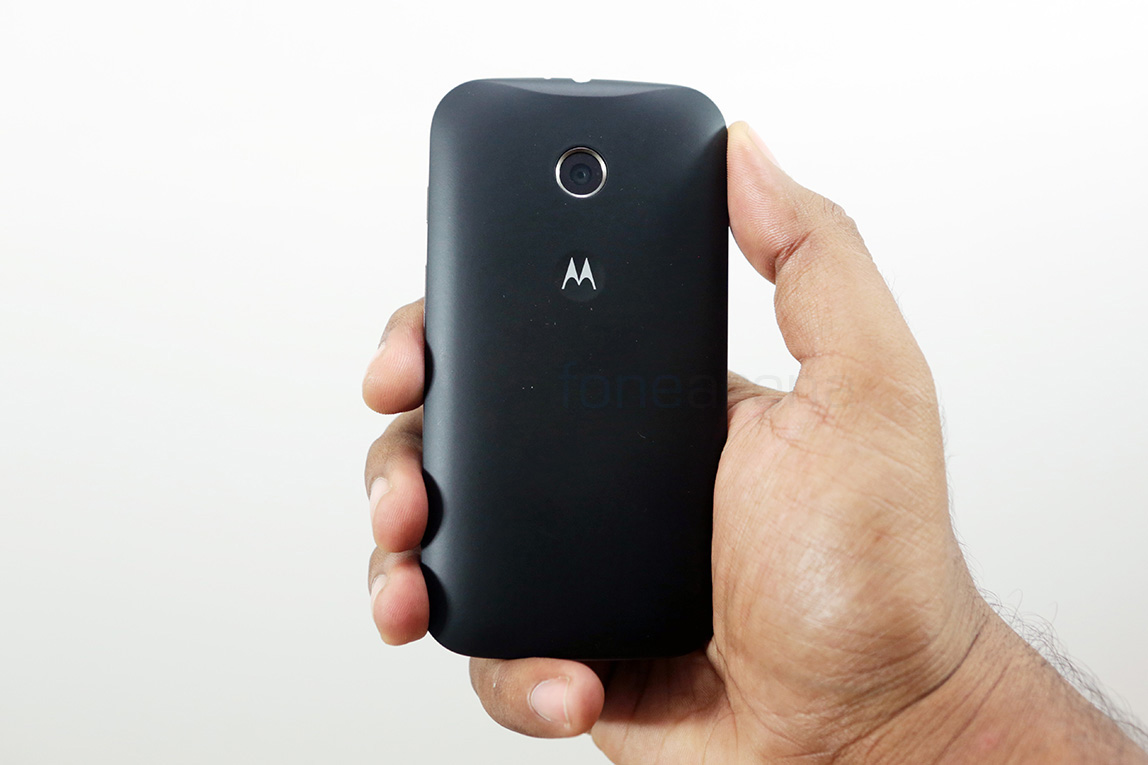 The back cover has a matte finish and houses a 5-megapixel fixed-focus camera module. The Moto E also has water repellant coating, similar to Moto G. The phone weighs 142 grams, almost similar to Moto G, but the device feels bulky due to its design. The matte back also offers a nice grip when holding the phone.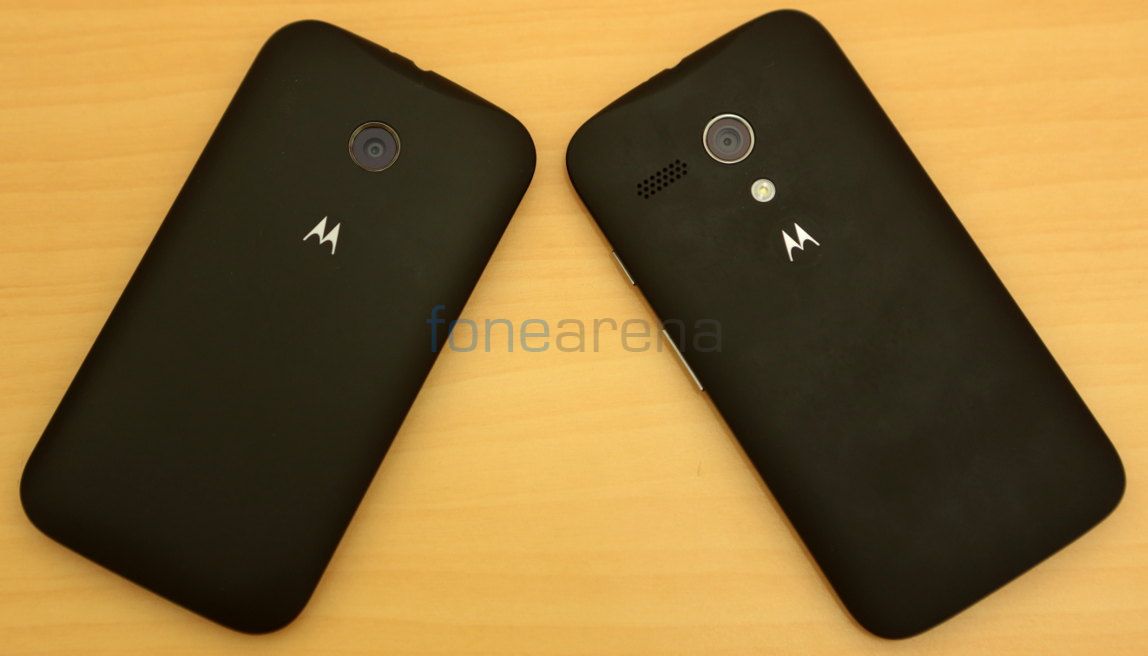 Unlike the Moto G's fingerprint-prone back cover, the back cover in the Moto E better and hardly attracts fingerprints. As you can see it is curved on top almost similar to the Moto G.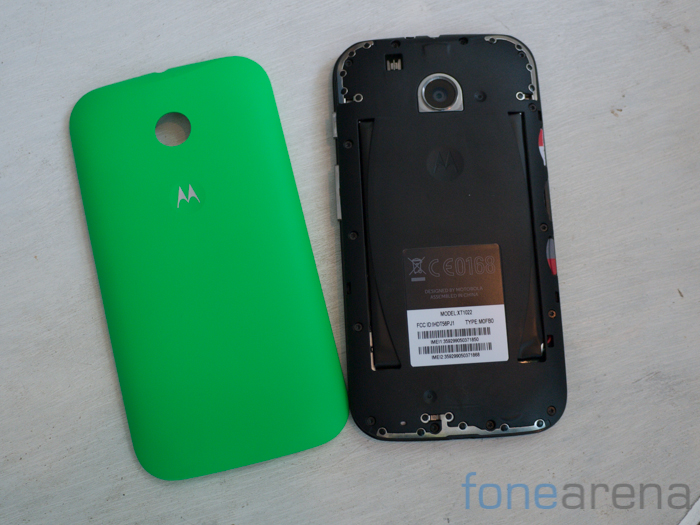 The back cover it a bit hard to remove and it loosens up after you remove and replace it for a few times. Removing the back cover reveals the sealed 1980 mAh battery.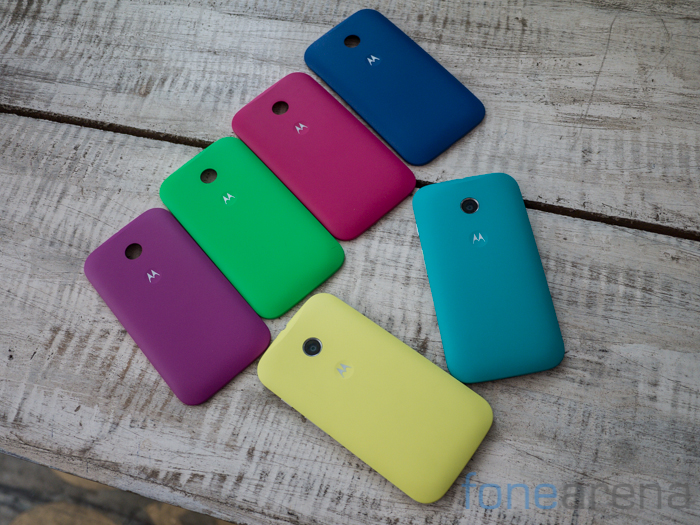 Motorola sells rear shells separately in a range of colors. It is priced at Rs. 899.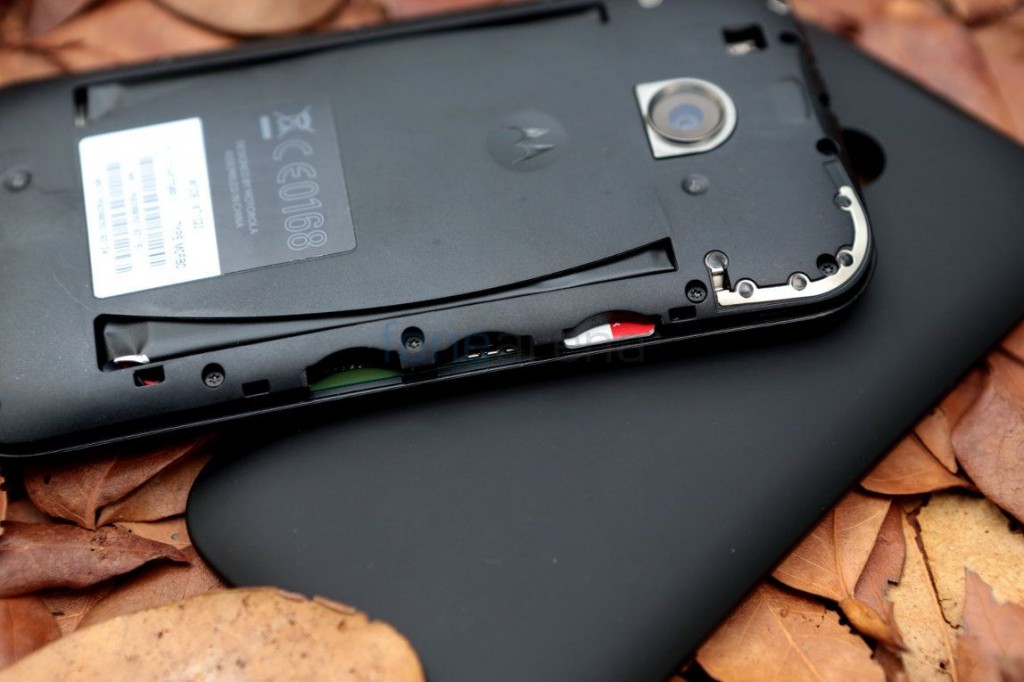 It has dual SIM support with two micro SIM slots on the sides, similar to Indian variant of the Moto G. It also has a microSD card slot that was not present in the Moto G. This is mainly due to low internal memory on the phone. Overall the Moto E has a pretty good build quality.
Camera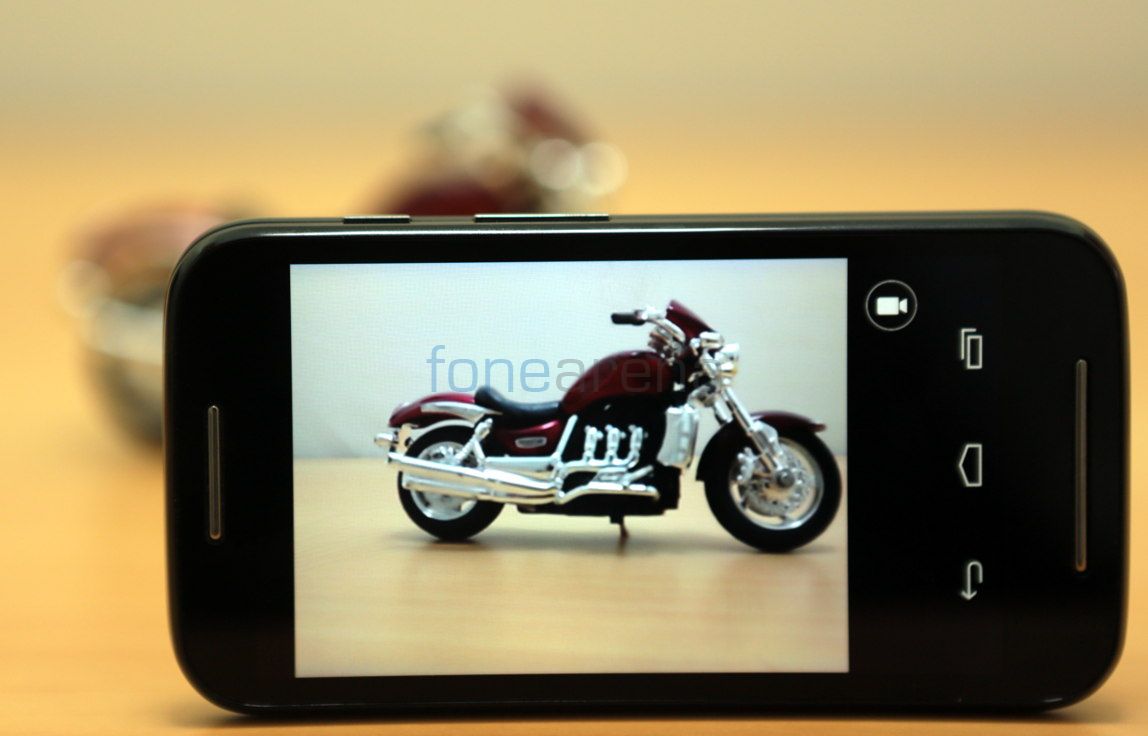 The 5-megapixel fixed-focus is below average. It has very few features such as HDR, Click to set exposure, Panorama, Geo tagging and option to turn off shutter tone. Daylight shots are decent, but it doesn't offer much details. Since it is a fixed-focus camera, it is not possible to capture macro shots. Since it lacks LED flash, low-light images are full of noise. Check out some camera samples below.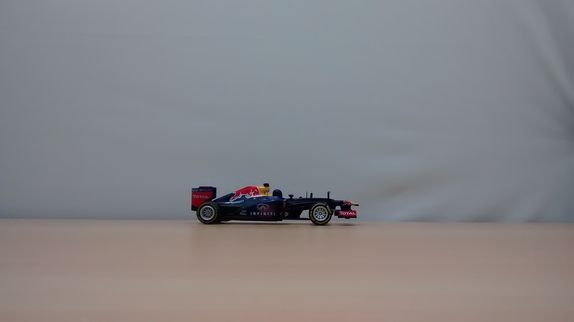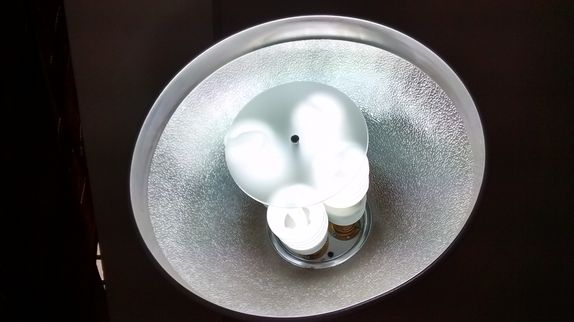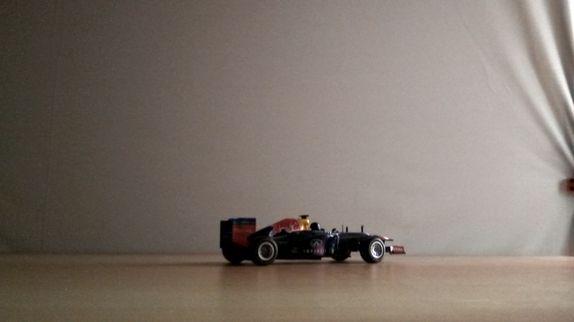 Check out more Moto E camera samples here.
It can also record videos at a FWVGA (864×480 pixels) resolution at 30fps. The video is surprisingly better compared to the images. It also has a secondary microphone so that the audio is crisp. Check out the video sample.
httpv://www.youtube.com/watch?v=M–A1CaAamo
You can check out the complete review of the Moto E to know more about the camera in detail.
httpv://www.youtube.com/watch?v=79MU9x58bA0
Software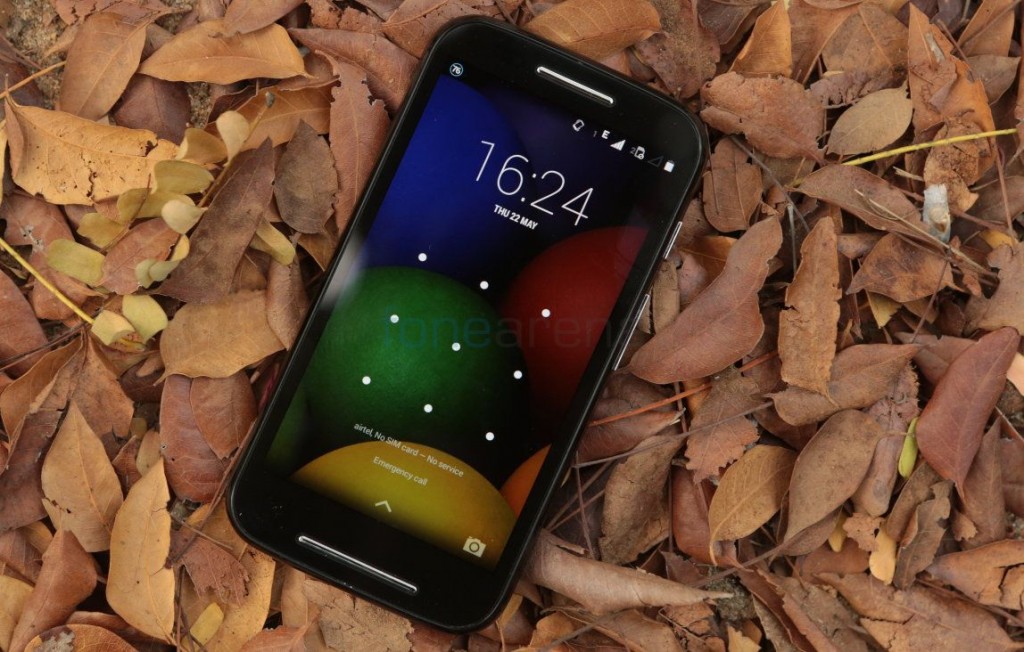 Coming to the software, the phone runs on stock Android 4.4 (KitKat), similar to Moto G, so there is nothing to mention about the software in specific. The Moto G was initially launched on Android 4.3 (Jelly Bean) and received an update to KitKat in a few weeks. Offering stock Android for a Nexus-like experience makes users choose Motorola smartphones over other competitors. Motorola has also promised that the Moto E would get at least one update (Android 4.4.3 likely) in future.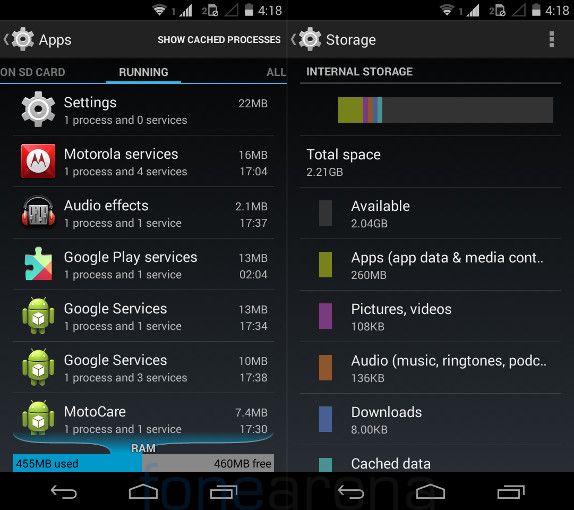 The Moto E has 1GB RAM and about 460 MB of RAM is free when the phone is idle, with only the default services running in the background. Out of 4GB of internal storage, you just get 2GB of usable storage.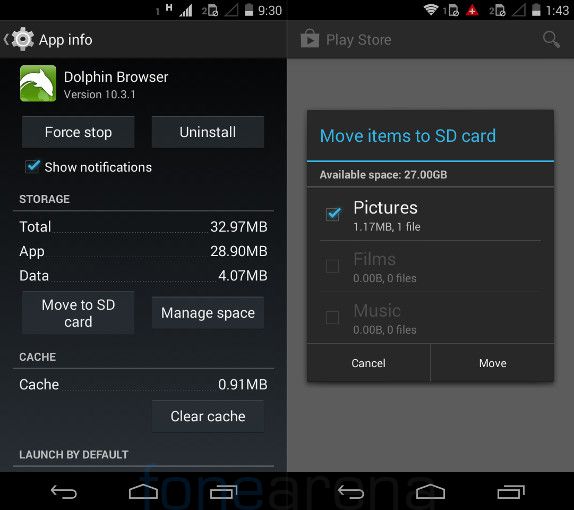 The microSD card slot supports cards up to 32GB. You can also move supported apps and media to the SD card easily, but it doesn't have an option to directly install games to the SD card. This prevent you from installing large games to the memory card. When you try, it shows a warning that memory is full, even though the SD card has a lot of free space.
Apps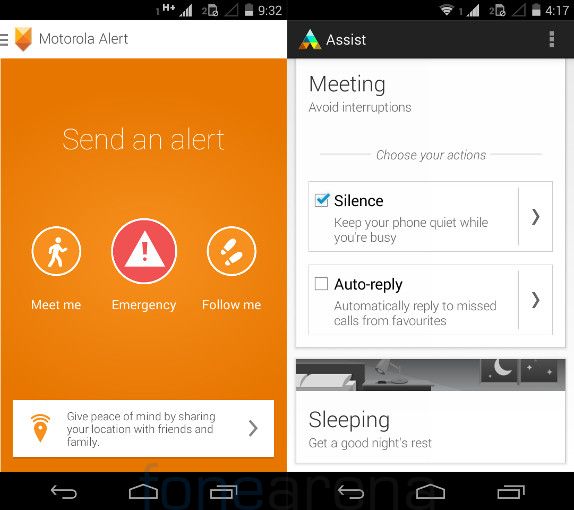 Motorola has also added Motorola Alert, an exclusive app for Moto E that lets you send periodic notifications with your location to people you have added. This is definitely an useful app, especially for women. The phone also comes pre-loaded with the usual Moto Assist app with Meeting and Sleeping actions. It also has the usual set of Google apps and utility apps.
Music and FM Radio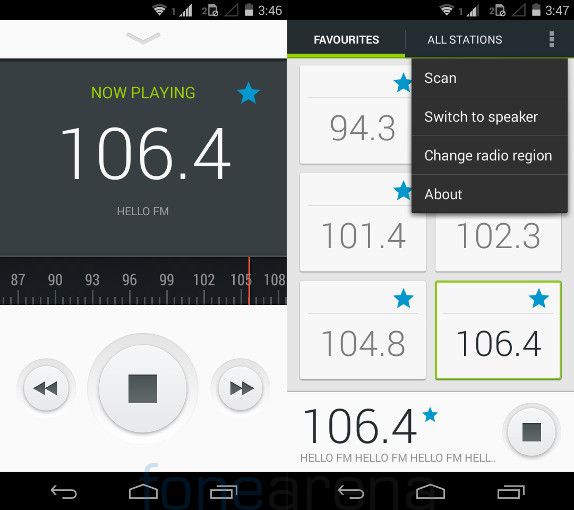 It has the default Google Play Music for music playback. The front-facing speaker is decent and the bundled headset could be better. It has FM Radio with RDS, similar to Moto G. It lacks FM recording, but it has option to play via speakers. It can play 720p HD videos smoothly, but can't handle 1080p videos.
Dual SIM and Connectivity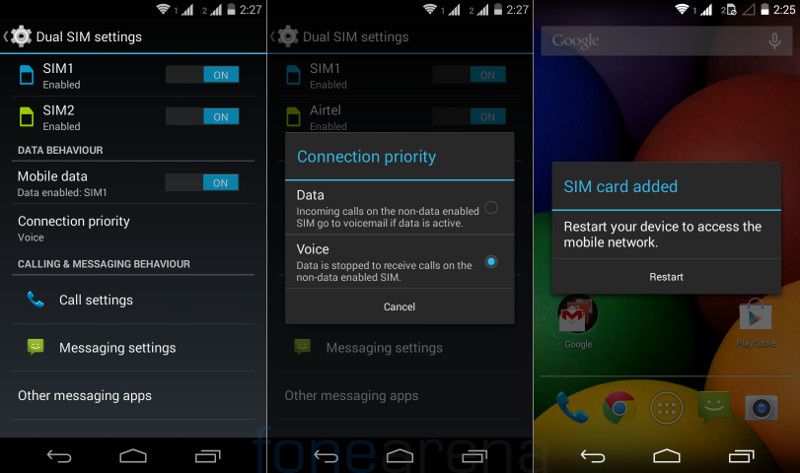 It has Dual SIM options in the settings that lets you customize each SIM cards. There is a connection priority option that lets you choose Data or Voice. If you prefer Data, when you receive incoming calls on the non-data enabled SIM, it will go to voicemail when data is active. If you choose voice, then data will be stopped when you are on a call on a non-data enabled SIM. The SIM card is not hot swap, unlike Moto G. You need to restart the phone every time you insert a new SIM card, but removing a SIM doesn't require a restart.
It has 3G HSPA+ (up to 21Mbps), WiFi 802.11 b/g/n, Bluetooth 4.0 LE, GPS with GLONASS and BeiDou. It doesn't have USB OTG support like the Moto G. This is acceptable since this has an expansion slot.
Performance and Benchmarks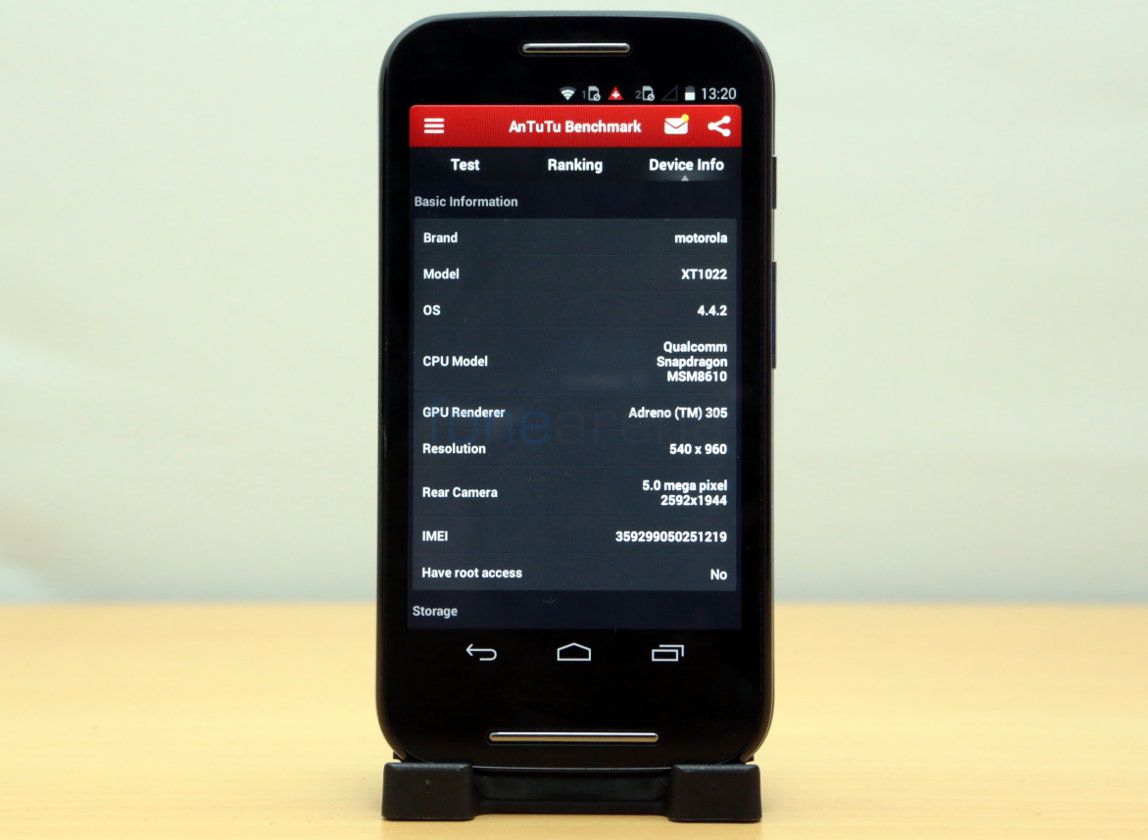 It is powered by a 1.2 GHz dual-core Qualcomm Snapdragon 200 (MSM8610) processor with Adreno 302 GPU. Compared to the performance of the Moto G with quad-core Snapdragon 200 SoC, this is decent. Thanks to the stock Android and 1GB RAM, multitasking is smooth without any lags. Browsing some websites slows down the phone a bit since the processor is not powerful and the phone gets heated quickly on 3G usage and gaming. Check out some synthetic benchmark scores.
Quadrant Benchmark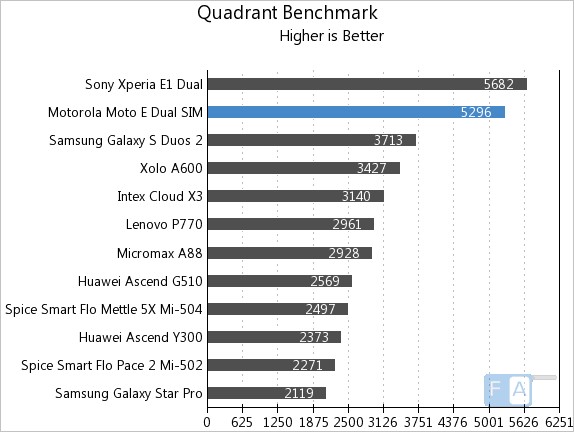 It scored 5296 points in the Quadrant Benchmark.
AnTuTu Benchmark 4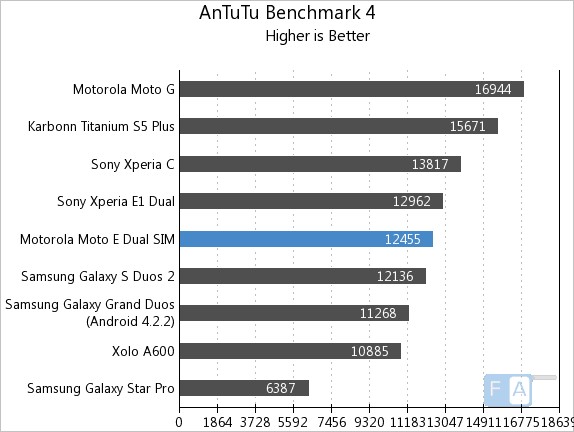 In the AnTuTu Benchmark 4 it managed to score 12455 points.
Vellamo 2 HTML5
It managed to score 1195 points in the Vellamo 2 HTML5 browser benchmark. Check out the complete set of Moto E benchmarks here.
Coming to gaming, the smartphone has a 400 MHz single-core Adreno 302 GPU. Most games were smooth, but some games had occasional frame drops. Graphics was decent, but some games took a lot of time to load. Check out the Riptide GP2 gameplay.
httpv://www.youtube.com/watch?v=b3YRV0cH69E
Check out the gaming review to know more about the phone's gaming performance in detail.
httpv://www.youtube.com/watch?v=vHYnTjNOvAQ
Battery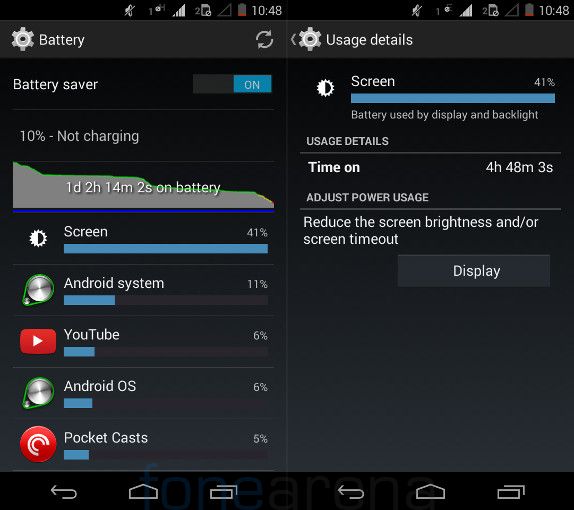 Coming to the battery life. As Motorola promises, the 1980 mAh battery last for more than 24 hours with mixed usage such as video and audio playback, few image captures and some gaming. As you can see, with all these and screen time of close to 5 hours it still has 10% of charge left. This is based on single SIM usage and might vary with dual SIM usage. It also has battery saver option that turns off background data and WiFi when the battery is low that lets you prolong the battery life bit more.
Conclusion
Moto G set a benchmark as one of the best smartphones under Rs. 15,000 price tag. At a price tag of Rs. 6,999, Moto E is definitely one of the best budget smartphones under Rs. 10,000. The smartphone is already popular and is on huge demand in India, so it is not surprising that other OEMs are competing with Moto E by releasing new smartphones running Android 4.4 in the similar price range. If you are looking to buy an Android smartphone under Rs. 10,000, but can compromise on the camera and the lack of front-facing camera for stock Android experience and the display, go for it.
Pros
Competitive price tag
Excellent battery life
Solid build quality
Decent display
Cons
Mediocre camera
Only 2GB of user memory
Cannot install apps directly to the SD card