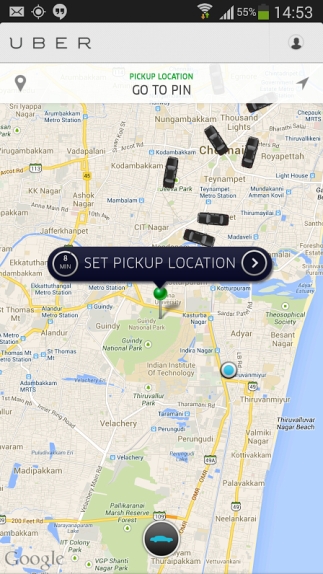 Uber which is one of my favorite services in USA for commuting is launching in the South Indian city of Chennai soon. The service is already available in Delhi  & Bangalore and the company has announced that it is rolling out the service in Chennai with a limited number of cars. I just opened the app and found that a black car would pick me up in around 10 mins in the city which is very good news for Chennai residents.
Update: The cars which will be initially available are Mercedes E-Class, Toyota Altis and BMW 5 Series .
Fares
Base fare  ₨ 50.00 + ₨ 2.00 per minute /₨ 15.00 Per kilometer. Minimum fare is Rs.100 and cancellation fee is Rs.100.
We are trying to find out from the company about the fares and also the types of cars which are going to be available. It will be interesting to see how call taxis and other players react to Uber in the city. The Chennai market is dominated by call taxis and private cabs.
The service is available on both Android and iOS and you can book a car right from your phone and you don't have to pay the driver and everything is billed to your credit card directly.   I just pulled a quick fare quote from my home to the Airport and the app showed a very reasonable figure of Rs.272-350.
Update: Trips to the Airport are charged a flat fare of Rs.1200.
Who is looking forward to trying Uber in Chennai ?