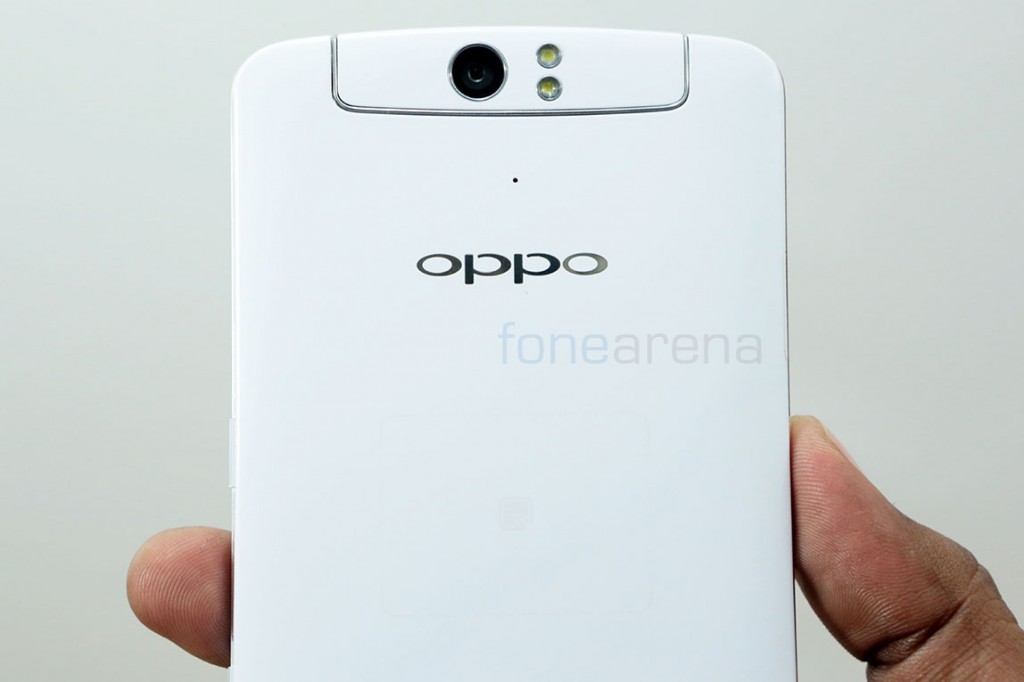 Oppo had earlier revealed that they are entering the Indian market today, and right now, they have done just that, at an event in New Delhi. This event also sees the launch of company flagship, the Oppo N1, for a price of Rs. 39,999, for the 16 GB version. The N1, initially rumoured to be a camera centric device, turned out to be a lot more, which we had documented in our review earlier. It has a 5.9 inch 1080p display, a 13 megapixel camera sitting on a rotating swivel, a rear touch sensor for one handed usage, a really cool bluetooth accessory and so on. The hardware alone does not tell the entire story because the N1 is perhaps the most open device on the market, with an unlocked bootloader and a custom recovery that can install ROMs like Cyanogen Mod without any modification. Now that it has landed in India, can the "13 MP selfie" phone make its mark in a highly competitive market?
httpv://www.youtube.com/watch?v=0G6-reQzqTk
Here are the complete specifications of the Oppo N1 in case you are wondering –
Oppo N1 Specifications
5.9 inch full HD 1920×1080 IPS LCD display
Dimensions – 170.7 x 82.6 x 9 mm Weight – 213g
1.7 GHz Qualcomm Snapdragon 600 with Adreno 320
16/32 GB ROM, 2 GB RAM
13 Megapixel Stacked CMOS Sony sensor with dedicated ISP
F2.0 Aperture, Dual LED flash and 1080p Video recording
3G, USB OTG, WiFi ac 5GHz, WiFi Direct, WiFi Display support
3610 mAh battery
Android 4.2 – Color ROM pre-installed, unlocked bootloader
The Oppo N1 was announced way back in September, and even at that time, the internals were considered a little outdated. That didn't stop Oppo from delivering what they had promised though, as we hadn't found it to be a deal breaker in our review. The camera took great pictures, the option of CyanogenMod was a really valuable proposition for the stock UI lovers in us. But as always, the N1 has its own share of troubles and pitfalls, and you might want to read our gigantic review, in case you want to find each and every bit of the Oppo N1 out.
Coming back to the Indian side of things. The Rs. 39,999 for a relatively unknown device from a new manufacturer seems daunting and that's understandable. Here's where we hope Oppo pushes forward with marketing and awareness, and they seem to be starting in the right place, with Bollywood associations of Hrithik Roshan and Sonam Kapoor as brand ambassadors. The Oppo N1 will be initially available in 12 cities – Delhi, Mumbai, Kolkata, Chennai, Bangalore, Hyderabad, Pune, Ahmedabad, Lucknow, Chandigarh, Jaipur and Ludhiana.
The India-specific Oppo site lists three more phones Oppo Find 5 mini, Oppo Neo and Oppo R1 as coming soon to India, and we will let you know if and when they do. We are right now at the Oppo India event, so stay tuned to the blog for more information on the N1 and more.