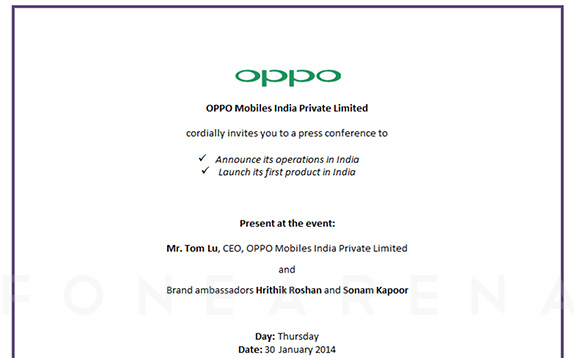 Oppo, the Chinese consumer electronics company, known for its popular smartphones like the Find 5 and the N1, has just sent out invites for an event where it will kickstart its Indian operations – Oppo Mobile India Private Limited, with the launch of its flagship device – the Oppo N1. While the invite doesn't mention the launch of N1, FoneArena has confirmed that the company is indeed launching the device at the event. It is also really interesting to note that Oppo has courted Bollywood stars Hrithik Roshan and Sonam Kapoor for increasing brand awareness in the country. Almost all the mobile phone companies have courted stars from Bollywood and Cricket to promote their brands and Oppo is no exception.
The company is also expected to unveil its strategy for the Indian market, from which we hope to learn what Oppo has in store, for a price sensitive local market. As the trend of Chinese companies establishing their operations in India continues, we will be seeing more competition in the second fastest growing Smartphone market in the world. Oppo's portfolio is a growing list of Android devices, which now covers a range of price points. After the introduction of the N1, we expect the company to introduce more devices like the R819, which might suit the market more. If you have read about Oppo here already, it's because we have been reviewing all of their devices ever since the Find 5, you can find them all here –
On a side note, Oppo is all set to unveil its first 2K smartphone with the Find 7, and with the announcement of Indian operations, we are optimistic that the company will bring the Find 7 to the country soon. Anyways, we will be bringing you more information straight from the event on Thursday, until then, stay tuned and let us know what you think of this announcement in the comments section below.