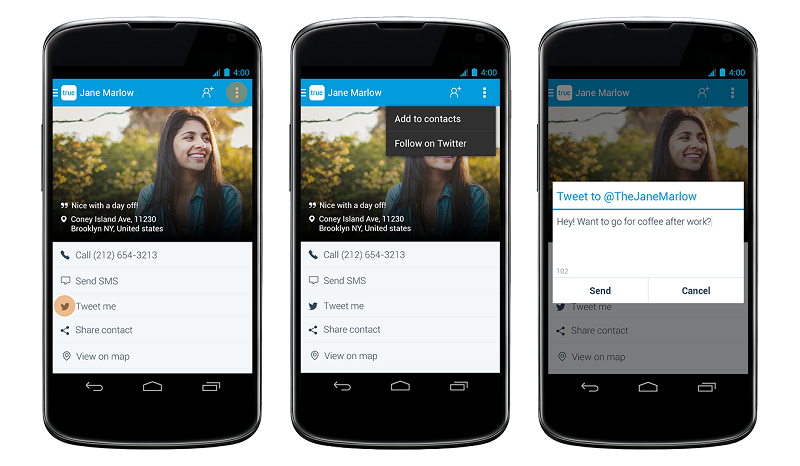 Truecaller, a really popular phone book/caller ID application, is hugely popular in India. Taking advantage of the user base here, the company has announced a partnership with Twitter for an unique integration into its app. Users can now tweet or follow their contacts, or any number associated with a Twitter account, right from inside the Truecaller app. This unique integration is even more special, as it starts its roll out for Android users, first in India. In a bid to increase engagement, Twitter seems to have handed over its private APIs for accessing stored mobile numbers to Truecaller, as a part of this partnership, so that they can use it for this integration, again, starting with India. This is a genius move for courting the vast number of Truecaller users to Twitter, which is already gaining huge popularity in the country with sports, politics and Bollywood topics being the rage. The update also brings a clean new design and is immediately available for Android, with the iOS version slated for a 2014 release, with no solid dates for other platforms.
Download Truecaller 4.0 for Android
On the new Twitter integration, the official Truecaller blog says –
Twitter Integration: Now you can tweet back on a missed call, and view if a number is connected to Twitter through reverse number search and incoming calls.
Now you can not only tweet back, but also reverse look up numbers on Twitter for accounts, which is pretty cool but also kind of pro-stalking. Twitter gets numbers from its users in the Mobile section under settings. In case one doesn't enter the number there, it will not be possible for a look up, so in case you don't want to get stalked through Truecaller, go ahead and delete your entry there right away. But of course, if you want yourself to be found, entering the mobile number there seems the right thing to do.
And finally, on the new look –
New Look: Built from the ground up. The new design is free-flowing with larger pictures, and a more personal experience for the Truecaller user.
So, there you go, that's the new Truecaller 4.0 update with Twitter integration starting its roll out in India. Are you a regular user? If yes, go ahead and update to enjoy the Twitter integration.