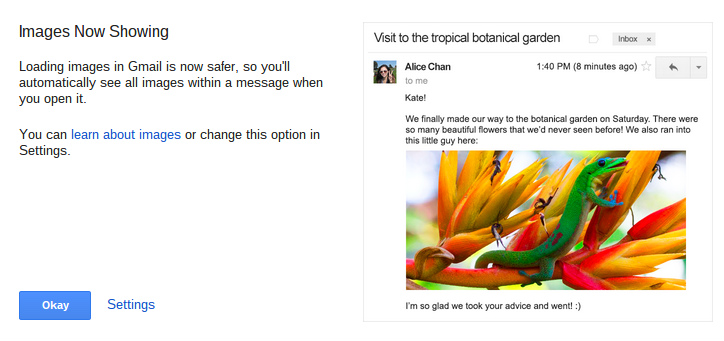 Google has finally implemented the option to show embedded images in all your email messages by default. This restriction was to prevent users from opening emails from unknown senders who might try to use images to compromise the security of computer or mobile device. Google has implemented new improvements in how Gmail handles images to load all the images from default.
Regarding the new implementation, Google says,
Instead of serving images directly from their original external host servers, Gmail will now serve all images through Google's own secure proxy servers. Your messages are more safe and secure, your images are checked for known viruses or malware, and you'll never have to press that pesky "display images below" link again.
You can obviously change to behavior from the settings and choose Ask before showing. This feature is already rolling out to Gmail users on desktop. We didn't get this feature in the Google Apps mail yet, which might roll out gradually. This feature would be rolling out on Gmail mobile apps for Android and iOS in early 2014.