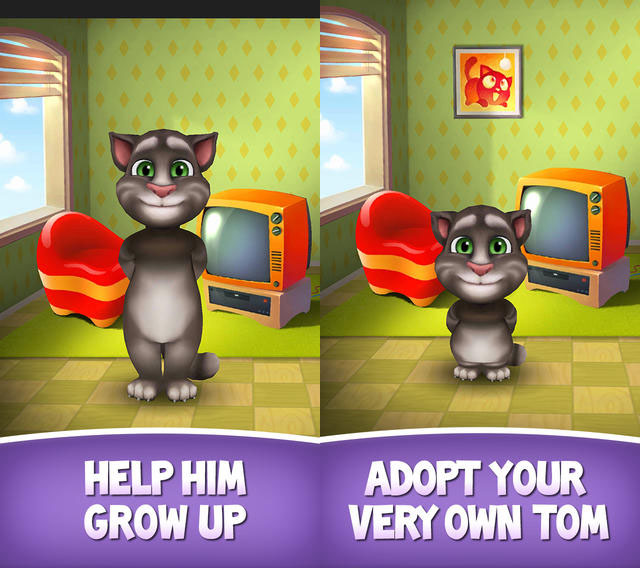 Talking Tom, the insanely popular app that kids loved, has now got its own "My Talking Tom" app that lets your pet and grow Tom the cat, hence validating the name. The previous versions only involved playing around with the cat which talks back to you in a hilarious voice but now it's more of a pet simulation like Kinectimals where a kitten grows into your own cat, with lots of customization options to make it personal. The app is, unsurprisingly, available for iOS and Android, and for the first time, it is officially available on Windows Phone too, on the same day. Download My Talking  here –
My Talking Tom – iOS | Android | Windows Phone
Here's the trailer of the game/app –
httpv://www.youtube.com/watch?v=MrtQfZDn7mU
FEATURES:
– Nurture your very own Tom: Play games with him, feed him his favorite foods, tuck him into bed.
– Enjoy life-like emotions: Tom can be happy, hungry, sleepy, bored… his emotions change according to how you play with him.
– Unleash your creativity: Create your very own Tom by choosing from 1000's of combinations of furs, clothing and furniture.
– Get rewards as you progress: Help Tom grow through 9 different stages and 50 levels unlocking new items and coins as you go!
– Interact with Tom: Talk and Tom still repeats everything you say. Poke, stroke and tickle him, and watch how he responds.
So there you go, that's My Talking Tom on all the three major smartphone platforms. Have you downloaded it already? Do let us know what you think in the comments section below!