Opera Mini 5 Beta is one of the best mobile browsers out in the market and we totally love using it over a slow GPRS connection.  But the app is slow on even high-end phones because its based on Java. Now get ready for some serious mobile browsing on your Nokia or any other Symbian smartphone –  You can now Download Opera Mobile 10 beta which is a native S60 application.  We tested the app on a Nokia 5800 (touchscreen phone) and a E52 ( non touch) and the app certainly kicks ass and is a zillion times faster than the mini 5 beta. It features the same speed dial found in the desktop browser, support for multiple tabs, contextual menus and a lot more.
This product has been due for quite some time as the last version of the native Symbian app was 9.7. Jon von Tetzchner,CEO of Opera Software told us that a lot of the code has been written from scratch and a lot of work has gone into development of Opera Mobile 10 and Opera Mini 5. We will have a video of the interview coming up soon.
Press Release
Mobile browsing revolution: now available for Nokia smartphones
brings powerful features to world's most-used smartphone platform
Oslo, Norway – November 3, 2009 – Opera Software today unveiled the beta
of Opera Mobile 10 for Nokia and other Symbian/S60 handsets. Most notable
in the new Opera Mobile 10 beta is a sleek design, which Opera first
introduced to the world in the recent release of Opera Mini 5 beta. The
crisp, new look introduces the Speed Dial, tabbed browsing and the always
convenient password manager to Opera Mobile. Opera Mobile 10 beta is
optimized for both touchscreen and keypad-style navigation and is
available for free from http://www.opera.com/mobile/next/.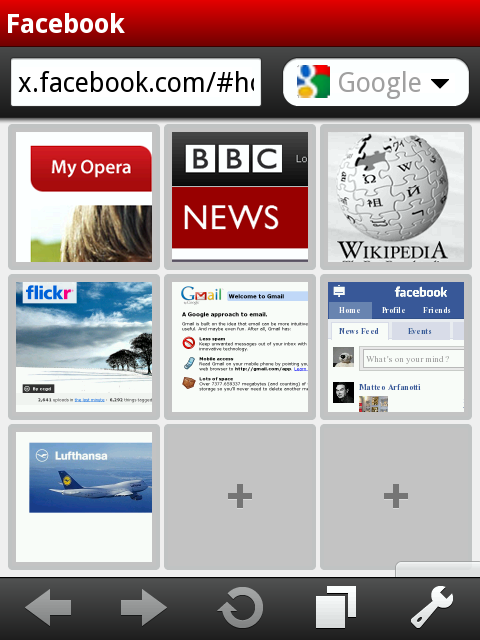 Performance was prioritized in this beta. It is twice as fast as the
previous Opera Mobile released for Symbian/S60, and users will discover
significant speed improvement when downloading pages, zooming and panning.
Opera Turbo is also integrated, saving end users both time and money with
its server-side compression technology.
"Today's powerful smartphones deserve an equally powerful browser, like
Opera," said Jon von Tetzchner, CEO, Opera Software. "This beta continues
our work to extend the desktop Web experience to mobile phones, allowing
users to surf the Web without limitations, even while on-the-go. No matter
the device in use, Opera delivers a faster, easier and hassle-free Web
experience."
Feature details
Fresh design – Alongside the new Opera Mini 5, Opera has revamped
the look and feel of its mobile-browser portfolio to ensure that it is
simple and intuitive, making mobile Web browsing easier than ever.
Desktop favorites on the mobile phone – Opera desktop feature favorites,
including tabbed browsing, Speed Dial and password manager, make it easier
for you to surf on the go by reducing the time and effort it takes to get
to a Web site.
Advanced compatibility – Opera Mobile 10 beta uses the very latest
generation
of the Opera browser engine, ensuring that all your favorite Web sites and
applications work exactly the way they do on a desktop computer.
Availability
Opera Mobile 10 beta is available for Nokia, Sony Ericsson and Samsung
smartphones running Symbian/S60, 3rd and 5th editions. The beta is free to
download to your computer from http://www.opera.com/mobile/next/ or
directly to your mobile phone from http://m.opera.com/mobile.