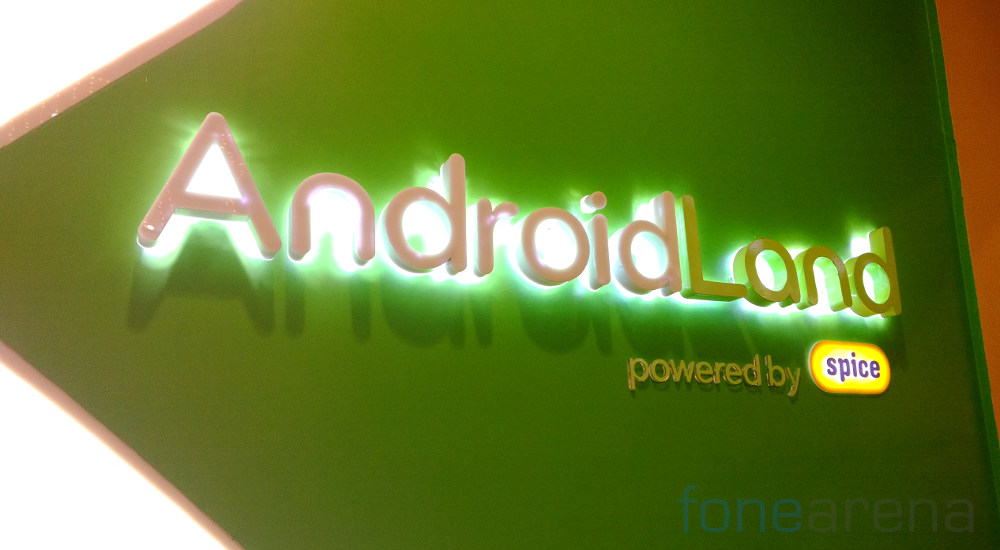 Spice Mobility, one of the popular Indian retailers has launched the first two AndroidLand stores in India. These two AndroidLand, Android branded retail experience stores are located in Koramangala, Bangalore and at The Great India Place Mall, Noida. These multi-location stores will offer Android experiences created for its customers and will showcase a comprehensive range of Android devices, services and accessories, says Spice. There were reports about the store back in June.
At the launch, Dilip Modi, Co-Founder and Group CEO, Spice Global, said
We are excited to launch the first AndroidLand store in India. We are confident customers will love the fun and engaging store concept that we developed in collaboration with Google. We have created a destination for customers to experience Android technology and learn about what they can do with mobile Internet. We believe that this new concept will add value not only to our customers, but also to the entire Android Ecosystem including App Developers and Device manufacturers
Highlights of Android Land stores
Fun and open design – An open plan design that inspires customers to discover the fun world of Android.
Android choice showcase – A wide variety of live Android smartphones and tablets that customers can play with along with a selection of accessories.
Google Play Zone – An exclusive area showcasing the most popular apps and games from Google Play. Option to download multiple applications from Google Play on the spot.
Expert advice – AndroidLand store staff (Spice Android Experience Specialist) have been specially trained on the Android platform and will be able to help customers select the device that's right for them and then set-up, customize and provide apps recommendations.
Free Wi-Fi – Free Wi-Fi in store for visitors to browse the Internet from the live units
The Bangalore store is huge at 2300 sq ft while the Noida store is 900 sq ft in size. These store would have interactive live demo units and Spice Android Experience Specialists to guide the customers. The AndroidLand stores would sell range of Android phones from brands including, Spice, Samsung, Sony, HTC, Lenovo, Xolo, Micromax, Karbonn, LG and more.