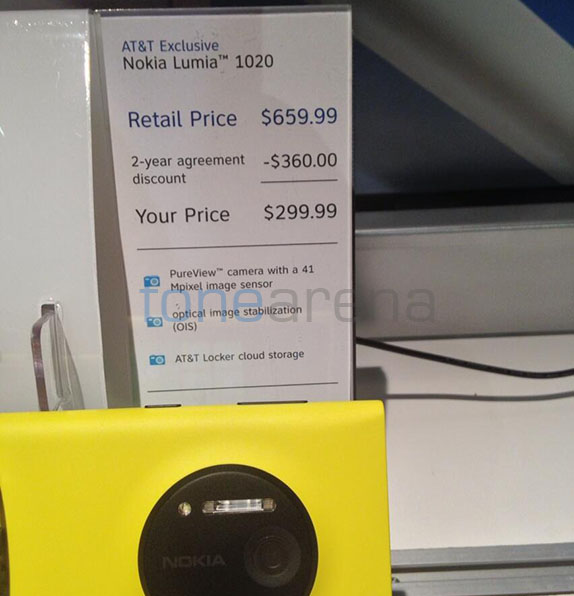 If you just can't get enough of the Nokia Lumia 1020, here's more juicy information about the 41 megapixel camera phone. One of the most important factors of any phone launch is the pricing and it has been revealed on the show floor that the Nokia Lumia 1020 will go on sale in the US on July 28th, exclusive to AT&T at 299$, but what if it wasn't? What would be its price if it was sold unlocked or off contract? The above image answers that exact question. Yes, it might cost 650$ unlocked, but that's not going to happen due to the exclusivity. But then, the Lumia 1020 is a global phone too right? So what might be the cost in India when it launches here? Read on to find out.
Lets go back in time, a little. When the Nokia Lumia 920 launched in the US, exclusively with AT&T at 99$, it was also sold off contract, at just 449$. After a couple of months, the factory unlocked price in the US was quoted in several e-retailers as 650$, which is very similar to the price above. Converting it directly to INR at 2012 exchange rates, the price came to something like – INR 35,750. It launched in India for Rs. 38,199 in January, which was three months after the September 5 launch. The difference in price is around 2,500 INR which is understandable considering the logistics challenges and what not.
The Lumia 1020 which is also launching in the US exclusively with AT&T, at 659$ converts directly to 39,500 INR. Considering a similar price difference and similar logistics challenges, the phone might end up costing around 42,000 INR or even more(considering the sliding rupee) when it lands in India in a similar 3 month delayed time frame. So, give or take, the phone might be priced at Rs. 43,500 as the MRP in India, which is in line with the recent flagship launches in the country. A quick look up of the current state of the other flagships yield these prices – HTC One – Rs. 42,499, Samsung Galaxy S4 – Rs. 38,999 and Nokia's own Lumia 920 – Rs. 31,999. These were actually launched at 42,900, 41,500 and 38,199 INR respectively.
So, what do you think the final price might be? Will you be ok with paying >40k INR for the Nokia Lumia 1020? Answer the poll below or let us know what you feel in the comments section.