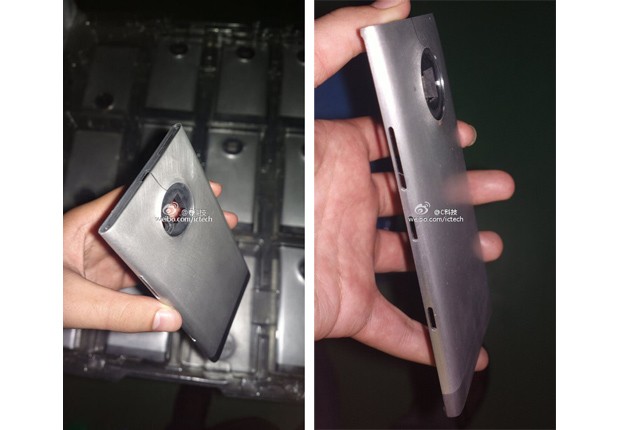 Remember the last time when the Nokia EOS and its circular 41 MP camera hump leaked out? It looked a lot like the Lumia 920 with a polycarbonate body that time, but there is yet another leak, and from the looks of it, it's from the shady factories in China. The above two images literally show off a metallic body for the highly awaited Nokia EOS device to be launched by Nokia at an event in NYC on July 11th. The metallic body is a surprise as the device was already shown off in a polycarbonate body, but from what we can see above, the metallic body seems like an option as a part of the different colours, or at least we hope.
Update: The device in the images above seems to be unnaturally long, especially when you note the openings for the controls on the right. Is this actually a Nokia phablet we are looking at?
As previously noted, the Nokia EOS is the much awaited 41 MP successor to the camera king 808 PureView, but running on Windows Phone 8. While the times has massively changed since the unveiling of the 808, one thing still stands and that is the camera performance. It still has been unparalleled, and Nokia hope to repeat the success story with the Nokia EOS PureView, with possibly a change in camera interface, which is highly needed, as we discussed earlier.
As of now, these are the rumoured specification and a good deal of it might end up true too –
41 MP camera with Xenon flash
Nokia Pro Camera
32 GB internal
OLED Screen 768 x 1280
WP8 V 8.0.10322.71
FM radio
Flip to silence
Polycarbonate body
Takes a 35 MP picture and a 5 MP picture at the same time one to save one to share
Comes in yellow and metal
No SD card
As you can also notice in the above two photos, they seem to be taken from an assembly line, which indicates that the PureView phone that we've all been waiting for is actually undergoing mass production. We might be wrong, but it certainly looks like it. We will be hearing the complete details of the device on July 11th, and we will be on the show floor discussing the details with you guys! So, are you excited?