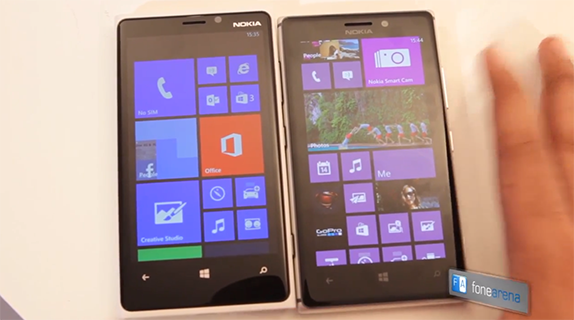 We have been bringing you a lot of Nokia Lumia 925 coverage live from London, including a photo gallery, a Lumia 925 hands on and even a Samsung Galaxy S4 comparison video, so, following that tradition, here is our comparison of the Lumia 925 with its older brother, the Lumia 920. It is an interesting comparison because the Lumia 925 is a natural evolution of the Lumia 920, with it fixing many perceived flaws and shortcomings like thickness, weight and slightly mushy camera. Here is a quick comparison video to let you know some of the changes –
httpv://www.youtube.com/watch?v=0sAwEdWizOI
So, lets quickly go through what has changed then.
Design and Build – The design of the Lumia 925 has taken a different path. The curved sides are still there but the flat top and bottoms are gone, paving the way for the same curved design overall. With regards to the build, the Lumia 925 improves upon the Lumia 920 in various ways. It now sports a thinner and lighter aluminium frame, coming in at just 8.5mm thickness(10.7mm for the 920, 9mm for the 720) and 133g of weight(185g for the 920). This is achieved by a number of factors, which we will be discussing below.
Display – Both are 4.5 inch 1280×768 displays with Nokia's PureMotion HD+ technology for super fast 60 Hz refresh rate, super sensitivity and the clear black coating. But there is a key difference in technology here, the one on the 920 is a IPS LCD panel where as the one on the 925 is a 4.5 OLED panel which contributes to lessening the thickness of the device.
Cameras – While both the cameras are largely the same with a similar 1/3″ 8.7 MP hybrid sensor with OIS, the 925's Carl Zeiss optics has a 6 element lens and the sensor is now upgraded to support upto 3200 ISO, which means you will get sharper and less noisy images at higher ISOs on the 925.
Software – 925 comes with Windows Phone 8 GDR2 + Lumia Amber update out of the box, with Smart camera additions and the ability to change camera defaults, double tap to wake the lock screen and more. The 920 will eventually get the update soon.
So, that's about it for the quick comparison between the Lumia 920 and the Lumia 925. We will be letting you know more and more about the Lumia 925 in the coming days and months, stay tuned!
Credits to Varun Krish for the video