Once considered a leader amongst smartphone manufacturers, HTC has fallen from grace due to increasing competition and in some ways failure to keep up. With ever declining sales, the Taiwanese smartphone manufacturer is in a dire scenario that calls for desperate measures.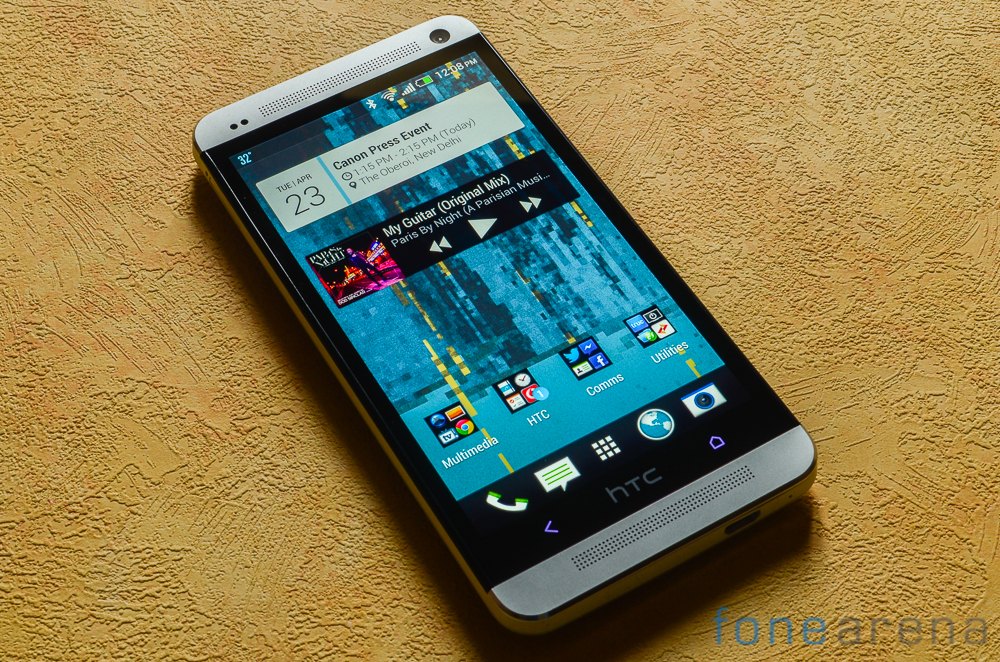 The One is it's offering to the world and is meant to show that the company can still create a compelling product. CEO Peter Chou is confident enough to proclaim that he will resign if the handset doesn't do well in the market. A beautiful product for sure but does it have what it takes to face the twin attack from the Sony Xperia Z and the Korean juggernaut, Samsung's upcoming Galaxy S4 smartphone ? Read on to find out!
Unboxing
Keeping up with the design of the phone, the HTC One ships in a minimalist packaging that contains the essentials. Here's our video unboxing of the HTC One.
httpv://youtu.be/05AIqAl3mPc
Video Review
Curious to see the HTC One in action ? Here's our video review that should help you make your smartphone buying decision just that much easier.
httpv://www.youtube.com/watch?v=G_yI3qgxV9w
Design
HTC has a heritage of design that has previously resulted in iconic handsets. Never before have they created a smartphone that melds such a sophisticated design with high end materials to create a sublime handset usage experience.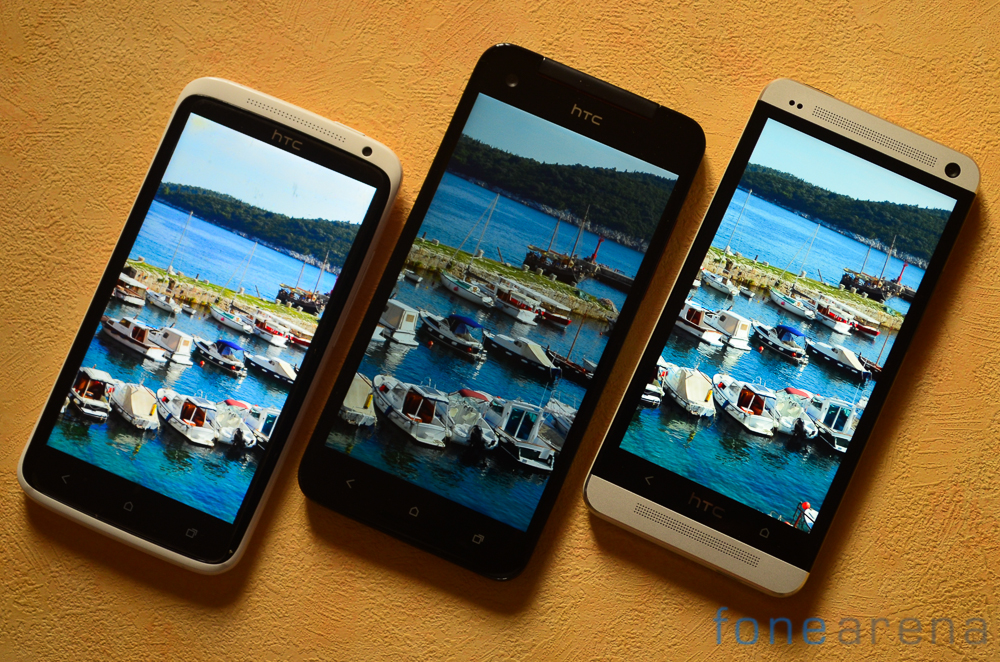 The software and hardware designs complement each other in a way few Android devices do. It is easy to spot the design heritage and gradual direction that HTC has been heading into when you place the One X, Butterfly and the One side by side.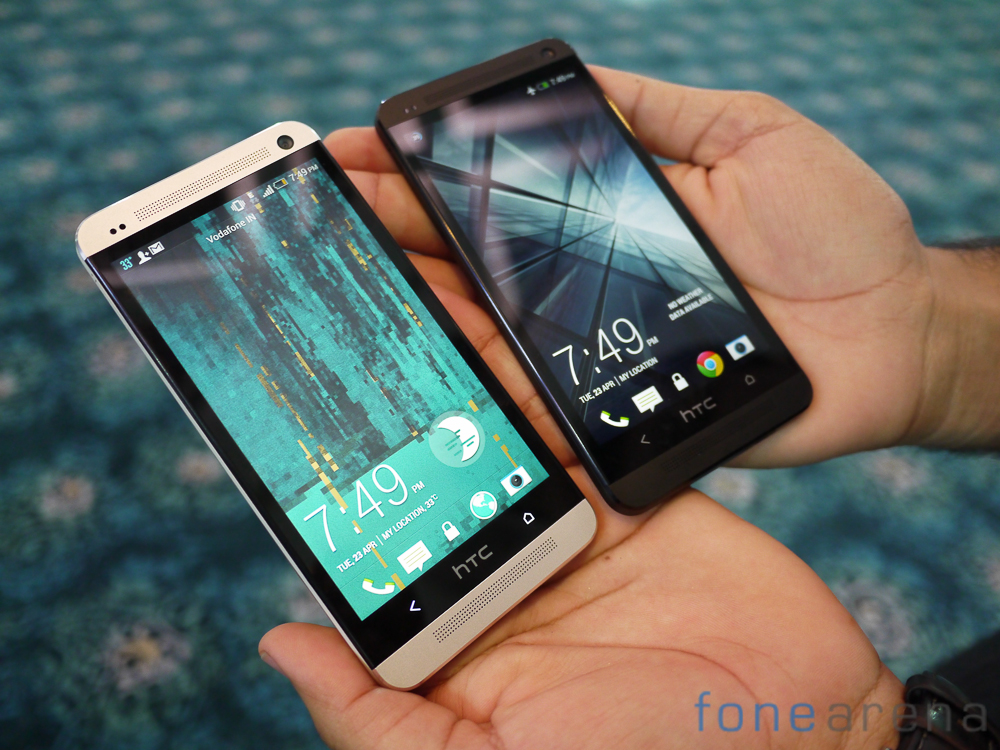 Available in silver and black, the former is the more sophisticated looking and definitely stands out. The aluminum construction further reinforces the build of the handset making it relatively resilient to minor falls.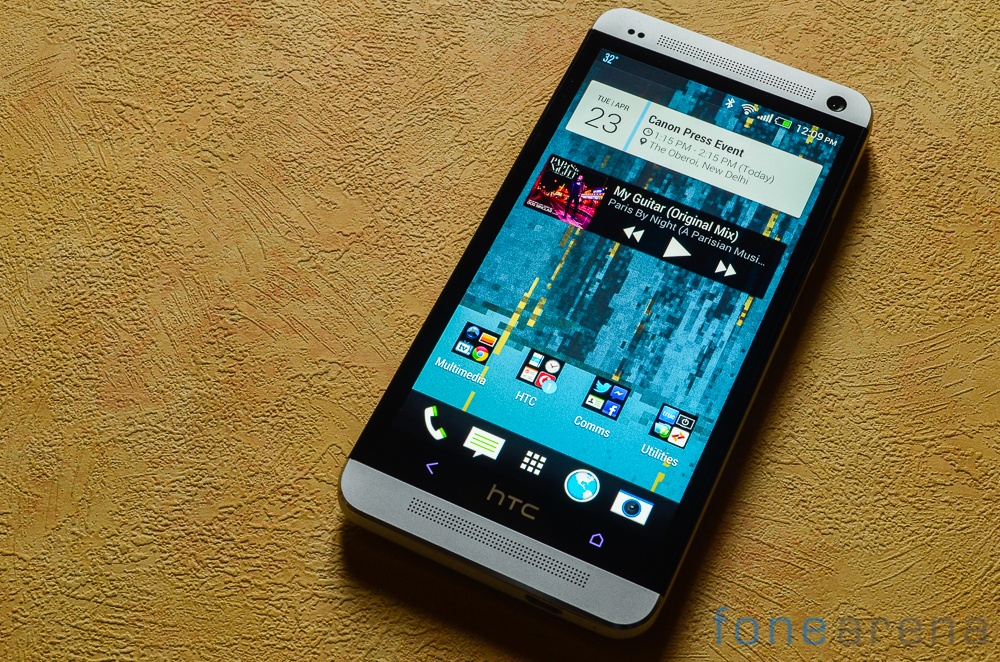 The front of the phone is dominated by a 4.7″ full HD display. Kudos to HTC for having chosen a size that strikes a perfect balance between size and usability. Already a slim handset at 9.3mm, the chamfered edges give it a sleek look. The handset weighs in at 143 grams.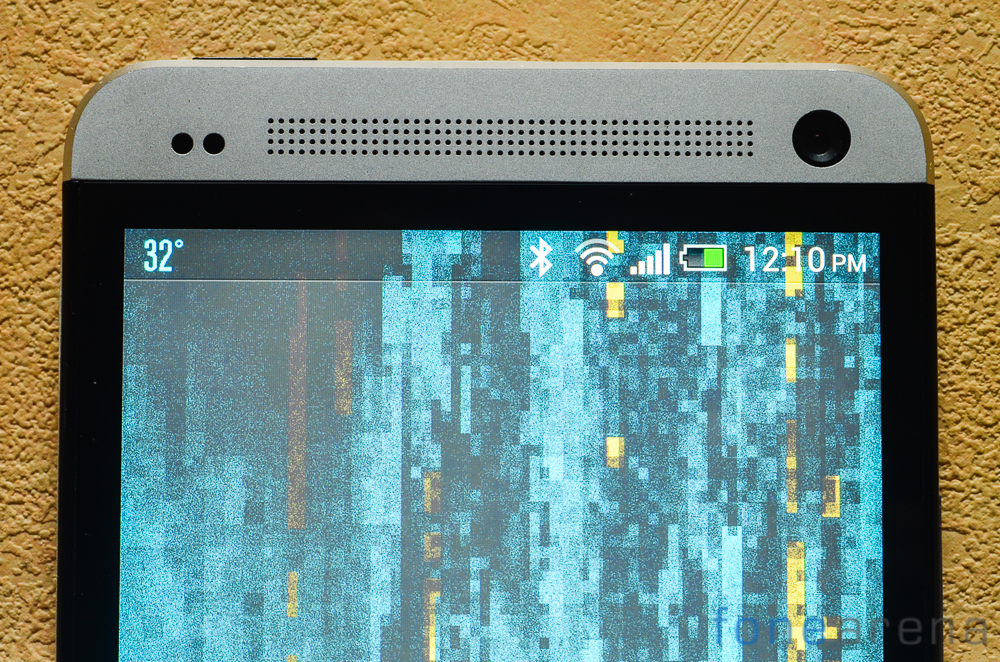 Above and below the screen are HTC's BoomSound speakers. Creating a surprisingly powerful and wide stereo effect, the speakers go louder, clearer and deeper in terms of bass than pretty much all phones out there. A 2.1 MP camera is located at the top right corner.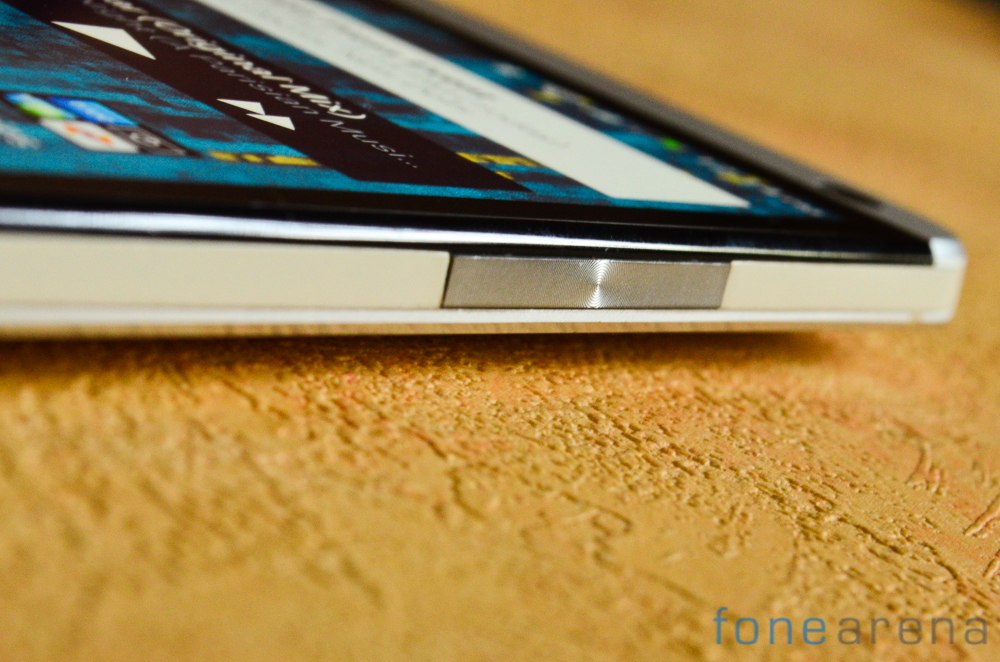 Over on the right side is the volume rocker while the micro SIM slot is on the top left corner. The top of the phone sports the 3.5mm audio jack and power key. Interestingly the power key doubles up as an IR port.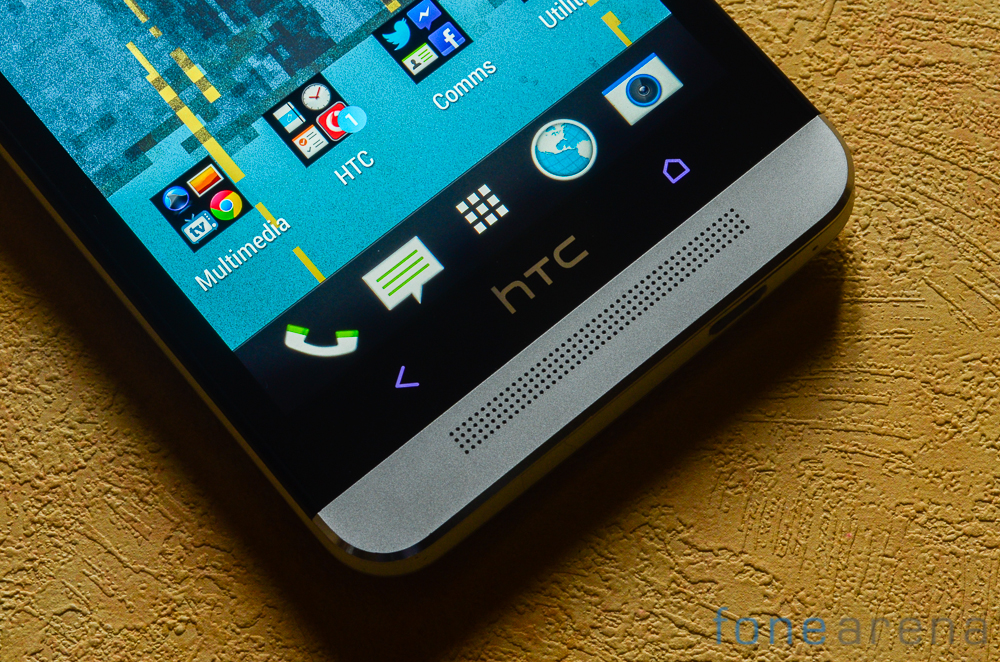 Flanking the HTC logo are the back and menu buttons. Capacitive in nature, they are extremely responsive though we are still not too sure about the double tap gesture implemented by HTC to get to the multitasking screen.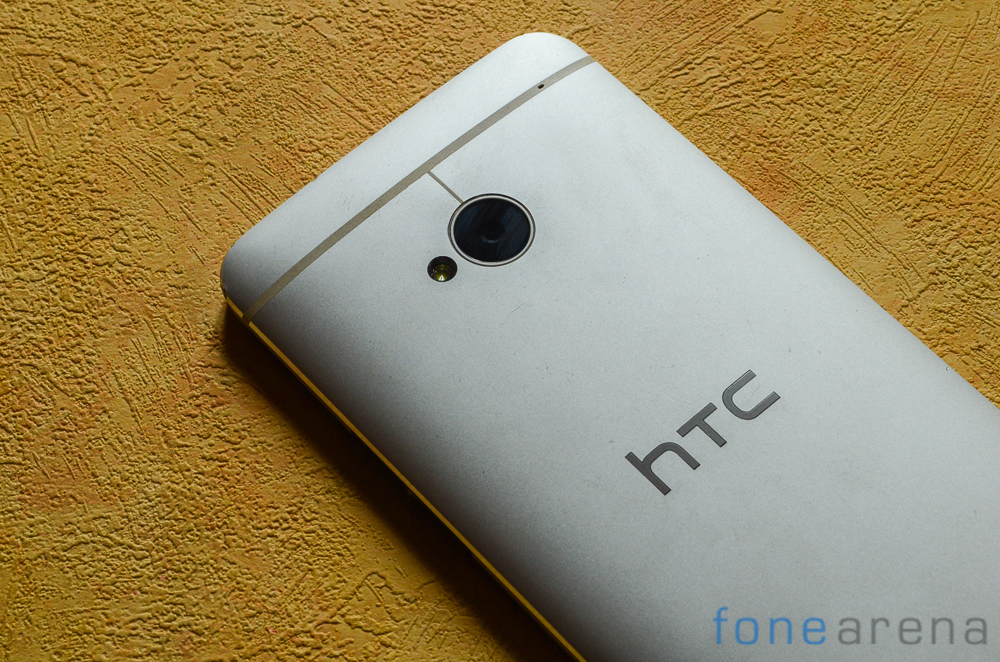 The clean design extends to the back of the handset. The plastic sides sandwiched between aluminum layers branch out into the back to help boost the internal antenna. A 4MP Ultrapixel camera greets you at the top while Beats Audio branding can be spotted at the bottom.
Display & Boom Sound
The 4.7 inch Full HD display on the HTC One is a thing of beauty. With a pixel density of ~469ppi, you'll be hardpressed to see any pixels here. Blacks are some of the best we've seen and the colors are very accurate unlike the oversaturated neon like colors you spot on AMOLED devices.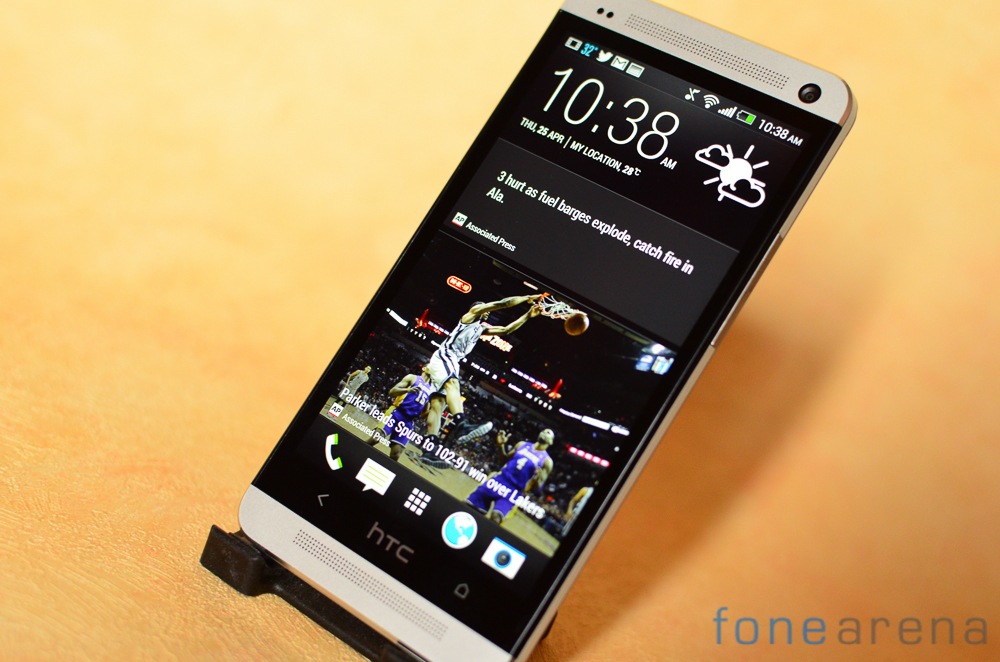 Text appears tack sharp and the screen goes bright enough to never be a problem. You might struggle just a bit in direct sunlight but it really shouldn't be a problem for a majority of users.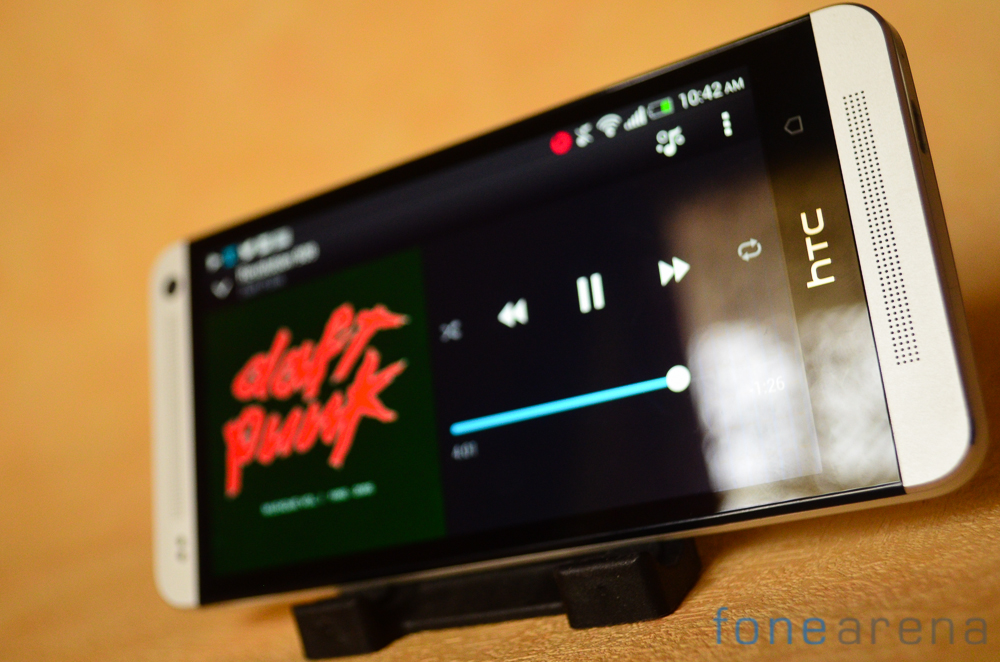 The HTC One makes for a formidable entertainment device with its stunning display. The BoomSound speakers however take this to another level by delivering above average stereo separation and surprisingly even a hint of bass. Yes, they are still phone speakers but they go loud enough that you won't have to go searching for your headphones just to catch a YouTube clip.
Camera
HTC has promoted its Ultrapixel camera as the pièce de résistance on the One and promises superior images in all conditions. Real life experience was on the other hand a bit polarizing.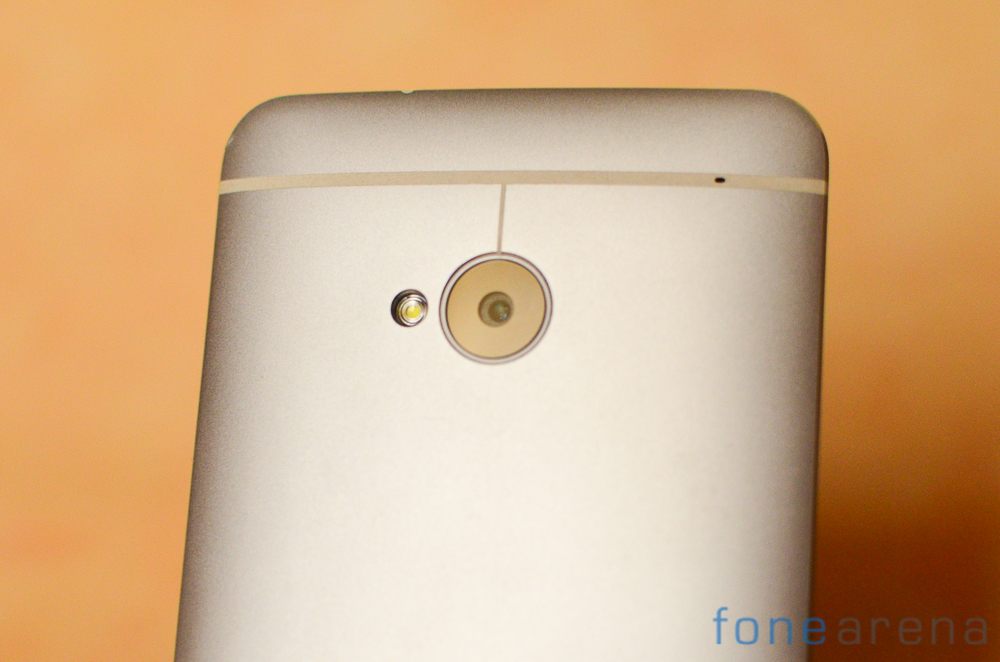 The 4MP camera unit is dubbed as an Ultrapixel camera because of the larger than usual pixel size. By reducing the number of megapixels and keeping the sensor size fairly large, theoretically the phone should provide noise free and superior low light images.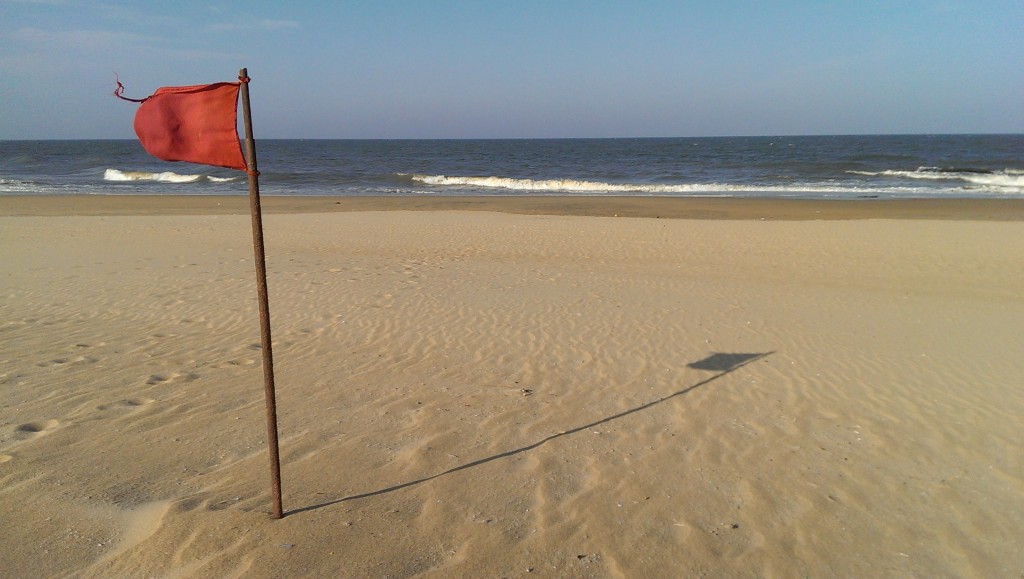 Our experience suggests that while performance is better than most others in low light, day light images are no better than the usual crop of 8 and 13MP sensor enabled smartphones.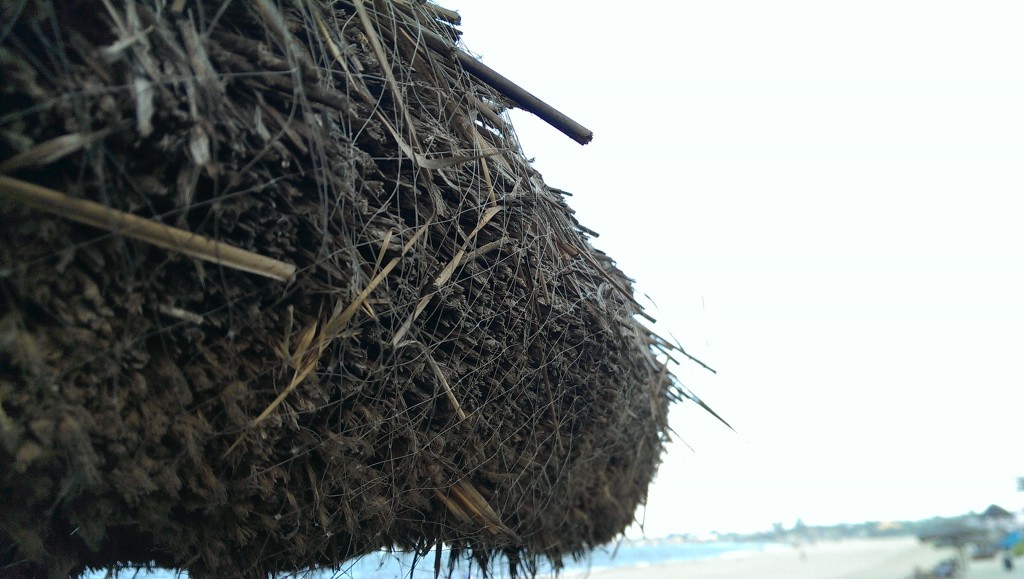 Colors are accurate enough but it is possible to see noise due to rather aggressive jpeg compression. The low resolution of images means that cropping into them to reframe a shot isn't really an option.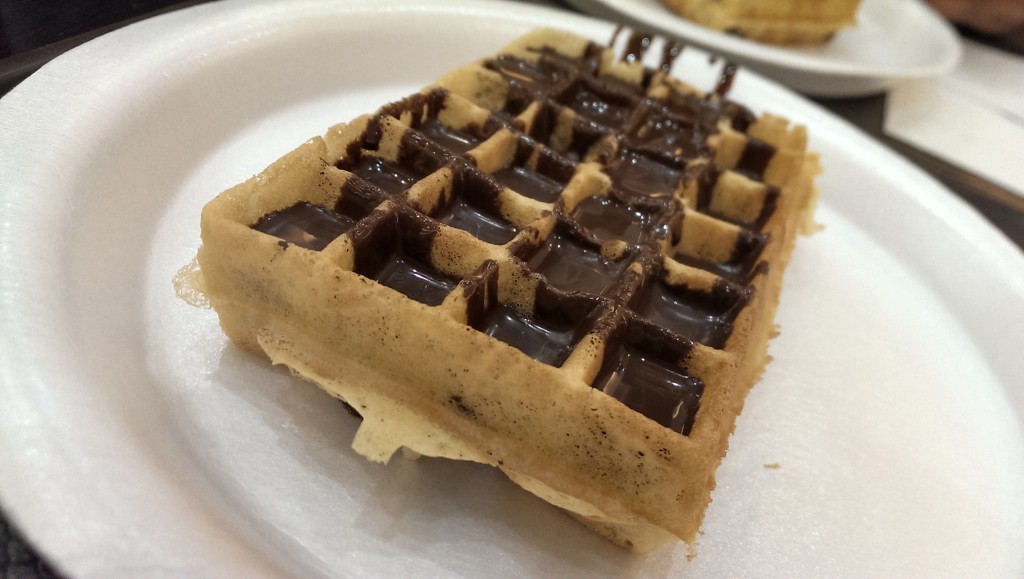 We were quite impressed by the macro focussing capabilities of the HTC One. Getting a focus lock can be a bit slow but it does manage to stay in focus most of the times.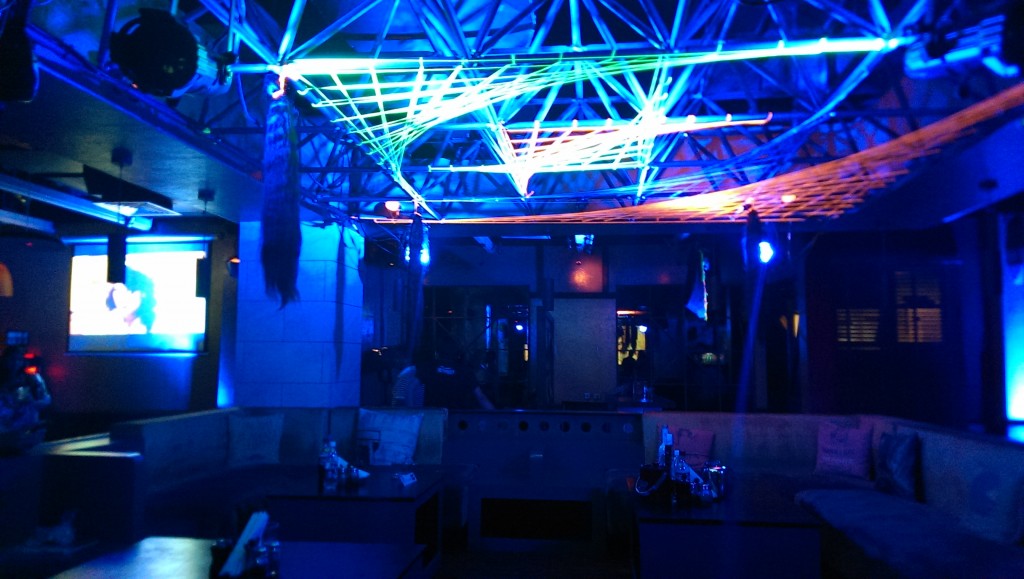 Low light shots do impress but unless a majority of your images are shot in such conditions which is something i suspect not many people have as their use case, you will be underwhelmed. The low resolution means that image sizes are very manageable and it is a cinch to share them across to your social networks. We do feel that this is what HTC was aiming for this very audience while designing the camera. We probably wouldn't shoot our vacation stills with the HTC One.
httpv://www.youtube.com/watch?v=5jubHBQOW5A
Optical Image Stabilization (OIS) means that low light shots are very easy to take. Video also benefits from the two axis stabilization on offer. The HTC One shoots video in up to 1080p with crisp and clear results. The phone does hunt around a bit to get a focus lock at times but its not a major issue. One minute of footage clocks in at a little over 400MB in size.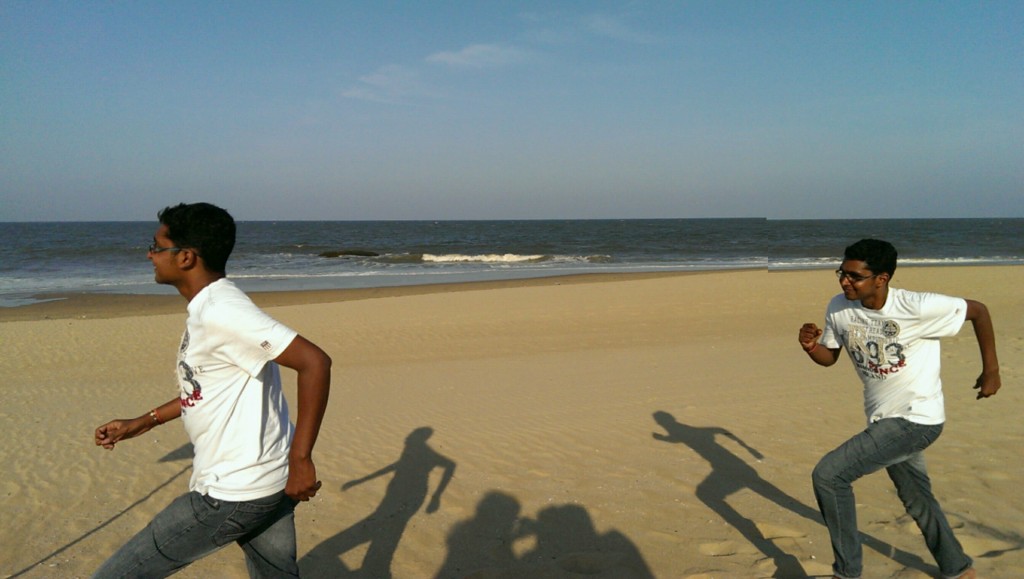 The hardware on the camera is one part of the story with software playing a major role as well. HTC Zoe is a very cool addition that adds a lot of possibilities given the correct situation.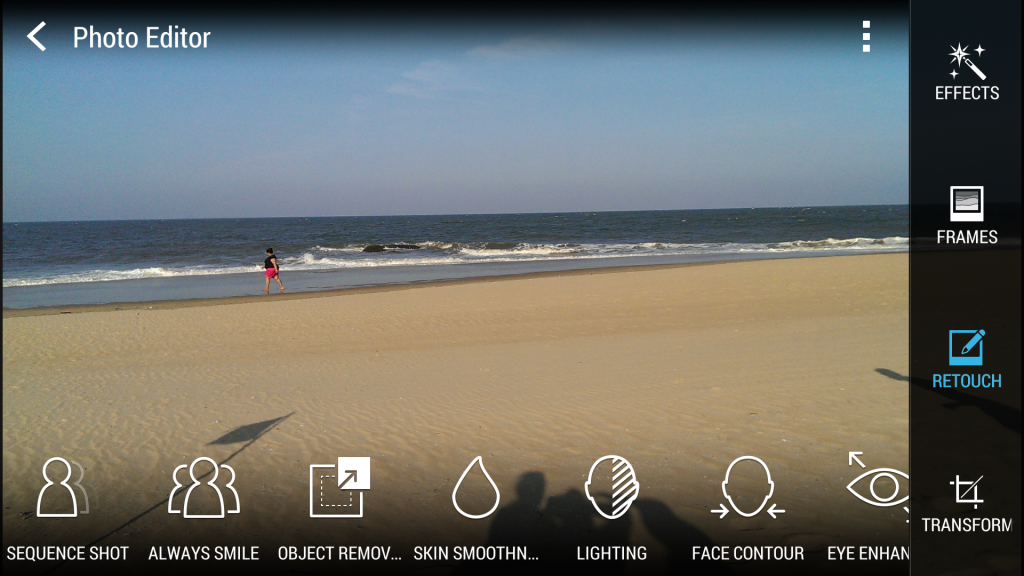 Using Zoe allows you to capture a second of footage in advance and three seconds after pressing the capture button. The camera not only shoots video but also full resolution stills. It is then possible to splice and dice these to get desired results. One of the possible uses is to create a multishot image. You can also remove unwanted objects from your shot or add the customary filter or two.
Software
Sense 5 is a brand new minimalist direction for the company. Adopting a fresh direction, it eschews the cartoony icons used in previous versions of the software for a very modern look making heavy use of grayscale graphics and typography.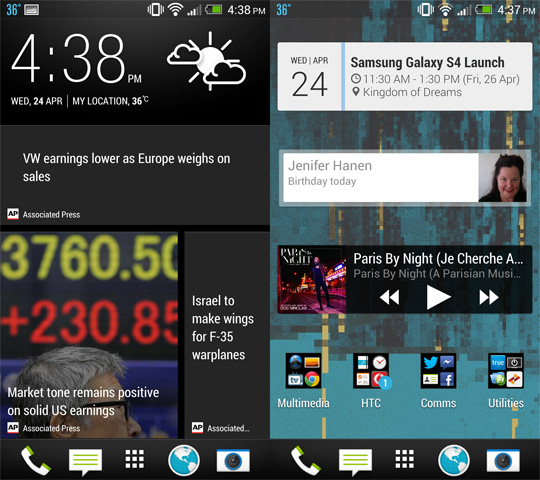 By default the homescreen defaults to Blinkfeed which functions like a built in Flipboard. Drawing from about 1400 news sources, in theory it is supposed to bring together your social and news feeds for at a glance usage. In practice however we didn't get much utility out of it because of the fairly low information density. We quickly found ourself relegating BlinkFeed to the side by setting another homescreen as our default.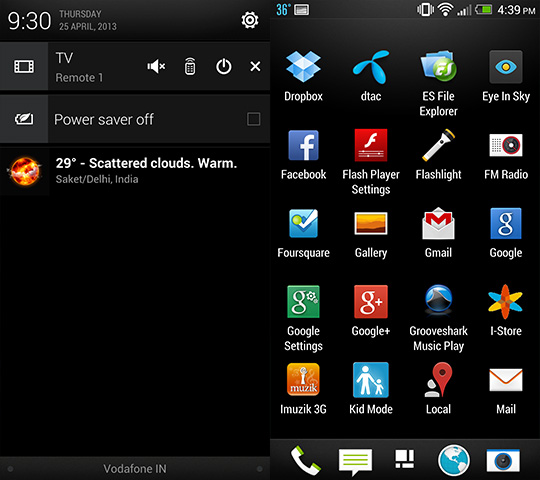 The app drawer can be set to show icons in alphabetical order and it is possible to switch between 3×4 and 4×5 grid sizes. HTC has freshened up most of its core apps and they really do shine on the handset. We loved HTC's Notes app that syncs with Evernote by default and is something we actually prefer over the official app. Similarly, the Tasks app syncs with Google tasks and provides a visually stunning way to maintain your schedules.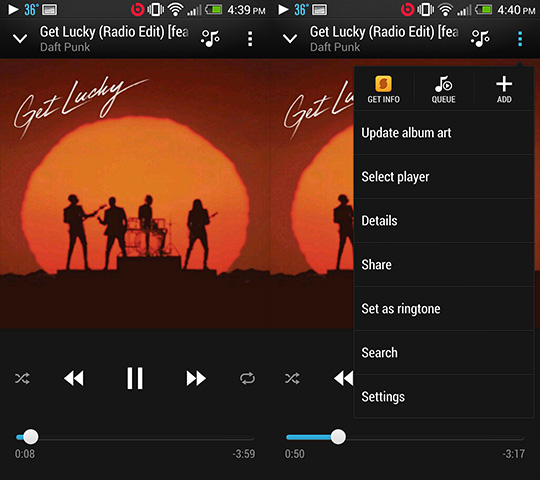 The design brilliance carries forward into the music player and gallery app as well. The former offers a surprising number of features for a default app. The app integrates with online services like Gracenote and Soundhound to provide a better experience.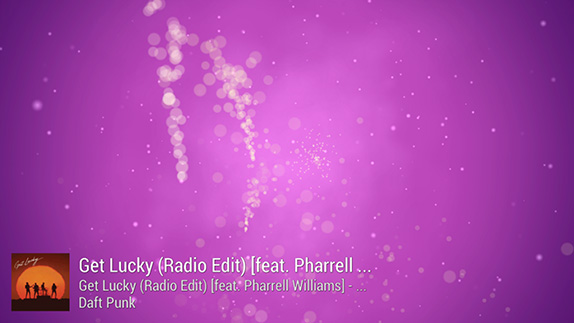 In the off chance that you decide to host a party with your One being the entertainment system of choice, HTC has also thrown in a visualizer mode that works rather well.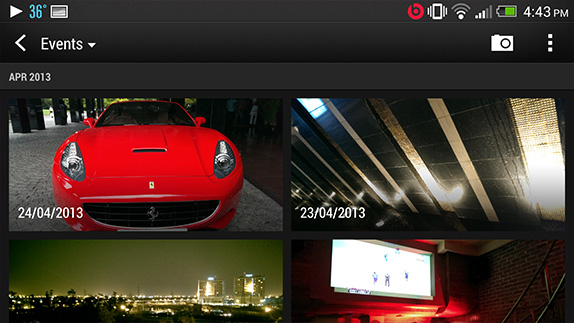 The Gallery app combines image feeds from your social networks, online storage and the local storage of course. It is possible to sort out images by albums, events and locations.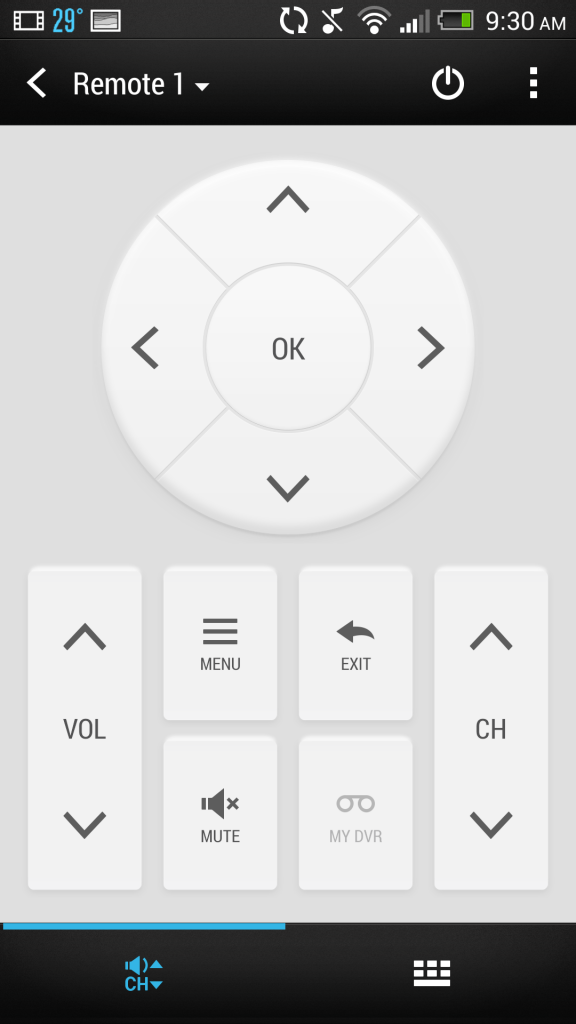 HTC's TV application is another cool addition that subtly enhances your life by making your phone the centerpiece amongst all other devices around you. Serving as a rudimentary television guide in supported countries, it lets you control your television, home theater system and cable box directly from the phone itself. A bold new Sense, we really enjoyed our experience with the software. It does have its quirks and BlinkFeed isn't nearly as great an addition as HTC makes it out to be but overall we were more than satisfied with the software build.
Performance
The HTC One is powered by a Snapdragon 600 chip which is the latest generation processor by Qualcomm. The quad core chip is clocked at 1.7 Ghz and is paired with 2GB of RAM. Connectivity options include Bluetooth 4.0, NFC, Wi-Fi, DLNA, Miracast, GPS and yes even iR.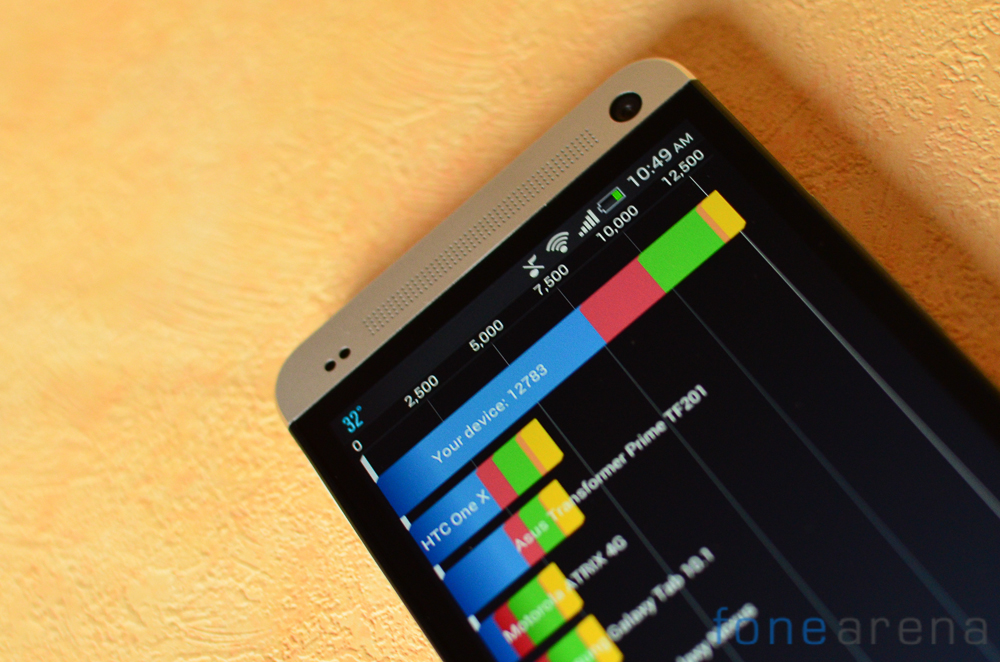 For all practical purposes, there is nothing out there that can slow down this phone at the moment. Without a doubt, the HTC One is the speediest smartphone we've used till date. Scrolling performance which is the bane of most Android devices too manages to impress. For those who crave benchmark figures, the scores are off the charts and you can check out the HTC One Benchmarks here.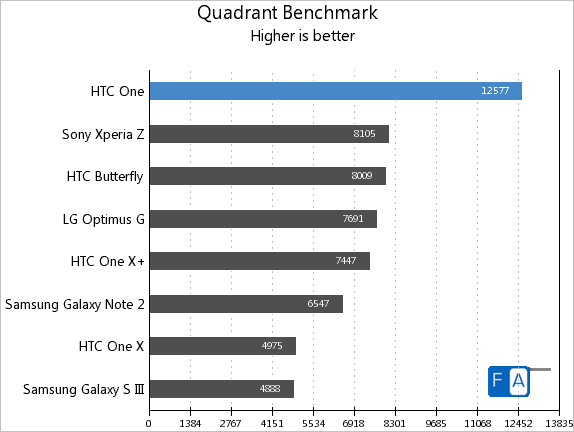 Quadrant scores for the HTC One are some of the best that we've seen so far. Almost double that of the handset it replaces, the HTC One handily outpaces even the Sony Xperia Z. It'll be interesting to see how it compares next to the Galaxy S4 though.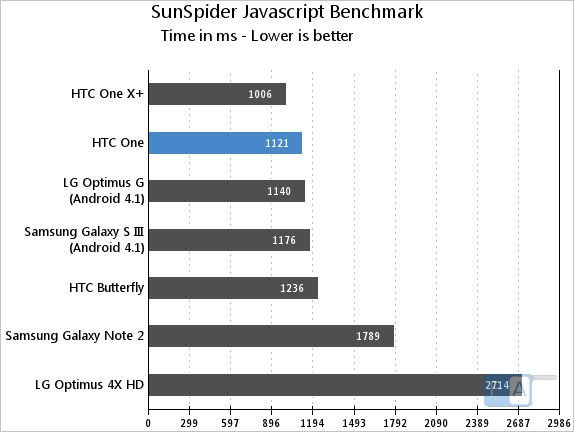 Sunspider scores for the HTC One on the other hand were a bit interesting as curiously it could not match the performance of the One X+. Thanks to the ever improving baseline spec sheets for Android devices, gaming is finally coming into its own on the platform. We tested out a few of the popular ones to see how they performed on the handset. The video below should help you to judge that for yourself.
httpv://youtu.be/b5rKTWS8MzE
We're getting to the point where performance figures of smartphones might not make much sense anymore. Indeed on paper the HTC One delivers over twice the performance over previous generation phones but the gain in real life usage is not as perceptible.
Battery Life
Owing to innovations on the chipset front by Qualcomm and HTC's own improvements, the HTC One delivers stellar battery life. We could easily manage over a day of usage and in fact were able to stretch it two days over the course of a weekend.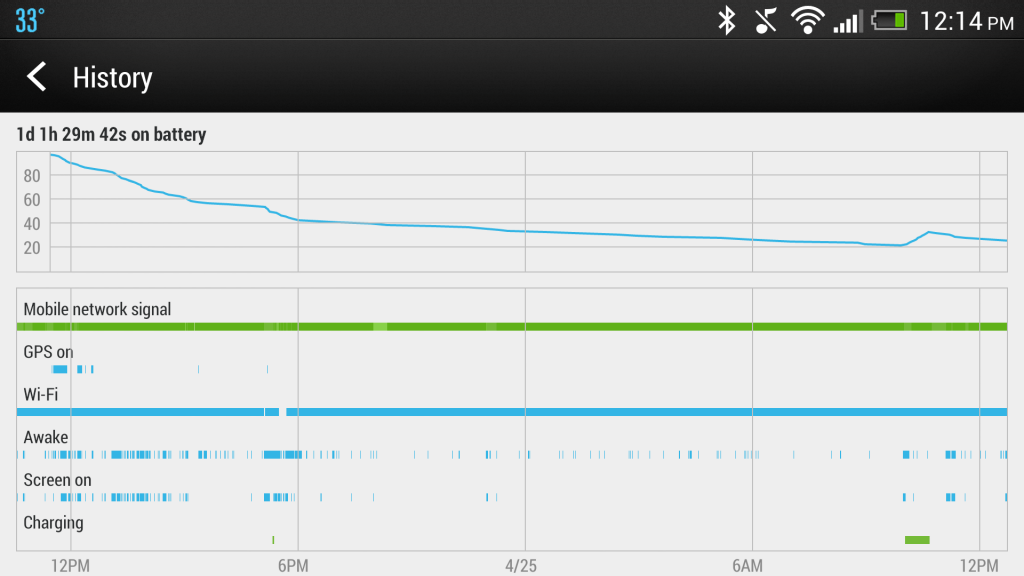 The built in power saver mode comes in very handy when you need to conserve a bit of juice.
Conclusion
With hardware built like a luxury car and software that does it justice, there is no doubt that the HTC One is the best phone you can buy right now. Forthcoming competition from the Samsung Galaxy S4 might sway our opinion but as of now this is definitely the iPhone of the Android world.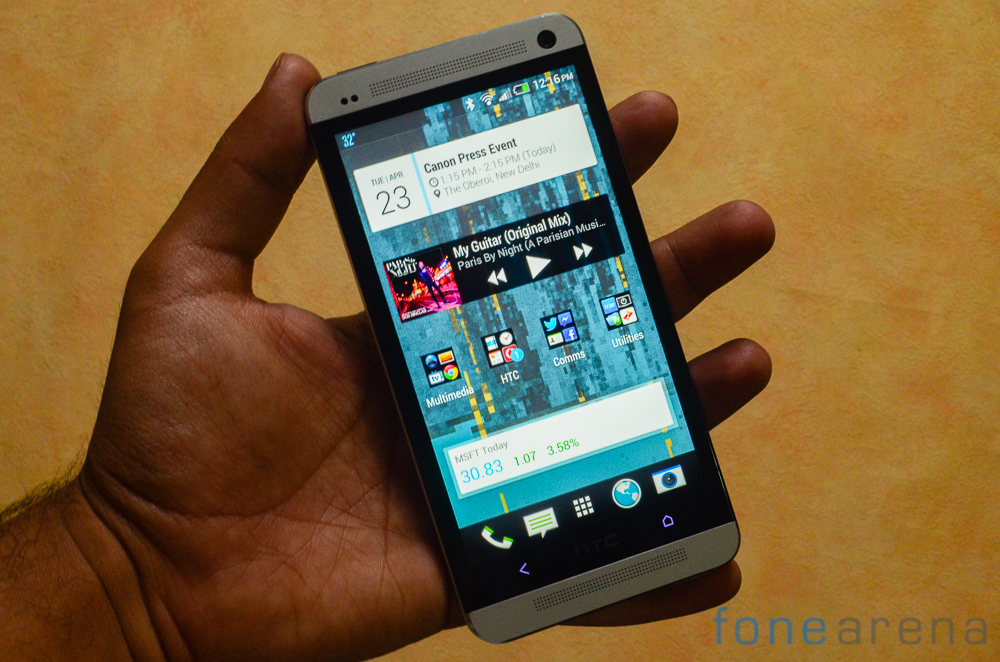 The camera on the phone leaves us disappointed but if you're looking for a top end smartphone with a focus on excellent craftsmanship and software that just works, this is your best bet. The HTC One is priced at Rs. 42,000 in India.
Pros
Brilliant design
Gorgeous display
Excellent battery life
Cons
Average Camera
Blinkfeed can't be disabled