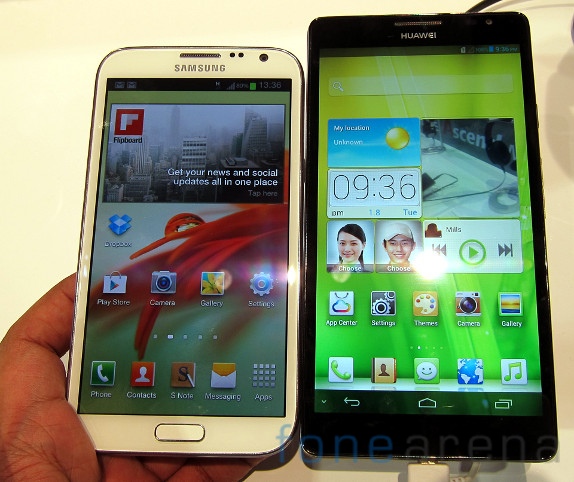 Huawei unveiled the Ascend Mate at the CES 2013 with a 6.1-inch screen, larger than the Samsung Galaxy Note 2. We got you the hands-on video and the photo gallery of the Ascend Mate recently, and we decided to do a hands-on comparison between these devices to show you the size difference.
httpv://www.youtube.com/watch?v=ZlSKWqGhCis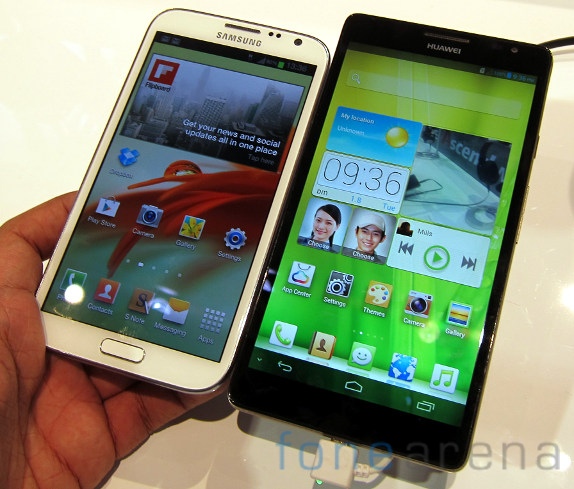 The Ascend Mate is definitely larger with a 6.1-inch (1280 x 720 pixels) HD IPS+ display, while the Samsung Galaxy Note 2 comes with a 5.5-inch (1,280 x 720 pixels) HD Super AMOLED display. The Ascend Mate has a 1MP HD front-facing camera, while the Note 2 comes with a 1.9 Megapixel VT Camera. Both these phones are powered by their own quad-core processors. Huawei uses their 1.5 GHz quad-core Hi-Silicon K3V2 processor, while the Note 2 packs a 1.6 GHz quad-core Exynos processor.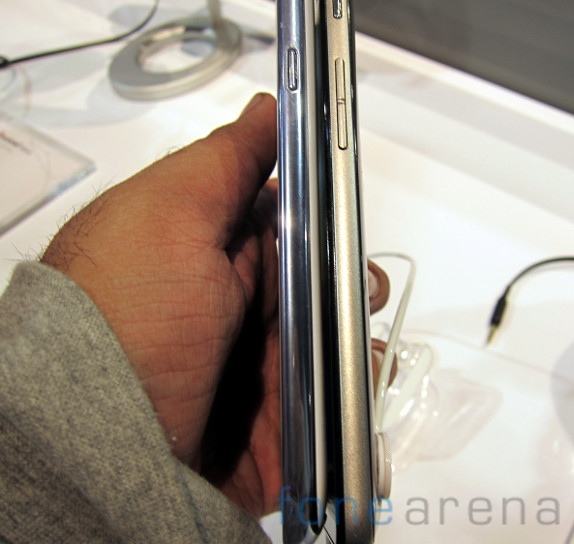 The Note 2 slightly thinner than the Ascend Mate at 9.4 mm and lighter at 180 grams. The Ascend Mate measures 9.9mm thick and weighs 198 grams.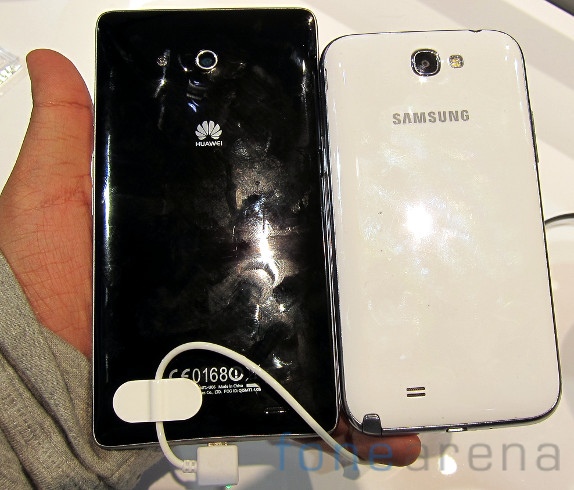 Both these devices have a plastic back, but the Ascend Mate has more shinier back which acts as a finger print magnet. Both these devices have a 8MP auto focus camera at the back with LED Flash and 1080p Full HD video recording.
The Ascend Mate runs on Android 4.1.2 (Jelly Bean) with Huawei's EmotionUI 1.5 on top, while the Note 2 released with Android 4.1.1 with TouchWiz UI, but got the Android 4.1.2 update later. Note 2 has S Pen and comes with several unique features such as multi-window, S Voice, S Beam and more. Compared to the 3,100 mAh battery in the Note 2, the Ascend Mate has 4050 mAh battery.
Srivatsan contributed to this report, with inputs from Shilpa and Parth.