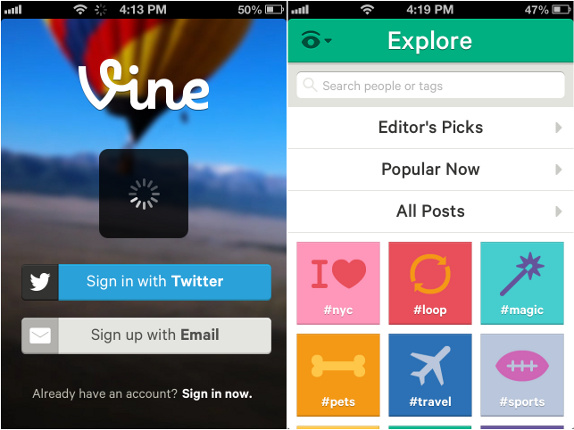 Twitter has launched Vine, a new video sharing service that would let users upload a video clip up to 6 seconds directly from their mobile phone. The Vine uses a similar concept to share and discover what's happening in the world in short and easy way just like Twitter's 140-character limit. Even though there are several video sharing services that would let you post on twitter, this app seems fun and easy to create short videos, including stop motion videos.
You don't need a twitter account to use Vine, but it also offers logging in through Twitter. Currently it offers Twitter and Facebook sharing, but  more sharing options are expected soon.
Features of Vine for iPhone
Unlimited free video uploads
Hold on the screen to record a video, release to stop recording
Instantly post videos on Vine, then share to Twitter and Facebook
Find, follow, and interact with people close to you
Explore trending posts, featured hashtags and editor's picks
Download Vine for iPhone from the Apple iTunes Store for free. Vine would be available on other mobile platforms soon.