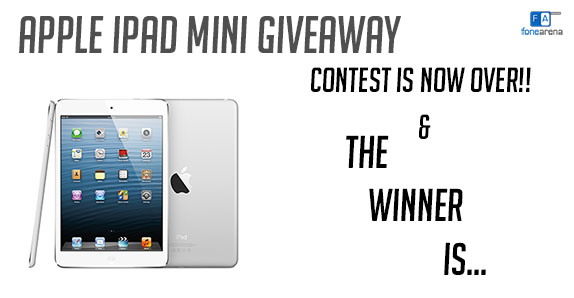 It's been almost a month since we started the Apple iPad mini Giveaway on our YouTube channel. And the time has come, to announce the lucky winner of this contest, who will receive a brand new specially engraved Apple iPad mini from us! Read on to find out who and how we chose the winner!
First of all, we are quite overwhelmed with the reponse we got for the giveaway and the no. of participants are a testament to that. We got a whopping 1377 comments on our video, all were awesome in their own respect, so we decided to give everybody a chance. It took quite a bit of work to sort and select the winner. So here's how it went down.
We gathered all the commenter names in a sheet, filtered out the duplicates, and we used a tried and tested randomiser called "The Hat" to determine our lucky winner. You can view all the details on how it exactly went , right here, in this video below.
And yes, congratulations to "Vijay Raghava" for winning this contest. Vijay, if you are reading this, please check your YouTube inbox or your mail, we have already sent out a congratulatory message there. Again, congratulations to Vijay for winning the custom engraved Apple iPad mini!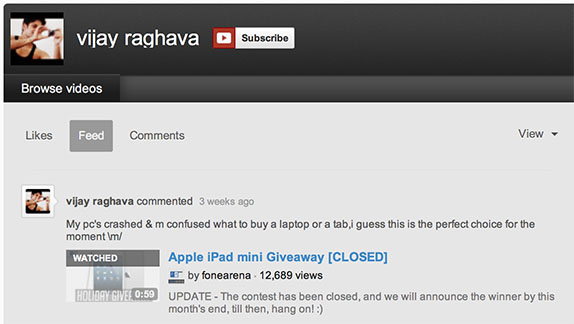 To all the other participants, don't lose heart as we've got more giveaways coming up in the near future, with even more awesome products. Till then, stay tuned to our blog and all our media channels to keep close track on when the next great Fonearena Giveaway is coming. We do have something special planned for the readers real soon! 
You can follow us on :
Twitter and
Stay tuned!
Note: Apple® is a registered trademark of Apple Inc. Apple is not a participant in or sponsor of this promotion.