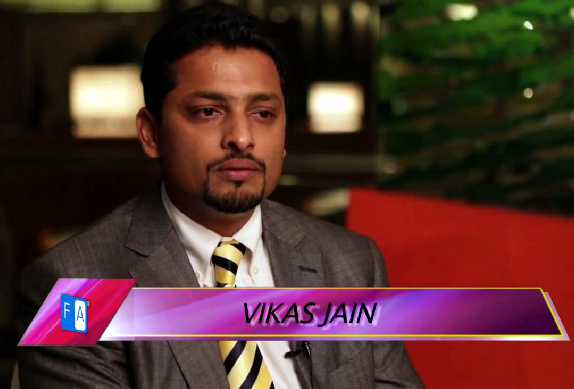 At IQ India 2012, we got a chance to speak with Vikas Jain, Co-Founder of Micromax. We asked him about their new venture into LED TV segment, their competition in the economy smartphone market and the future of tablets.
Full text of Vikas Jain's interview with FoneArena
Micromax's on the venture into LED TVs?
I think it's a growing belief into the "so called" convergence that the industry has been talking for the past few years, and at Micromax, yes we firmly believe it's all about getting into multiple screen formats. Starting down from the entry mobile phones which are at about 1.8-inch screen size to getting on to the 55-inch for the LED TV. We just talk about experience, experience which can be displayed into multiple screen formats, and that's what is the core belief at the company.
Micromax: What's Next?
I think the core philosophy of the company goes as, we are here to bring in a change, areas where we can spot, bring about a value add by our sheer presence, by the R&D that we have, you know internally at the Micromax. If we can contribute to the ecosystem, provide the technology at a mass level, massify the technology, that's what is the core intent at the company.
Advantages of being an Indian Brand?
I think, again, it's a very subjective question. The answers would be very different as you go from company-to-company, but what we personally believe is, R&D is not about unleashing a technology, R&D is about embracing your customer, R&D is about reaching out to the customer, trying to deliver what he requires, and if you see the evolution of Micromax, Micromax has always been know for bringing about what the consumer needs, be it, you know a long battery phone, be it a stylish female phone, bringing a third tablets at a very massification level, I think that's what we have, our R&D is concentrated focused massifying the products, massifying the technology.
On competition in the economy phone market?
Much bigger ecosystem than what, you know, any brand feels about, I think it's big enough for multi-brands to co-exist. It depends on who's got the right product portfolio, who's got the right approach go to market. I think the companies who got a product strength, who have a right approach to the market are the companies who are going to survive in the long term. And, as I said, big enough ecosystem, many can co-exist. Do not feel threatened.
Micromax's association with Qualcomm?
I think Qualcomm is one of our very strategic chipset partner, and, they are with us on the, you know, the dongles, they are there on the CDMA phones, Smartphones, so I think as Qualcomm is evolving their portfolio, lot of that strength is getting captured at Micromax as well, and we are proud be partners with Qualcomm.
Micromax's platform for developers?
So, at Micromax what we are doing is, we are building up internally in terms of providing that platform where the developer community could coexist with the brand and get into a revenue zone. The ulterior motive that Micromax has is definitely we are looking at an experience for our consumers, and we personally believe not everything can be done by Micromax. So we are keen to partner with companies with likewise synergies, likewise customer focus. The delivery which is again at the mass level should not be talking about a huge premium, or a huge subscription fee that needs to be paid, but yes we believe the consumers are there willing to make a payment, provided you show them the experience they are being asked for.
Micromax in 2013?
Without getting into, you know, specifics because 2013 is like pretty far off, right, but then without getting into the specifics, as I said, we started focusing a lot more on the experience, so I can assuredly tell you that Micromax is not going to be constraint to a hardware. There will be allied things which will be brought on by Micromax. It could be a service, it could be a connectivity, it could be multiple things , but the idea is to provide an experience which is far better than what we were able to provide the previous year.
My current phone: A secret phone from Micromax?
I think cliché, has to be Micromax, so it's a Micromax's yet to be released handset. I think the Indian consumers should be able to see in the current month. Wonderful, big screen size, connectivity that you are proud of. "Can I have my handset?" It's a handset I'm proud of. And, I think again, in this also the idea is about providing experience at a much affordable price point which basically puts this into masses. The idea is no to keep it on the cliché, the cliché segment of the consumers, but yes to bring It at the mass level. We are looking at, you know, big numbers, adoption happening on this, What this does internally is, provide that appetite in the consumers to go in for consumption of applications as well. You have given him a big enough screen size for him to really start appreciating.
Micromax: Future with tablets ?
Oh, it's a fantastic market to have lot of government focus, there have been brands that the government has really wanted to tie-up with. Big vision in terms of getting a connected India, Education as on one sector, propelling up the sector by usage of tablets. I think fantastic plans, the delivery has fallen short, in terms of, again it is all about experience, the experience which is expected. I think there are people who are willing to pay a little more than what government is talking about, provided the experience is what the consumer is talking about. So, at Micromax, yes, we believe into that, we really do not want to raise our hands in terms of having the cheapest tablet in India. We probably want to raise our hand in terms of providing a value for money product which the consumer would like to embrace. That stands vindicated because, today whatever the factory is able to produce is actually the sales of Micromax on a monthly basis. I think last month we sold close to about 75, 80 thousand tablets, and from entering into the industry which was practically at a 50k per month mark, selling 80 thousand off Micromax itself, I think it's a good achievement from the product team in terms of visioning the product. Today we have about 5 models available in the country, and there are, I believe there about 8 which are available with the R&D, and as they get sorted out in terms of commercial releases, you will see lot more interesting things happening on the tablet.