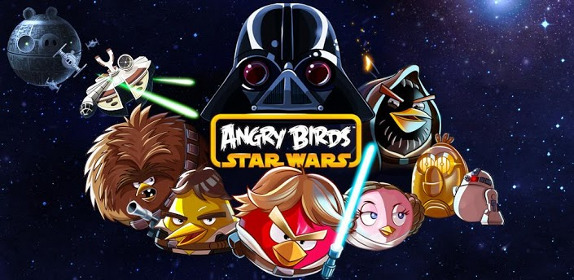 Rovio, the creator of Angry birds has released Angry Birds Star Wars for Android, iPhone and iPad as they announced last month. They launched the Bad Pigges game that had the pigs from Angry Birds franchise with completely different plot. The Angry Birds Star Wars has birds and pigs that will take on the personalities of characters from the Star Wars saga.
httpv://www.youtube.com/watch?v=dXzMN9pbxCE
Features of Angry Birds Star Wars
80 levels in iconic locations like Tatooine and the Pig Star.
New Gameplay Mechanics lets you use lightsabers, Blasters and Jedi powers to wreak havoc on the Imperial Pigs
R2-D2 and C-3PO bonus levels
Earn stars and call the Mighty Falcon to rain down the destruction
Unlock 40 Dagobah Challenge Levels with Jedi Master Yoda in in-app purchase
Download Angry Birds Star Wars for Android for free (Ad-supported). You can also get the Angry Birds Star Wars HD Ad-free version for $2.99. Download Angry Birds Star Wars for iPhone at $0.99 / Rs. 55 and Angry Birds Star Wars for iPad at $2.99 / Rs. 170.
[Update: Angry Birds Star Wars is now available for Windows Phone 8 devices too. Download it from the Windows Phone Store for $0.99 / Rs. 55]