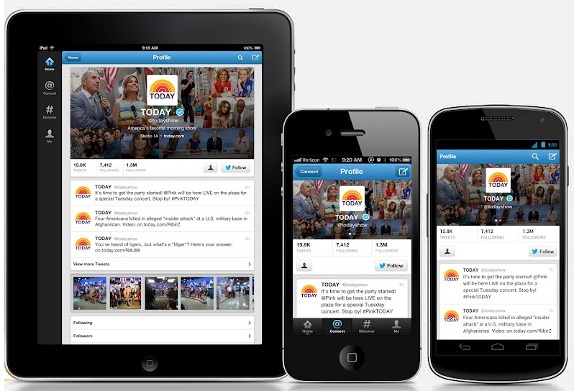 Twitter has finally released a new iPad app that has been built from ground-up. Twitter for Android and iPhone got a new UI back in December 2011. The iPhone and Android apps has also been updated with new features. These apps come with a new profile that lets you add header photos and Photo streams on profiles that shows images people have shared on Twitter and more new features.
New features in Twitter for Android, iPhone and iPad
New design with Home, Connect, Discover and Me (for iPad)
New profiles with header photos
Photo streams for profiles that displays shared on Twitter
Pinch-to-zoom on photos (for Android)
Search suggestions for people, topics and hashtags (for Android)
Improved protected account management including the ability to accept or deny follower requests (for Android)
It also includes other improvements and fixes. You can upload header photo on mobile apps for iPad, iPhone and Android or twitter.com. The header photo feature would be rolled out gradually for the web users.