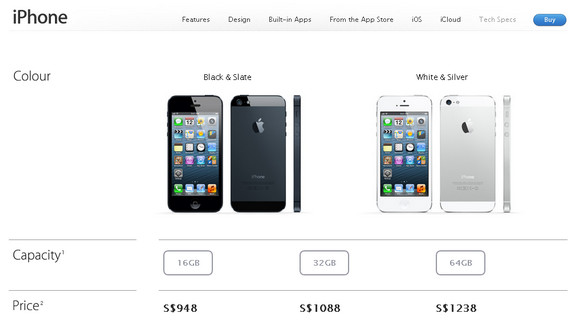 Singapore is one of the few countries getting the iPhone 5 on launch day September 21 and Singapore is one of those markets where Apple directly sells unlocked iPhones on it's online store to consumers.  The 16GB iPhone 5 is expected to cost 948 SGD (Singapore Dollars).  Apple will start taking Pre-orders on September 14.
The 16 GB version will cost 948 SGD or Rs.42600 approx , 32GB version will cost 1088 SGD or Rs.49000 approx , 64GB version will cost 1238 SGD or Rs.55600 approx. The above prices include GST so you should not have to pay any extra sales tax.If you are going to Singapore on a vacation and planning to pick up the iPhone 5 there and want to claim GST refund , just be warned that online purchases are not eligible for GST refunds.
We are assuming these phones are unlocked versions going by the previous iPhone launches in that country. The iPhone 5 will be available in 2 colours -White , Black but Apple is calling it white & silver , black & slate due to new design.
Apple has not revealed the price for the unlocked versions in the US but the UK prices are out. The iPhone 5 will be available first in Australia, Canada, France, Germany, Hong Kong, Japan,Singapore, the US and the UK
[Via Apple Store Singapore ]