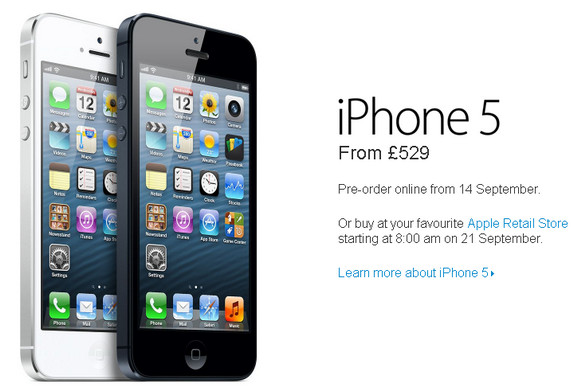 While Apple has revealed only the Contract-only pricing for the Apple iPhone 5 in the US, the company is going to sell unlocked versions of the iPhone 5 at launch in the UK. Interestingly the base model starts from 529 pounds an increase of 30 pounds compared to the iPhone 4S. One point to note is that the price includes a 20% VAT or Sales Tax. If you were thinking of getting the iPhone 5 from UK , 529 GBP at current pound levels is about Rs.47000 approx in terms of the Indian Rupee.
The iPhone 5 features a 4 inch Retina display and a lot of changes under the hood including a faster A6 chip. The new iPhone also support faster LTE networks but only a few operators will be supporting the device at launch. The device also uses a smaller nano SIM card which means that your existing microSIM card won't work in the iPhone 5.
The reason we are talking about the UK prices for the iPhone 5 is because , going by the past history , the pricing for the iPhone in India has been close to the UK pricing.
The 16 GB version will cost 539 GBP , 32 GB version will cost 639 GBP and 64 GB version will  cost 739 GBP. Any one here plan to buy the iPhone 5 from the UK ?  Pre-orders start online on September 14 and retail store availability starts on September 21.