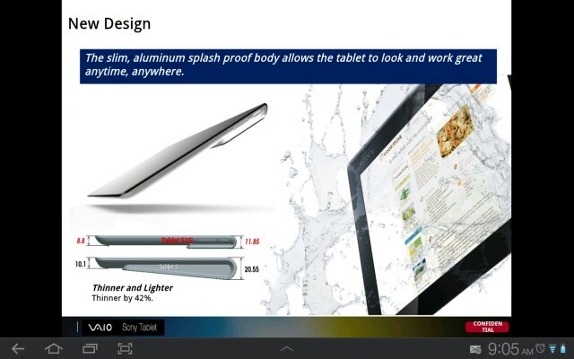 Range of slides with the details about Sony Xperia Tablet has surfaced on XDA developers forum. According to the source who claims to working for Sony, this first tablet under Xperia brand and would come with aluminium splash-proof body, 9.4-inch (1280 x 800) display similar to the Tablet S but would be powered by Tegra 3 quad-core CPU. It would run on Android 4.0 or later (we can expect Jelly Bean) and would come with a 1MP front-facing camera and a 8MP rear camera. It would be 8.8mm-thick, 42% thinner than the Tablet S.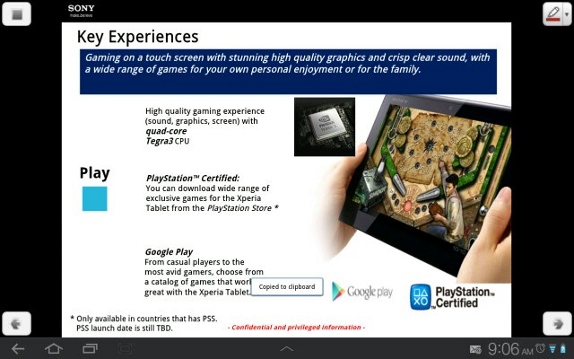 It would feature a guest mode that would let members of the family share the tablet. It would be PlayStation Certified similar to the previous Sony tablets. It would have 3G, WiFi 802.11 z/b/g/n, Bluetooth 3.0, SD card slot and come with a 6000 mAh battery that would offer 10 hours of browsing over WiFi. Sony would also launch range of accessories including a tablet stand, different cases, dock speaker and a keyboard with a cover similar to the Microsoft surface tablet.
It would come in different memory variants 16GB, 32GB and 64GB and would retail for $449.99, $549.99 and $649.99 respectively. It is expected to launch in September 2012. Head over to the source link for more images of the slides.
Source: XDA forum | Via: Xperiablog.net