Every once in a while comes a product which shatters the barriers of price and expectations. The Micromax Funbook might not be perfect but it might be the one which helps bring tablet computing to the masses.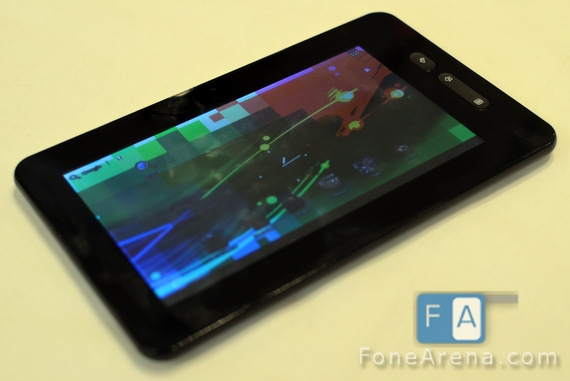 On the face of it , you might think that the Micromax Funbook is yet another low priced , low quality Chinese tablet owing to the ridiculously low price point. However a closer look reveals that the company has made some smart decision to create a platform which packs in a potent mix of content and hardware while offering just enough power for a good experience without going overboard and pushing up prices.
Hardware
First impressions of the Funbook can be a bit deceptive. The glossy plastics used make it appear and feel cheap and it is quite obvious that there is no Gorilla Glass here. A positive side is that the bezel is pretty small so that the focus really is just on the screen. The right hand side of the tablet is flanked by a trio of buttons. The Menu , Home and Back keys are physical in nature and offer good feedback.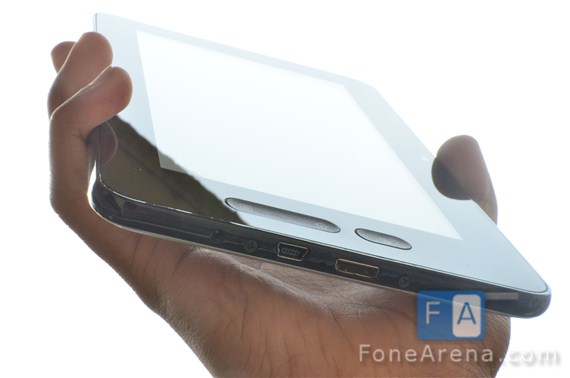 The bottom of the tablet has a range of ports starting off with a standard headphone jack. Right next to it is the micro SD card slot. Following it is the HDMI slot , reset button , mini USB slot which can be used with an adapter for use as a USB OTG device. The power socket is at the leftmost corner.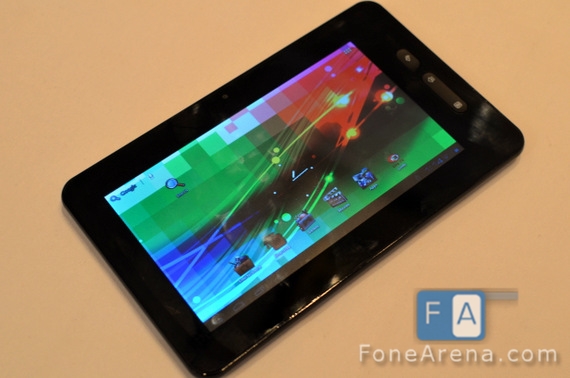 The screen is the most important part of the tablet considering that is where all the interaction takes place. While sufficiently responsive , we were quite disappointed by the quality of the panel used. The viewing angles were woeful and color rendition left us pretty disappointed. Then again , at this price point compromises do have to be made. We just wish that it was not the screen where Micromax made the compromises.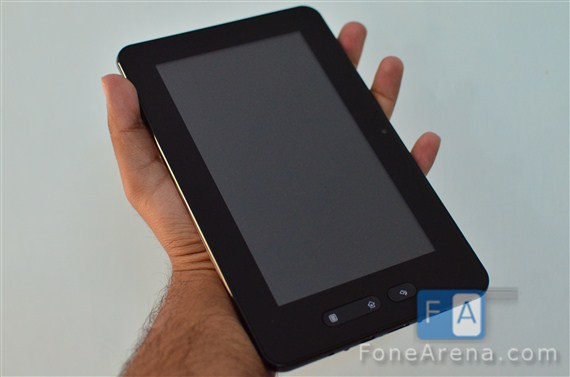 Screen sensitivity is above average and it supports multi touch so you can perform pinch-zoom gestures on your photos. The resolution is 800×480 which is quite a step down from what you see on 7″ tablets like the Playbook. Having a low resolution screen  paired with a generation old hardware configuration is possibly one of the biggest reasons why performance does not suffer.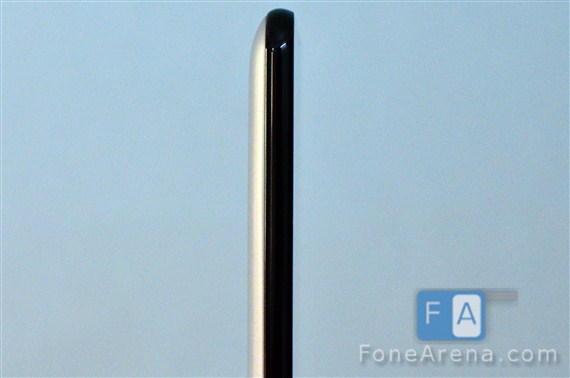 The entire tablet weighs in at under 350gms making it a very lightweight solution and moreover incredibly convenient to carry around. The Funbook is also pretty slim and feels great in the hand. This is one of the reasons why i'm personally a big fan of 7″ tablets as they offer the best trade off between screen size and portability.
Performance
The 1.2 Ghz Cortex A8 processor is not top of the line by any stretch of imagination but coupled with the Dual Mali 400 GPU it manages to get the job done.  Android 4.0 with its GPU acceleration makes good use of the Dual Mali 400 setup allowing for fast screen transitions and even playback of Full HD video.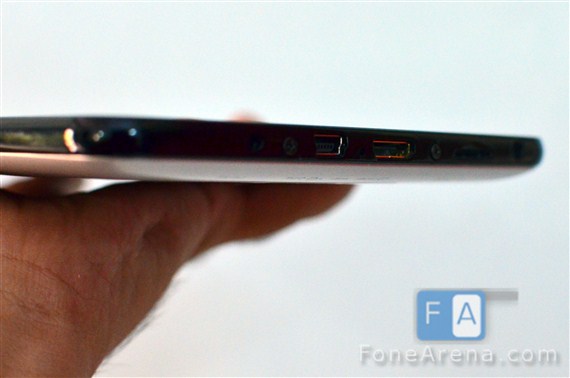 Coming to HD video , the tablet is equipped with an HDMI port which will let you connect the tablet to your HDTV and playback  Full HD content. While integrated storage is quite paltry at 4GB , users can extend it by upto 32GB using a micro SD card which should go a long way in storing all that HD content you want to play.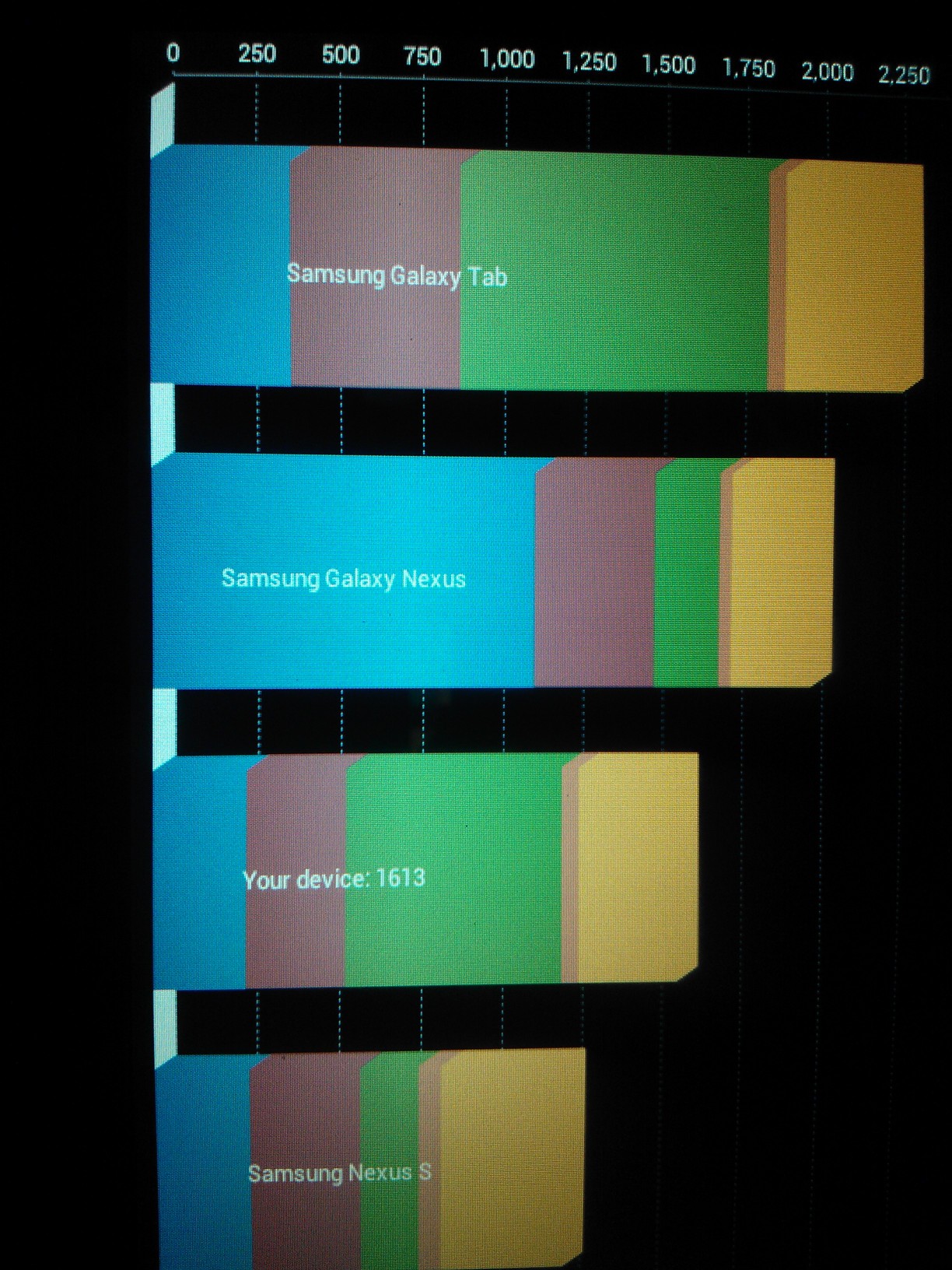 We managed to run the Quadrant benchmark after a bit of effort (Seriously!) and ended up getting a score of 1613 which is fairly respectable for the category. While some of the higher end Android games might be unable to run on Funbook due to hardware constraints , more popular titles like Angry Birds and Draw Something run flawlessly. Slight lags were noticed throughout the UI from time to time but this can probably be owed to improper software optimization. Android's tablet variants are known to lag a bit under stress. As we were unable to replicate the lags under similar scenarios it really can be isolated to be a software issue rather than hardware. An issue which we hope Micromax will address soon.
Software
The Micromax Funbook comes with the latest version of Android ie 4.0 (Ice Cream Sandwich) onboard. While Micromax does not have much in the name of a skin on top of the OS , it does bundle in a fair amount of applications onboard. Depending on the reason behind your purchase of the tablet , the applications might prove to be very useful for you. We'll cover some of the more interesting ones in a bit more detail below.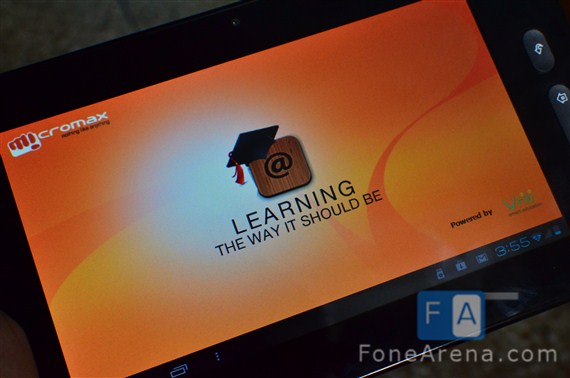 The Funbook is the first Google Mobile Services (GMS) approved tablet to be sold by an Indian manufacturer. What this entails is that this is the first low cost tablet to come enabled with the Google Play store and its accompanying services and more specifically, Google Mail.We had no difficulty in installing most of the games and apps from the market place though we did run into compatibility issues with a small subset of apps. Considering how the Funbook would make for a good low cost e-reader, we were disappointed to see that Zinio refused to work with the tablet.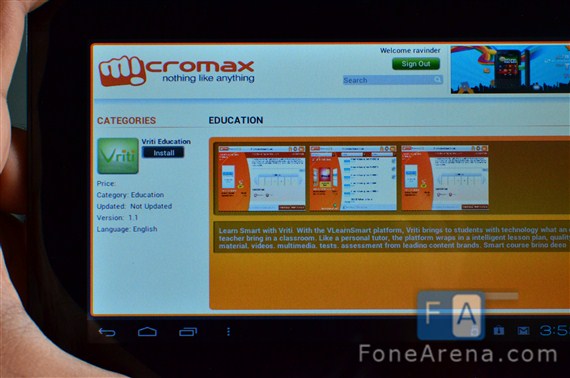 An interesting aspect of the Micromax Funbook and perhaps something which is more specific to the student audience is the educational content bundled in with the tablet. Micromax has partnered with a variety of content providers like Vriti and Everonn to provide both entertainment and educational content on the tablet.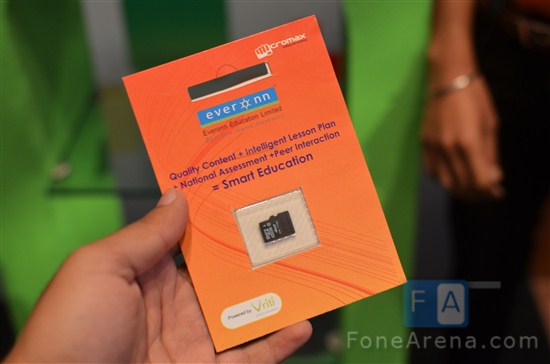 The educational content will be sold as yearly course modules priced at approximately Rs. 700 each and available on a micro SD card. Content presently includes video courses and test material for students of most boards and classes. This content is relevant only to Indian buyers.
Battery Life :
The Micromax Funbook includes a 2800mAh battery pack which is certainly on the lower side. The company rates battery life at 4-5 hours of web browsing. In our experience we got about 3 hours of browsing while any kind of multimedia activity rapidly reduced standby time. This is one aspect which the company will really have to work on keeping in mind the rampant power cuts in a country like India
Miscellaneous
The Funbook retail pack allows buyers to redeem a free Photon Plus dongle to enable wireless internet with a post paid connection. You are also offered 1 GB of extra data over and above your current limit for a period of 2 months.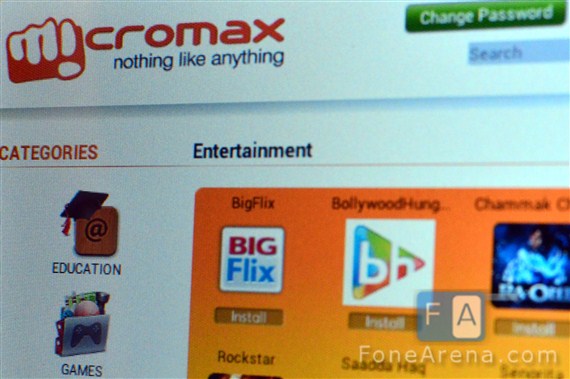 Partnerships have also been made with BIGFlix and Zenga TV. Users can stream one movie for free from BIG Flix's catalog over 2000+ movies. Zenga TV will provide internet based television streaming.
Conclusion
The Micromax Funbook is a whole lotta tablet for a price which is without a doubt very affordable. Coming in at just Rs. 6,500 , the tablet is one of the very few out there to run Ice Cream Sandwich and offer a compelling software package as well. For everyday uses we can wholeheartedly recommend the Funbook but if multimedia usage is what you are looking for , you might be served better by something offering a bit more power albeit at a higher price point.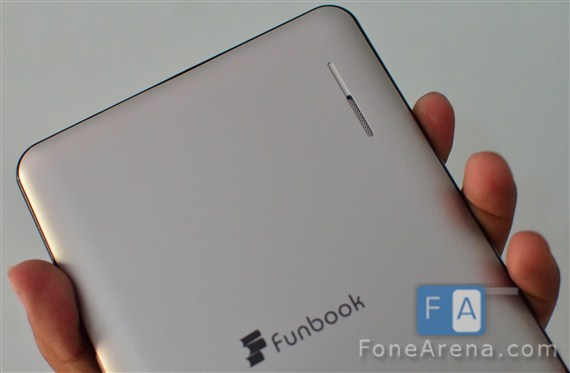 The screen quality leaves a lot to be desired and the lack of hardware features like bluetooth and GPS detract from the experience. The Funbook provides just enough power to give you a taste of the possibilities with a tablet but isn't capable enough to be a power user's device yet. If your use case includes light gaming (think Angry Birds , Draw Something) , basic web browsing and a bit of  video watching  you should be fine with the Micromax Funbook. The educational content makes it a sensible offering for students as well.
Rating : 3.5/5
Pros :
1. Groundbreaking pricepoint
2. Above average internals
3. Ice Cream Sandwich !
4. Content Partnerships
Cons :
1. Below average battery life
2. No Bluetooth / GPS
3. Relative lack of tablet specific apps on Android