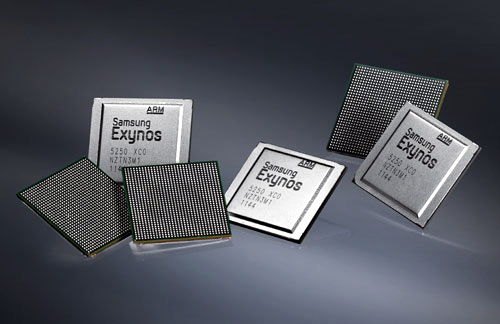 Samsung might announce a new Galaxy Tab with 2 GHz Exynos 5250 processor and a display with WXQGA (2560×1600 pixels ) resolution display at Mobile World Congress (MWC) according to androidandme. It would obviously run on the latest Android 4.0 (Ice Cream Sandwich).
Samsung mentioned in their earnings call that they are sampling the Exynos 5250 SoC and would begin mass production for their devices from Q2 2012. The Exynos 5250 processor A15 chip clocks at 2GHz and would support WQXGA (2560×1600 pixels ) resolution display. Some sites are also reporting that it would come with a larger 11.6-inch display and S-pen support.
The Cortex-A15 and Mali-T604 would deliver better speed and graphics with memory bandwidth of 12.8 GB/s and better power consumption. They unveiled the Galaxy S II and the Galaxy Tab 10.1 at MWC 2011 that was available in April 2011. Even if the new tablet is announced at the MWC 2012, we can't expect it till the end of Q2 or Q3 since they would start producing these chips in Q2 2012.
Let's wait till the end of February for the MWC to know more.
Source: Androidandme