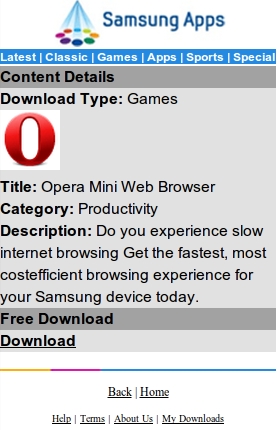 Opera has announced that the Opera Mini has been downloaded most number of times in the Samsung Java App store within one month of its debut on the store. Samsung added Opera Mini to their Java App Store this Diwali, and it became most downloaded app within 1 month. The Samsung Apps, Java Apps Store is a marketplace designed to provide a variety of mobile applications especially developed for Samsung mobile phones.
Opera Mini is one of the popular apps among all the mobile platforms such as Symbian, Android, BlackBerry and iPhone. The web pages in Opera Mini are optimized and compressed before being sent to your phone, making mobile surfing cheaper. Opera Mini works on more than 3,000 mobile phone models, ranging from basic Java phones to the latest OS. India ranks number 2 in the overall usage of Opera Mini across the world.
Samsung Java phone users can download Opera mini by heading to m.in.samsungapps.com from their browser. Others can get it from the respective app store or from m.opera.com for free.