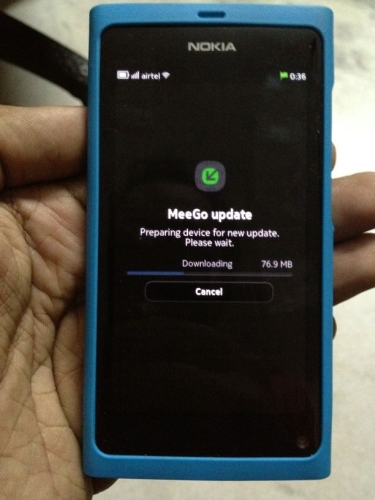 While some users have already got the much awaited PR 1.1 software update for the Nokia N9 which is only MeeGo device from Nokia , others can expect it to get it soon through an OTA update. Nokia announced on it's official blog earlier today that the software update for the device is being rolled out. 
You can  go to Settings->Applications->Manage Applications->check for updates to see if your device has any updates as the update might be rolled in a phased manner. Our Nokia N9 which is from Singapore did not show any updates yesterday but is showing the update today. The OTA update is around 200MB and for those who don't cant find it ,an alternative solution would be to use the Nokia Software updater which seems to work around the globe. The only gripe about using the Nokia software updater is that you have download over 1GB of updates compared to the smaller OTA update.
Here is the official change log for the software update
NFC tag reading to instantly interact with NFC tags
Music controls on lock screen
Photo and video shooting with color filters: black & white, sepia, vivid, negative, solarize
More powerful multitasking with improved memory handling
Swype for fast typing
Faster MfE synch, synchronizing only active folders
Noice cancellation reduces background noise so that your friends hear you better
Close apps easily with swiping down, this now on by default
New indicators for standby screen like charging and calendar
Here is a video from Nokia support about the process. Pretty much sums it up the process.
httpv://www.youtube.com/watch?v=JL-ilMUZHx0