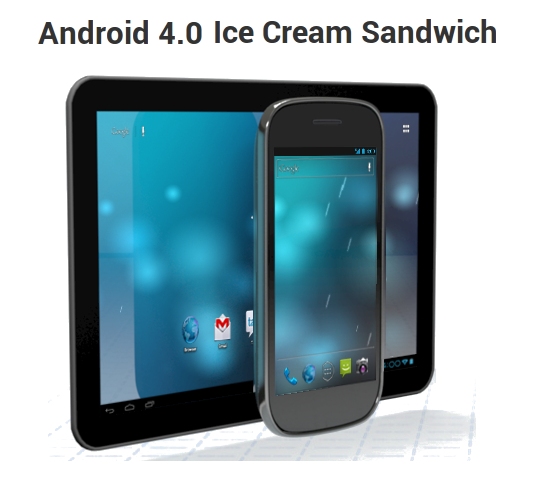 Google has updated the Android.com site with the information about the Android 4.0 (Ice Cream Sandwich). They announced the Ice Cream Sandwich in May officially and unveiled their first device, Samsung Galaxy Nexus last month.
Features of Android 4.0(Ice Cream Sandwich)
Refined UI with intuitive gestures, virtual buttons for Back, Home, and Recent Apps and mulitasking list with thumbnail images
Home screen folders and favorites tray that lets you drag apps, shortcuts, folders, and other priority items in or out of the favorites tray
Resizable widgets lets you expand them to show more content or shrink them to save space
New lock screen actions lets you jump directly to the camera for a picture or pull down the notifications window
Simply slide a control to see a list of text responses and then tap to send and end the call
Swipe to dismiss notifications and apps from the Recent Apps list, and browser tabs with a simple swipe of a finger.
The Error correction and word suggestion are better and it has spell-checker to fix misspelled words
It has Powerful voice input engine that lets speak continously for a prolonged time
It show the total data usage on each network type (mobile or Wi-Fi), as well as amount of data used by each running application
The Social groups, profiles, and contacts are linked together and integrated for easy accessibility With People app
Android Beam lets you  share content with two NFC-enabled devices
It also has unified calendar, visual voicemail, better camera capabilities, Redesigned Gallery app with photo editor, Live Effects for transforming video, Improved email, Face Unlock, Wi-Fi Direct and Bluetooth Health Device Profile  (HDP). Head on to Android.com for more details.