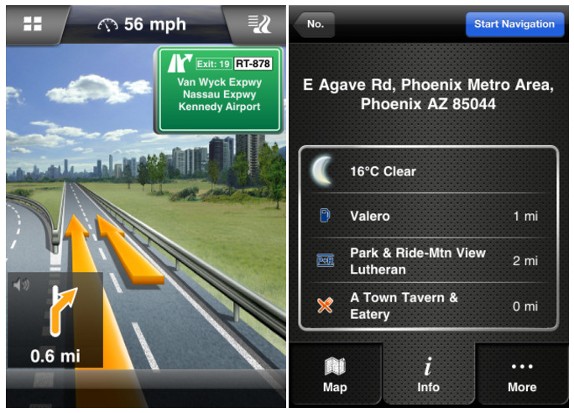 NAVIGON, a subsidiary of Garmin Ltd has updated their navigation app, NAVIGON 2.0 for iPhone. This version includes new and unique map management function and an in app purchase option for quarterly map updates. It also comes with a simple and intuitive user interface.
Features of NAVIGON 2.0 for iPhone
The app now lets the users to choose which map regions to download to their device.
It offers quarterly map updates from NAVTEQ to ensure the most accurate data possible.
The new user interface is much easier to use, allowing to easily switch between different pages with animated menus and new multi-touch user gestures.
It is now possible to access the start screen during navigation to enter a new address without having to first stop the current route. The new Settings menu allows users to easily customize functions and change preferences
It also has a fresh new look that displays the map in the background even when accessing menu pages. It is very easy to rotate and zoom maps in any direction when in 3D mode and tap points of interest on the map to instantly add them to a route.
httpv://www.youtube.com/watch?v=T7kmwXDHSjQ
Existing NAVIGON for iPhone users receive the update to the new version at no cost. NAVIGON's North American apps and selected in app purchases now comes with up to $25 off until November 30, 2011.
Download NAVIGON for iPhone North America, USA, Canada, East, Central or West from the Apple iTunes store. The updated app is also available for Europe, France, Italy and more.