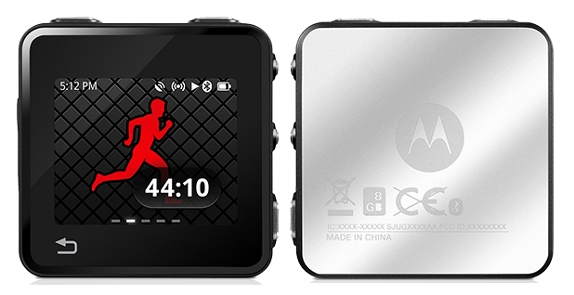 MOTOACTV is a lightweight, wearable fitness performance tracker and smart music player in one. The MOTOACTV also lets you stay connected to your Android smartphone, so you can answer calls, receive texts and listen to music via your headphones easily. It has 1.6-inch sweat-proof, rain-resistant and scratch-resistant Corning Gorilla display that comes with a GPS to track your running, walking and biking data, and displays it on a scratch-resistant display for instant analysis. You can monitor your time, distance, speed, calories burned and much more. It comes with Bluetooth 4.0 and ANT+ wireless connectivity for existing fitness sensors. It is 9.6 mm thick and weighs 35 g.
MOTOACTV uses Motorola AccuSense technology and GPS to for better accuracy that keeps track of your time, distance, speed, heart rate and calories burned.  You can also upload your workout to MOTOACTV.com to analyze the performance data tracked by the device and review them later and also get training tips from the device.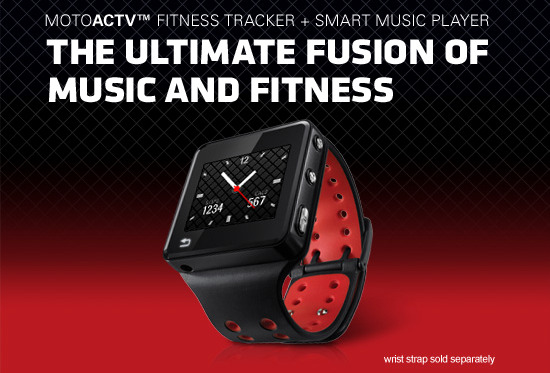 You can also get the tips on your Android-powered Motorola smartphone using the mobile app available via Android Market and pre-installed on DROID RAZR. It comes in 8GB or 16GB  versions to store all your songs and also has FM radio that gives you even more song variety. It offers up to 5h of battery life for outdoor workouts, 10h indoors and up to 2 weeks of standby.
httpv://www.youtube.com/watch?v=C3SIbokHetQ
MOTOACTV 8GB version is priced at US$249 and the 16GB version would cost US$299 and available through Verizon Wireless in USA.It will also be available in Latin America and Europe starting in Q1 2012. The Motorola SF700 and Motorola SF500 sports headphones are sold separately for US$149 and US$99 respectively. Other accessories like MOTOACTV Sports Wrist Strap, Sports Armband the Bike Mount could also be purchased separately for US$29.99 each.