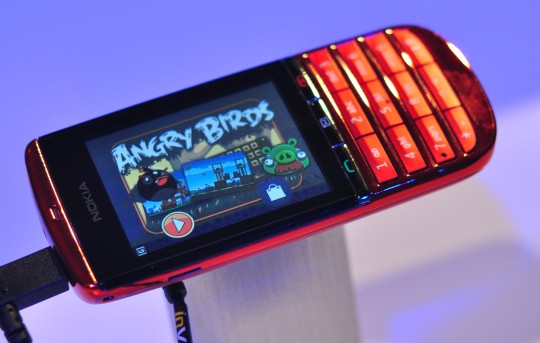 The Nokia Asha 300 is one of four new Nokia Asha series featurephones announced today at Nokia World 2011 in London. The Asha 300 is almost identical in featureset to the Asha 303, except apart for a QWERTY keyboard, the Asha 300 comes with a traditional 12-key numerical pad and a portrait touchscreen.
httpv://www.youtube.com/watch?v=Nc9YLnz54fY
The Asha 300 will feature a 1GHz processor of unknown type and a 240×320 resistive touchscreen. It's design is that of a classic monoblock device. It is stylish and yet powerful enough for a none-smartphone class device. The built quality is solid, but feels a tad cheap – which is exactly what it is. A 5 Megapixel camera can be found on the back.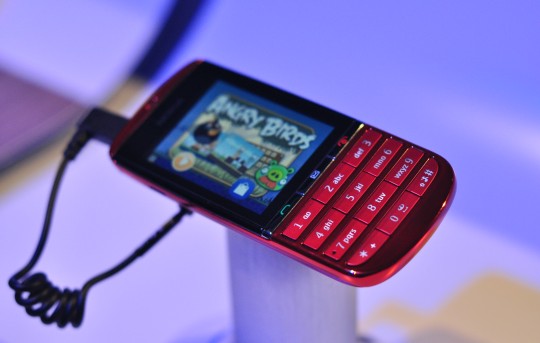 Nokia Browser and a host of other social networking, including Orkut and Flickr, and messaging apps can be found installed, as is Angry Birds. I was sceptical on how Angry Birds would work on a 2.4″ screen device but it works surprisingly well. The resistive touchscreen technology used meant that pressure has to be applied at all times. Multi touch isn't supported, but that is due to disadvantages of using a cheaper resistive touchscreen.
The Asha 300 is a 3G device, but it lacks the WLAN radio found in its more advance sibling the 303. It does ship with Bluetooth connectivity, FM radio and will support microSD cards up to 32GB in capacity.
No announcement has been made regarding availability but it is due to retail for EUR75 before taxes and subsidies. It is expected to be released in Q4 of this year.