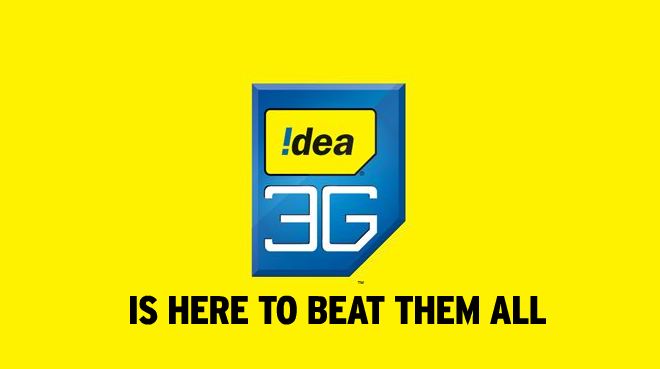 Idea Cellular has launched their 3G services in Jammu and Kashmir. Idea 3G services would be available in Srinagar and Udhampur, to start with and would be rolled out to other regions soon.  Idea 3G subscribers could enjoy high-speed Internet Browsing, Video conferencing, Mobile TV and Video on demand.
Idea 3G now covers over 1,600 towns across 20 circles and would continue to grow in the industrial, agricultural and educational regions.
Press Release
Srinagar, October 19th, 2011: IDEA Cellular, India's third largest mobile operator today announced the launch of its 'Gold Standard' 3G services in J&K circle. Idea Cellular, the Aditya Birla Group Company, will make its 3G services available in Srinagar and Udhampur, to start with, and will progressively grow to cover other major locations in the region.

Local citizens, business communities, and domestic and international travelers to tourist destinations in this Himalayan region can now avail Idea's 3G services to connect with the world of faster Internet, Video Conferencing, Mobile TV, IdeaMall Application Store, besides many other infotainment services.

Speaking on the occasion of 3G launch, Mr. Lakshminarayana, Chief Operating Officer – Corporate – Idea Cellular, said: "We are happy to introduce our 3G services in the Himalayan state of J&K. Our strategy to expand 3G services in rural, industrial, agricultural and educational heartlands of India has helped us become the largest 3G network in the country. We hope mobile users in J&K will connect to Idea's 3G services and avail a range of high-speed data services, and roaming facility while travelling to other parts of the country."

With the launch of 3G services in J&K, Idea's national 3G footprint now covers over 1,600 towns across 20 circles. Idea has traditionally focused on growth from semi-urban heartlands of India and will continue to drive its 3G services from these industrial, agricultural and educational regions.

According to Mr. Anish Roy, Chief Operating Officer – Punjab, J&K and HP, Idea Cellular said, "Idea has constantly endeavored to empower its subscribers by making mobile services available across the Himalayan state. Post the launch of Idea 3G, mobile users in the region will get an opportunity to experience high-end data services such as Video Conferencing, IdeaMall* Application Store, Mobile TV, Video on Demand, and high-speed Internet Browsing with ease and convenience of use at affordable rates. Idea has also set up an extensive customer service network to educate customers on 3G and support their requirements in the region."

Idea has set up 'Experience Kiosks' to provide a flavor of the 3G services that customers can opt for.

IdeaMall is Idea's Application Store which offers an entire catalogue of games and applications on Web and Mobile platforms. The application store will give Idea's customers a superior user interface, transparent and affordable pricing, and all of Idea's 2G and 3G subscribers using mobile handsets that support web browsing will be able to choose from more than 50,000 applications – both free and paid.

Idea's 3G services will offer the best mobile experience in downloading songs, streaming videos on YouTube, streaming audio, photo updates on Facebook, mail and other online media, movie downloads, watching mobile TV, e-mailing with attachments, blog postings, viewing photos, and Flash as well as HD Gaming. Idea 3G users will experience speed up to 21 Mbps on 3G devices depending on the device capability.

Idea has introduced Time-based Billing plan for 3G services enabling users to avail high-end data services without worrying about the volume of usage. Idea has introduced affordable 3G tariff plans for both prepaid and postpaid users in J&K. To promote usage, Idea has introduced 'sachet' pricing offering attractive trial packages with per day billing starting from Rs 8 per day.

To know more about Idea's 3G services, and to check handset compatibility, customers can log onto www.ideacellular.com/3g or SMS 3G to Toll Free No. 54777.

Idea launched 2G services in J&K two years back, and has since become the most preferred choice of mobile users in the region. Idea's 2G network covers all major population areas such as Jammu, Srinagar, South Kashmir, North Kashmir, Udhampur, Kathua and Sambha and 20 other key population centers across the Himalayan terrain.