It's been a week since I picked up my (test-) Nokia N9 from the kind of folks of Grayling, an agency for Nokia Austria in Vienna. Of course, I was not too anxious to get it in my hands as soon as possible, i just wanted to save them some money for the delivery 😉 In this week I have tried and tested almost everything possible, and to give you a first conclusion of what i think: I love the N9. This is no fanboy rubbish or something like that, I simply speak as an honest, independent blogger, who has tried Android, Windows Phone, Symbian and even iOS. The N9 does not have the most powerful processor, it does not have the most Megapixels and thank god not the biggest display. It's a smartphone with solid hardware, and the one thing Nokia needs so desperately: a decent OS. Yes, I know the whole story around Meego's end before it really started, however, this is not subject of this review. For now, let's have a look at what the N9 has to offer and what you can expect from it!
HARDWARE
It's an incredibly sexy device, this N9. I would even go as far and throw it into one league of hotness with the C7 and 8600 Luna. There, I said it. I have received the black, 16 GB version, which is more than enough for my daily usage. I don't carry my whole music or photo collection with me, so the 16GB version (gives around 10GB of user space) is alright. The Nokia N9 is the second Nokia device with no buttons on the front at all (after the N900). The whole front is covered by a 3,9″ Clear Black AMOLED display with a (finally!) 854×480 pixels resolution. 3,9″ hits my sweet spot of a phone/display size exactly, as I have never been the biggest fan of 4,3″ or the even worse upcoming 4,65″ phones. 3,7 – 4″ is exactly what i like and Nokia delivers. The display used in the N9 is just stunning, nothing less. Incredible black levels, and rich, vivid colors everywhere. This display does not have to fear any comparisons with the best out there, including the Samsung Galaxy S II, which features my favorite display to date. The CBD is covered by Gorilla Glass and has curved edges, which furthers the Swipe usability. Very well thought Nokia. Usability on the outside is just great, definitely amongst the best in the world. Interestingly enough, the front facing camera is at the bottom right end of the device, will be interesting to see how this all plays out, as there is not much video calling on the N9 going on yet. The usual light sensors etc can also be found at the front.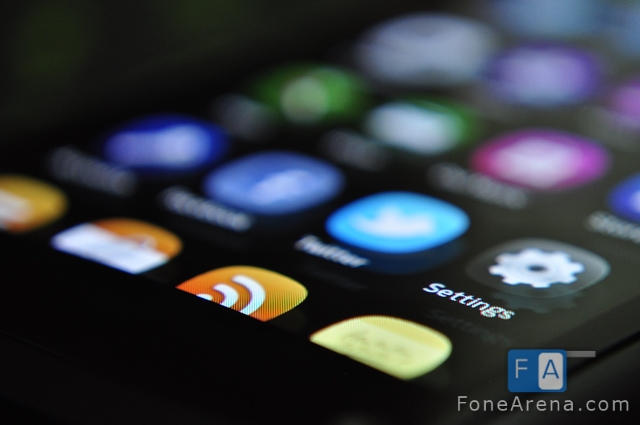 The Top of the Nokia N9 features your 3,5mm standard audio jack on the left side, one cover for the micro-USB connector and the micro-SIM holder. I don't quite get the decision of the micro-SIM, but so be it. While the left side of the N9 features a whole lot of nothing, the bottom this time is home for the speaker. I like this decision, as the latest Symbian devices all have their speakers on the back, usually resulting in a poor perfomance when the device was placed on a soft surface. In the week I'm using it, I've never missed a call or SMS. The right side of the N9 contains the volume buttons, and also the Power-/Standby-button. This button can be used to wake up the device, however, I prefer the natural double tap method. Also new for Nokia, the N9 has no dedicated camera button. I know not many competitors have one, but I have always been a fan of dedicated camera buttons, even if it's just for a stupid self portrait. However, Nokia has compensated this with a galore of camera improvements, which I will address a bit down below.
The whole body of the Nokia N9 is not in aluminium, like it's Symbian relatives, but this time from a single piece of polycarbonate, which is coloured through and through. This basically means no paint job applied, but rather one completely coloured piece. In case the device gets dropped, the damage won't be immediately visible, as there is no colour chipping. All the edges of the N9 are rounded, and feel great in the hand. Yes, it is plastic, but provides a very premium feel, as opposed to some of the horrible smartphones of competitors. It feels premium in the hand, material-wise and size-wise. However, the material choice brings one downside, as the N9 is a fingerprint magnet. It's easy to clean, but won't stay that way for very long.
A deep dive into the polycarbonate body of the Nokia reveal a ARM Cortex-A8 1GHz single core processor, which gets backed up by a PowerVR SGX530 GPU and a whopping 1GB of RAM. All those components play together for a very well rounded experience. Swiping around remains fluid, even with 30+ apps opened, while the non-removable 1.450mAh battery is "enough" for a decent performance. Which brings me to a rant i could repeat over and oooover again: I get there is a lot of  hardware crammed into the N9 body, and Nokia took good care in keeping the whole OS in a black colour tone, in order to save battery whenever possible. However, I question their decision of only 1.450 mAh. I get "it is enough", the good old Nokia excuse, but clearly we are in a time where battery is everything. So why not give us more!? It surely is no question of space, if so, then please take a good look at Samsung. Due to Nokia's work on Meego, the battery brings me through a full day easily with a full charge, around 20 hours in medium usage. Not bad, but still, there could be more! Anyways, included inside is a compass, a 3D accelerometer, 2 microphones and a galore of connectivity possibilities, incl. Bluetooth 2.1 and a NFC chip, yay! Furthermore, the N9 comes in two different storage options, 16GB and 64GB, with the latter one being exclusively available in black only. My black review unit is the 16GB model, with around 10GB available for user data, 4,2GB for installed apps and 2,1GB for app data. Unfortunately, there is no microSD expansion slot, so choose wisely which memory option you buy!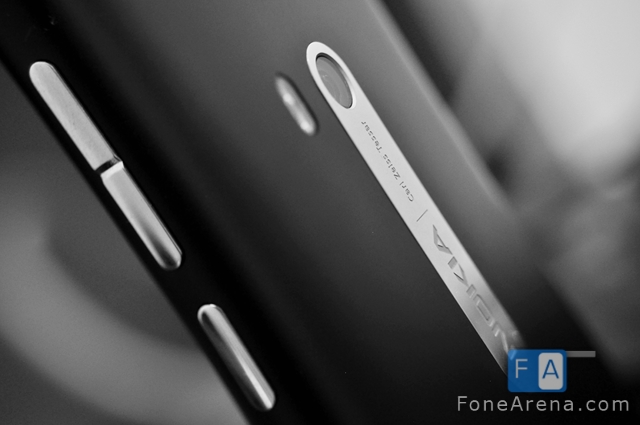 Photo part of the upcoming Nokia N9 Gallery by Sandeep Sarma aka @erazer007
We're back on the outside again, this time on the back of the Nokia N9, which is home of the 8MP Carl Zeiss camera, backed up by a dual LED flash. Spare me Xenon discussions please, this is no N8. Now that we have that out of the way, this particular shooter in the N9 includes a variety of firsts for Nokia and even the whole industry. We're talking about a carl zeiss-powered 8MP Sensor, with an aperture of f/2.2, and wide angle optics. The Dual LED Flash (which can also be used as video light) helps in low light situations, and has already blinded me numerous times. So I can confirm: yes, it's bright!  Pictures can be shot in either 16:9, 4:3 or 3:2 aspect ratio, and in 3 different resolution qualities. Damian Dinning, mastermind of Nokia cameras also stated in his big blog post about the N9 camera, that it features a new 8.7 sensor, which gives users more Megapixels at 16:9 ratio to shoot with – 7,1MP at 16:9 and 8MP at 4:3 resolution is definitely a big step forward here. The whole camera UI has been updated, and now features easier access to flash settings, Scene modes, white balance etc. There's also the possibility to put the creator name already in the EXIF data, as well as GPS and Geotags! We FINALLY have full continuous Autofocus in both, still photo and video, in order to get Mum's biggest smile on video. Videos are shot in 720p HD at 30fps, again with full autofocus, including seamless transition to macro functionality and touch to focus. I have been rambling about the lack of a good AF system (in video) in the N8 a lot. And now here it is finally is, working like a charm. Outstanding work done on the camera, and here are a few sample pictures for you:
You can check out the full size pics on this flickr set
See what's in the Box:
The hardware of the N9 leaves no doubt, that Nokia has learned from their mistakes from the past. Sure, it's not one those aluminium designs,  it also lacks a microSD expansion slot, removable battery and a camera hardware button … but you know what? I don't care. The N9 feels fantastic in the hand, the polycarbonate unibody provides a very good feel, and 3,9″ hits my sweet spot when it comes to sizes, still being able to operate with one hand only. The display plays in the same league with a Samsung Galaxy S II, providing vibrant colours and very deep black levels. With the speaker being positioned at the bottom of the N9, the unwanted muting of a ringtone while on soft surfaces has also been eliminated, which just shows how much thought went into the Nokia N9!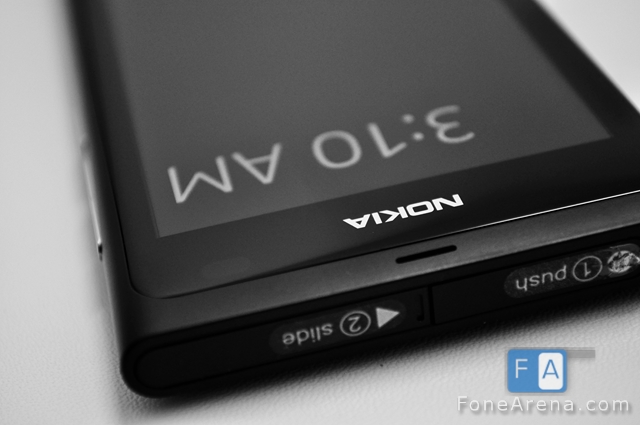 Software
The Nokia N9 is the first and unfortunately only Meego Smartphone (for consumers) available. Coming from a partnership with Intel, Meego was first promised to be the next big thing for Nokia Smartphones, Tablets, and even a possibility for Meego to be found in TV's, car entertainment systems, etc. Fast forward to October 2011, Meego is apparently almost done. After the blackest day in Nokia's history, Feb. 11th, where Meego was downgraded to "experiment with the next generation of disruptive products", and the recent announcement of Tizen, Meego is in a very very bad spot. Nokia has promised several updates, with the next big one available in the not too distant future, so Meego users can still hope for a few good years. However, and I know Nokia will not like to read this, but the N9 was built to fail. We all know Nokia's future high-end smartphones will come with Windows Phone, which is a good decision if you think about it, no doubt. Windows Phone is growing, Mango receives a ton of very positive feedback. With that in mind, the N9 almost seems like a thorn in Nokia's side. It feels a bit like, "well, we've announced it so we have to bring it out, but please not too successful". First of all, the N9 will not ship in any of the bigger countries. Not in the UK. Not in the US. Not in Germany. Instead, it will ship in such top-selling countries as Austria, Vietnam, orKazakhstan. It recently started shipping, just a few weeks before Nokia World, obviously leaving every Nokia user with the big question: Meego or Windows Phone? Looking at the support, the apps situation and general acceptance, the answer was usually quite clear. What makes me laugh though, is that Nokia apparently didn't expect the N9 to be that successful – as there is a TON of positive feedback about it around the interwebs, with almost every reviewer questioning Nokia's decision. Don't get me wrong, I think going for Windows Phone was a good decision, but would it hurt them to maybe bring one or two Meego phones to the market per year? Make it completely open, just like the N900 and I'm sure it'll be a hit. But, as of now, there is no indication of any more Meego phones from Nokia. Having to write those lines makes me sad.. and why? Because I absolutely love what they have done with Meego!
Meego on the Nokia N9 comes in a mainly black colour scheme, supporting the stunning Clear Black AMOLED display. Let's have a look at some of the highlights of what Meego has to offer! First off, there is no widget-based homescreen like Android, instead there is a divided 3-homescreen setup:
1. Notifications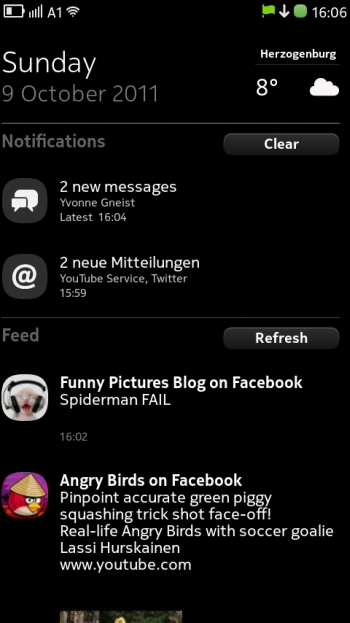 The Notifications screen does exactly what it says: All incoming e-mails, text messages, MMS, missed calls will brought into this one place. Further than that, Facebook and Twitter timelines are displayed in here as well. I have been told, and I'm really looking forward to that, the user will be possible to f.e. only show twitter @-replies, instead of the whole timeline. Following 1.400 people like I do, can be a mess sometimes, which is why I'm really looking forward to this particular update. A nice little feature: the ability to delete all twitter or facebook items at once from the "feed".  The Notifications center also shows a neat little weather overview in the top right corner, as seen in my screenshot. With a little more customization options, this will be perfect, only being outmatched by the brilliant Me-Tile in Windows Phone Mango!
2. Applications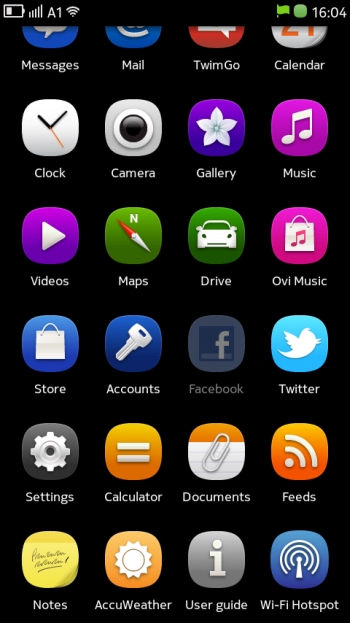 The 2nd homescreen contains all applications in one list. There are no folders anymore, like we know it from Symbian, so all apps are listed up. You decide whether this is good or not, I for one don't miss folders. However, the apps can be re-arranged from the user.
3. Multitasking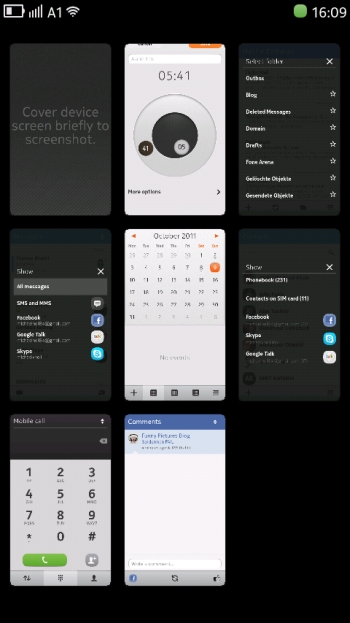 Multitasking is not happening in any form of shortcut or long-button-press, instead Multitasking can be found as the third homescreen! This dedicated homescreen allows users to easily manage all running apps, with all previews being shown in neat little cards, in either a 2- or 3-column view. The number of columns can be changed via pinch to zoom. I usually have around 20 apps opened in the background, with no lags or hickups at all. A long-press on one of the app cards will give options to either close one app, or all together. Very nice work there, this is how real multitasking should look like!
Swipe
Swipe is the big and unique feature of the Nokia N9 and Meego. With the lack of hardware buttons to operate the OS, all operations will be done with a simple swipe across the screen, with the curved edges giving a much more natural feel to the whole operation. The first few minutes definitely feel a bit awkward having no home button, but swiping around feels like something you don't wanna miss anymore shortly after. God knows how often I have tried to swipe across my N8 or HTC Trophy screen. Swiping from left to right and vice versa puts an app into the background and gets you back to the last used of the 3 homescreens. There is an option in the settings, enabling users to close apps by swiping from bottom to top, but with the immense multitasking power of the N9, I never felt this was neccessary. A swipe will not freeze an app, instead it will remain active. Try swiping while watching a video for example, and stop halfway across. I applaud Nokia for this unique way of operating my phone. I never came across anything more natural and intuitive – try it yourself, you'll see what i mean!
Lockscreen/Standby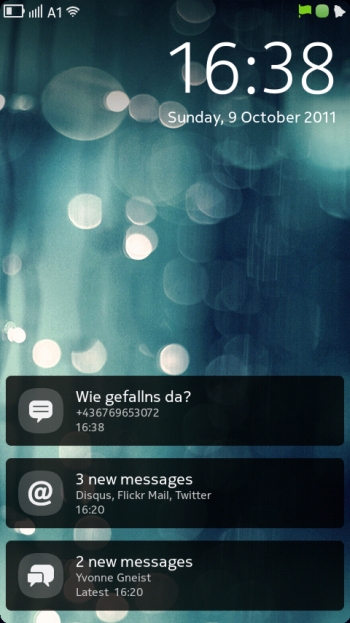 In Standby, the N9 displays a big clock, something i already enjoy having on a Symbian device. With the CB display on the N9, this results in almost no additional battery consumption. A nice plus: missed calls, SMS, chat messages and e-mails will be displayed immediately. Everything that's happening, directly on the standby screen, i love it! Double-tapping the display, or hitting the home button will reveal the lockscreen, which is the only part of Meego, that can be customized with a wallpaper. Missed events will be displayed in black bars, like shown above, sliding one of the bars across will bring you directly to the respective app. Sliding the lockscreen up a bit and hold it, will launch 4 (non-customizable) shortcuts: phone, messaging, camera and web browser.
Accounts
Apart from the obvious Nokia account, the N9 features a galore of social networking/IM-/Mail-accounts that can be set up. Mail for Exchange, Skype, Google, Facebook, Twitter, CalDav, Flickr, Picasa, SIP, Youtube – you name it, they got it. All those accounts will be supported throughout the whole Meego experience: Mail for Exchange (with Google) has worked flawless for me, Google can be used as mail, calendar and Gtalk, videos can be shared to Youtube, Facebook and Flickr, Pictures to Flickr, Facebook and Picasa, instant messaging works with Skype, Gtalk and Facebook Chat. The possibilities are endless, and finally, the experience is how it should be: built right into the core of the OS!
Status Bar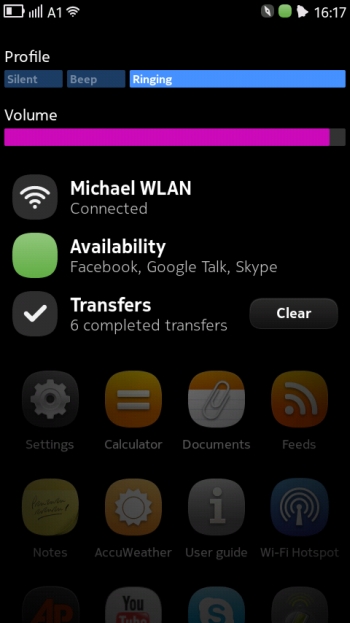 The Status Bar also deserves some credits. Normally, it is very discreet, hiding at the very top, giving only very basic information about the time, battery, network being used etc. A simple tap on it reveals Profiles (ringing, can be set up to three different volumes, beep and silent) and the current volume (of phone calls/media).  There's also quick access to the currently used network, in my case my WLAN, or Bluetooth. In case instant messengers are set up, there's also a quick option to set availabilities for those, including a "set all to offline or online". Last but not the least, another option on the status bar, is a log of all recently uploaded media items, including when and where it was uploaded to and the size of the item!
Messaging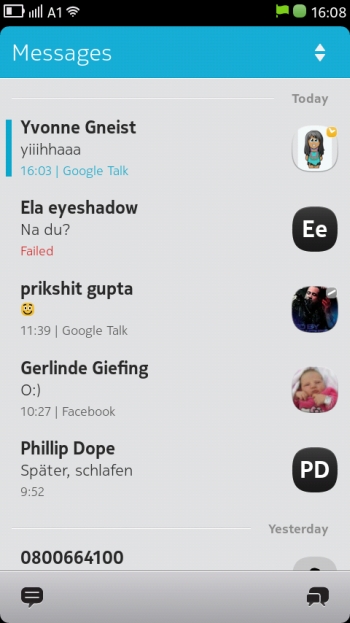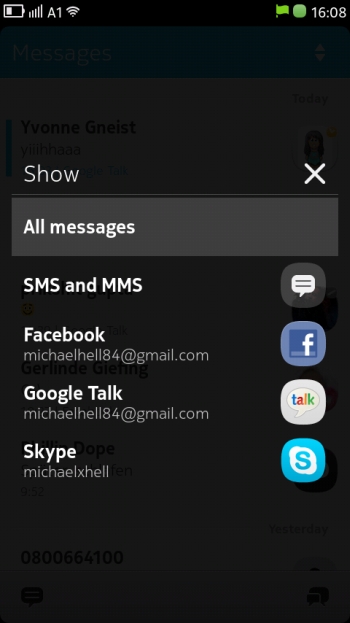 Messaging means big business in Meego. What we're looking at, is a messaging centre, bringing together all your chats via SMS and instant messaging. Google Talk, Skype, Facebook chat, everything is in there and will be displayed just like a normal text message. In case that is overload for you, there's also an option to show only one certain kind of conversations, like f.e., only SMS messages. Starting a new IM chat is just as simple as writing a text message, with all contacts already present on the phone. The keyboard is well spaced, text correction is nicely implemented and works fine. A great thing about text input on the N9? The ability to set up the most used languages (in my case german and english) and switching between them with a simple swipe across the screen, similar to sending an app into the background. Swype, which was initially in one of the demo devices I have tried, is not present anymore, but will be added in one of the next updates, which is another welcome addition to the overall experience!
Contacts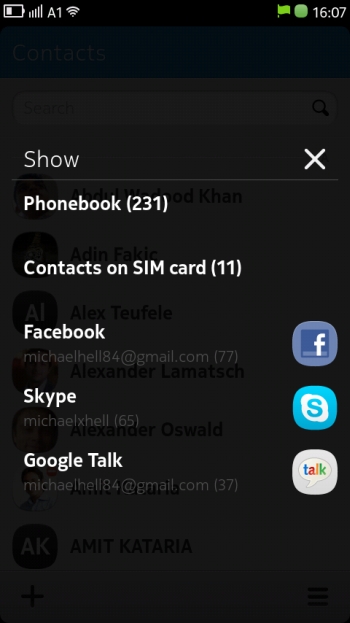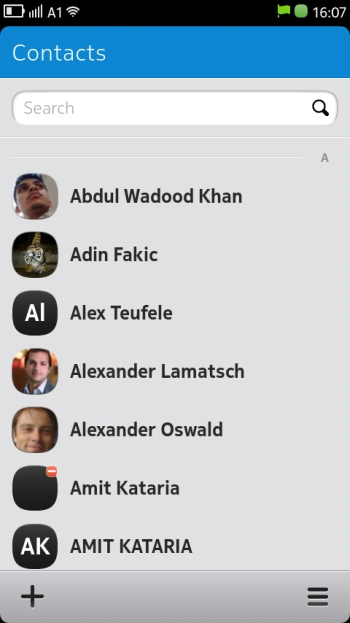 Another strength of Meego: the contacts integration. Everything is connected and will be merged, with infos being pulled in from all social networks and IM's. Skype call directly from contact? no problem. @-reply to twitter directly from the contact? sure, go on! A facebook chat message? piece of cake! Even the Twitter bio gets pulled in and is displayed as a note. This is exactly how it should be! Now just bring in Whatsapp and I can die a happy man!
Phone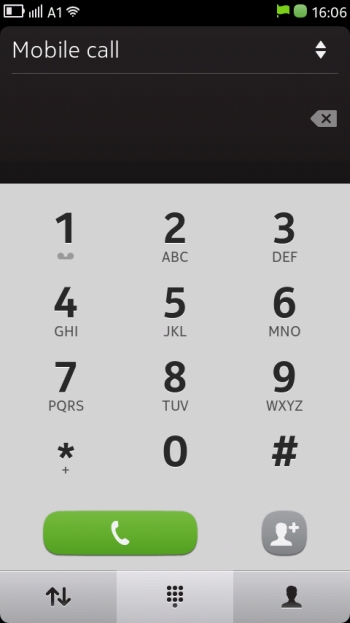 Yes, the Nokia N9 can also make phone calls, heeeey! The phone application is divided into 3 tabs: Log, Dialer and Contacts. There's isn't much new going on here, expect a direct switch to Skype call possibility. However, I really miss predictive dialing from Symbian phones here. It just takes too long to search for a contact, predictive dialing would help save a ton of time!
Web Browser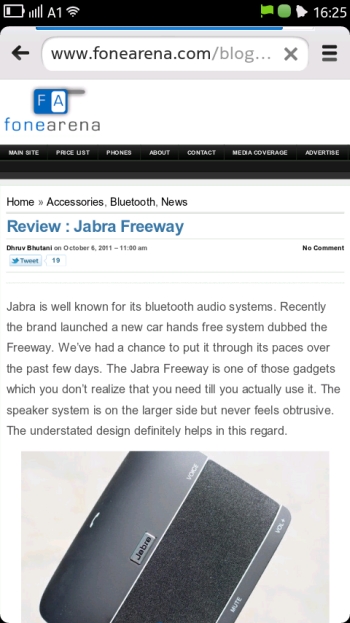 The Web Browser will be a love/hate relationship for most of the users. Impressions from fellow Nokia users have been on par with my own: First of all, i like the minimalistic approach. There's no armada of buttons waiting to confuse you. Secondly: i like Top sites. Top sites is basically a list generated by your most visited sites, appearing in a nice overview right at the start of the web browser. Thirdly, I like how I am able to open a new windows in the web browser, and every windows gets it's own multitasking card! And last but not the least, I like how i can pin a website right into my applications drawer via send to apps. Which already brings me to one of the downsides in the browser: There is no real bookmark support. Only Top sites or add a page to the apps is a way to memorize. Also, flash is a problem in the N9 browser (read: not there!). And, unfortunately, there is no text reflow in the browser, which makes reading a big website a pain sometimes. It's quite a basic one, this browser. It's extremely fast, renders websites quite nicely and has a ton of potential, so i sincerely hope Nokia continues to improve in the next updates!
Photo Sharing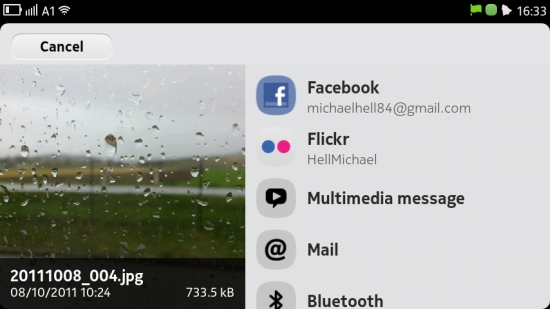 Sharing photos on Nokia devices has, quite frankly been a pain in the rear end. With Pixelpipe not supporting their apps anymore, it was very difficult to share photos anywhere else than Twitter and Facebook. Fortunately, this has changed in Meego, with photo sharing finally like it should be! Sharing to Flickr with Tags and in the Set of your choosing, with name editing before posting etc, the same goes for sharing to Facebook, Picasa and Videos as well. Which brings up the question: What held them back with Twitter? Right now, there is no integrated photo sharing to Twitter, for god knows which reasons. There are workarounds (I'm using via Mail to Twitpic now), but that leaves me scratching my head. Thank God, this was also announced to be in the next update!
Facebook/Twitter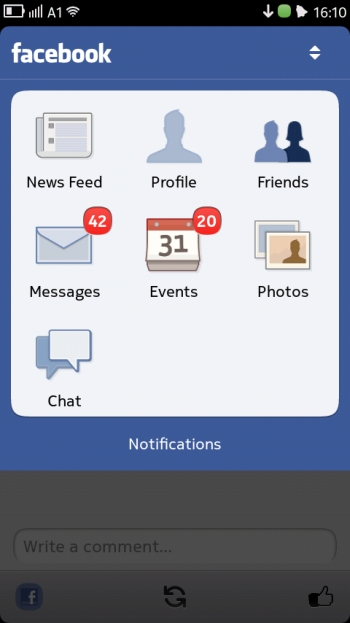 Both social networks have clients built in the N9 and well, let's just say they work. Both applications are baked into the core, and launch whenever any action is done from within the contacts. Both apps are written in Qt, so a decent user experience is given, and they cover all basic operations, however, there is plenty of room for improvements. The twitter app for example only features the native retweet version, not the old, handy "Quote"-RT. Furthermore, "reply to all" brings up my own username as well. Gah. Help for Twitter is already available in TwimGo, a very nice, feature-rich Twitter app from the Nokia Market, Facebook Users will have to wait for either fmobi, or an update for the build in client for a better experience.
Photo Gallery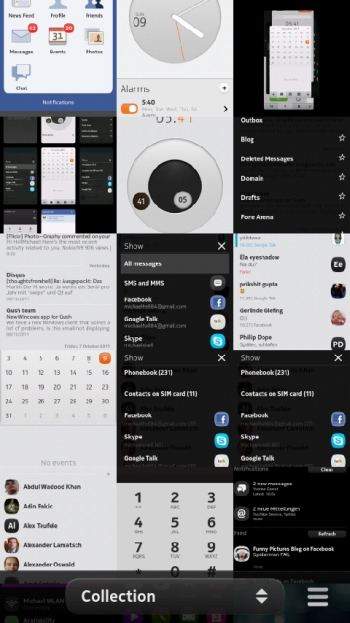 The Photo gallery continues the simplistic approach of Meego, with a very basic 3 column overview. Users can choose between several views, including tags, favourites, captures only, etc. In case you are wondering: Selecting multiple items IS possible, however the following action has to be choosen before that. So hit the options 3-bar-symbol, and either select to share or delete items, and there you go.
Music Player
The N9 can be filled up with a lot of music, playing that happens via the built in music player, a georgeous one, i might add. It features all the gimmicks of your usual mp3 player, minus an Equalizer, which can not be found yet. Missing album art is replaced by a generated picture of the album title in coloured letters. Glad they changed that from the Symbian music player. Everything is tied with the Music Store, with an option to search for similar songs/genres in the music store. very cool.
Video Player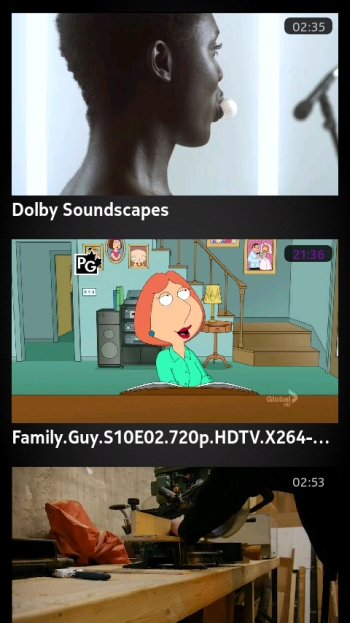 Videos is another very well done part in the N9. The overview provides big thumbnails of all videos found on the N9 (Movies etc, not selfmade videos, which are found in the gallery). A simple tap starts the video player in landscape mode. Almost every video format runs on the N9 out of the box, with the options buttons giving details like length, format, or when the video has been added. Probably the coolest bit here, is the integration of Youtube's related videos. After a video has ended, or with a tap on the options symbol will bring up related videos from Youtube directly in the video player. However, and here's the sad thing about it, a tap on one of the suggested videos will not prompt the video to run in the video player, nor will it fire up a dedicated Youtube app. All we get here, is the Youtube mobile page. That, my friends, is a bit of a disappointment. However, the sheer amount of formats running natively makes up for that.
Nokia Maps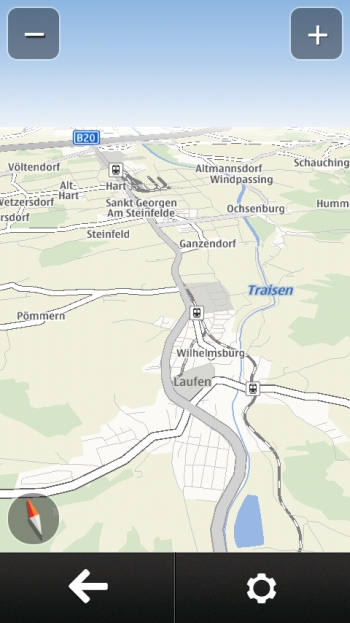 As usual for any Nokia device, Nokia Maps also comes on board. This time, it's separated into two different apps: Maps covers all your maps needs, including searches and POI's wherever you are. Drive, on the other hand, covers the actual navigation on the road, with bigger, use-in-car-friendly buttons and big fonts, making it as easy as possible to f.e. quickly change a root while driving. Even though it's a toned down version, Nokia Maps also shines on the N9, and is itself another reason to buy it! Oh, and did i mention Nokia Maps is completely free and covers maps for almost every region of the world?
Documents
Documents is another built in app in Meego, allowing users to handle their .doc needs, however, in a very lite way, as only reading is possible, no editing!
Feeds
The N9 also contains a Feeds app, which is a basic feed reader, to keep you updated on the road. This one is coupled with the internet browser, with suscribed feeds showing up in the Feeds app immediately. Only thing missing would be an integration with my beloved Google Reader. Sharing to Facebook and Twitter is also supported by the way, which can only be a good thing for sharing-crazy maniacs like me!
Calendar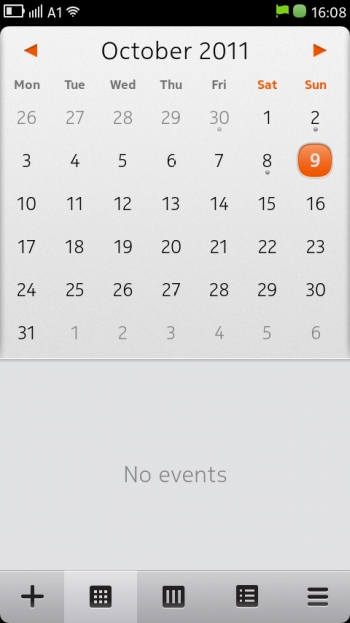 The calendar application continues the very sleek, simplistic approach of Meego and is actually quite usable. I've set up my Gmail calendar via Mail for Exchange, and it works completely flawless. There are different views, options to choose a different colour for every calendar set up (blue for work, red for private etc), and everything syncs nicely to wherever i want it to!
Wi-Fi Hotspot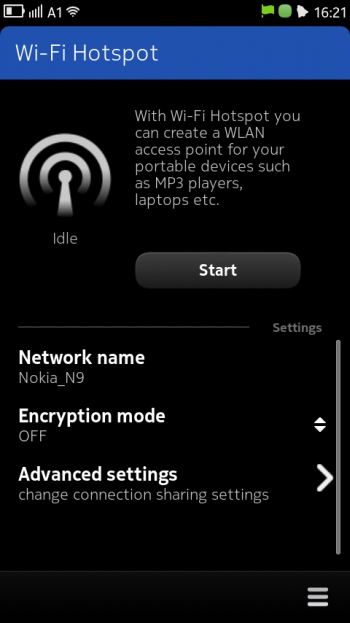 Another App that comes straight out of the Box. Yes, the times of having to buy JoikuSpot are over – Nokia has cramed in a decent Wi-Fi hotspot app, for free. Setting up is very simple, with just a few clicks everyone can share their mobile connection as a mobile hotspot. A feature that could come in very handy at this year's Nokia World 😉
AccuWeather
Rounding up the galore of apps that come out of the N9 box, is AccuWeather, one of my favourite weather apps. AccuWeather also powers the tiny weather overview in the Noficiation/Feeds-area in the homescreen.
Nokia Store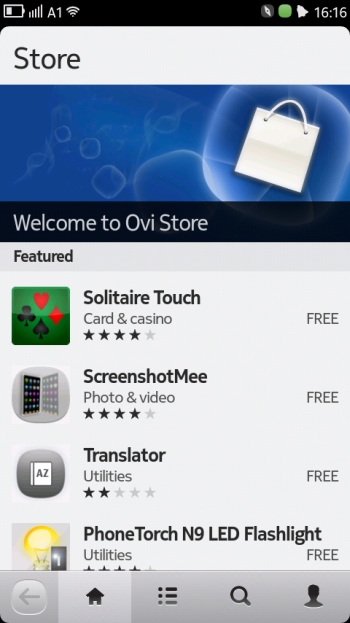 Probably the weakest point on the N9 – the Nokia store. And I'm not referring to functionality, cause it actually works very well. However, the content is the main problem. Sure, some must have apps are already ported, like 4squick, and I'm sure many more of the existing Symbian developers will follow. However, is Meego worth it for Android/WP/iOS-developers to have a look? Will it even attract new developers who're currently weighing in choices? With the way Meego was handled, and the events surrounding it, I'm afraid the answer is a big fat No.
Verdict
It is quite something, this Nokia N9. For one, it's a brilliant piece of hardware. As stated at the start of this review – it doesn't have the fastest processor, not the most megapixels, nor the biggest screen. Instead it is a well-balanced, well-sized and well equipped piece of kit. Now, we all know Nokia is capable of producing high quality hardware, even in entry level territories. A stunning display, a nicely made unibody, very good camera. What I missed thus far? An OS that delivers. And Meego is just that. Meego works, and it works very well. I love the unique UI approach, the simplicity of the apps, and nice integration of social networks. Meego has a lot of potential and I'm thrilled to find out what Nokia has planned for the N9. However, not everything is quite that cheerful when it comes to the future. It's a product with a shorter shelf-life than I'd like it to. Updates are promised, but Meego was cut off on the infamous February 11th keynote, basically rendered worthless for every new developer. A presumable lack of apps is the logical result to that. It's still very early to judge this entirely, but with such a lack of confidence from Nokia itself, it's hard to keep a certain level of excitement. I however, will look into the future with an open mind and see what Nokia will deliver for the N9 in future update. And who knows, maybe Nokia can be convinced for more Meego-ness? Take it easy on those problems said before and I promise, you'll be in for one hell of a smartphone with the Nokia N9!