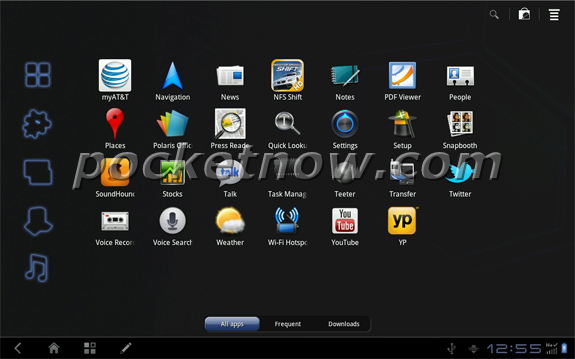 HTC is one of the leading technology brands in the world which is also one of the fastest growing tech brands. Their sales are increasing every month and they shipped more than 12 million devices in Q2 2011. We all know that HTC is working on a 10-inch Android tablet which will be their first one to run on Google Honeycomb OS, and will also feature HTC Sense UI like we saw on Flyer but it was Gingerbread. It will be a dual-core tablet featuring the HTC Scribe technology we first saw on the Flyer, and AT&T will launch it in USA as their first ever pure 4G LTE tablet or probably HSPA network. Now our friends over at Pocket-Now got their hands on some software images of HTC Puccini giving us a hint on how the UI of the Puccini will be like. As you can see the image above, it comes with some pre-loaded AT&T apps which makes it confirm that the tablet is on its way to AT&T.
Also you can see HTC Weather app and Snapbooth app, and they both are cool. As you can see the app drawer is changed and it comes with Sense UI options like all, frequent and downloads which confirms that Puccini is loaded with Sense UI features. Also the keyboard comes with a numeric-pad, thanks to the amazing resolution of 1280 x 800. I recently reviewed HTC Flyer and I was impressed by the Sense UI, which actually makes the Flyer different from other Android tablets out in market.
So HTC lovers out there, are you looking forward to grab this Android tablet?