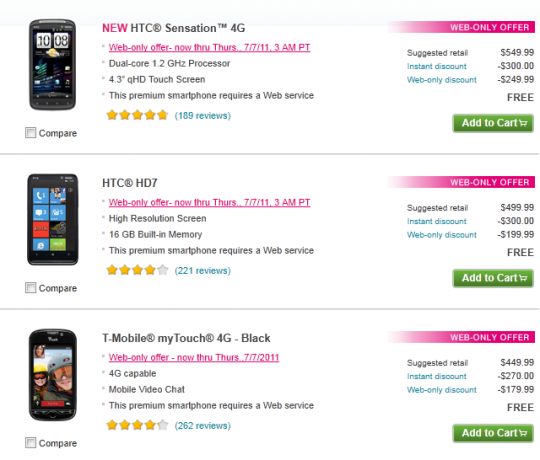 T-Mobile is one of the largest mobile networks in USA and they are offering number of good devices. They recently launched HTC Sensation 4G which is their new flagship device, it's really a good device and a tough competitor to Samsung Galaxy S II. It would be great if you get a chance to get Sensation for free on contract and guess what? T-Mobile is offering this amazing device for free on a 2-yr contract, it's a limited time offer and it will be ending tonight at 3:00 AM PT. T-Mo is not only offering Sensation for free, they are also offering HTC HD7 and MyTouch 4G along with it, so you can also get HTC HD7 or MyTouch 4G for free. You have to sign a new two year contract or open a new line if you are interested in any of the following phones. It's a Web Only offer, so you can get it only on T-Mobile website, don't make a mistake of visiting nearby T-Mo store.
To qualify for the instant and Web-only discounts, you must activate the product on a new line of service with an Even More™ rate plan on a two-year service agreement. Even More™ Family Plans may qualify for up to five instant discounts.
HTC HD7 is probably the best WP7 device you can get from T-Mobile, whereas MyTouch 4G is now an old device and its successor known as MyTouch 4G Slide is coming out later this month, so I would suggest you to wait for it. But if you are thinking about Sensation, then grab it because at the moment, it's the best Android device you can get from T-Mobile.
Our readers in USA, you have few hours left so tell us are you going to grab any of these devices?