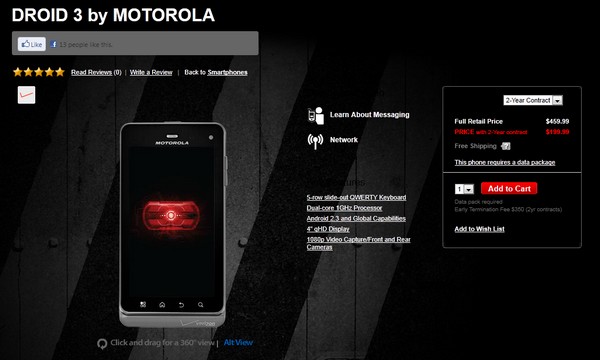 Recently, Motorola launched the Milestone 3 in China which is their latest flagship device and successor to Milestone 2. In the USA, Milestone 3 is known as Droid 3 and in past few weeks, we have seen a lot of leaked shots of Droid 3 and finally today Verizon Wireless officially announced it. Droid 3 is a successor to the famous Droid line and it's now available for pre-order, starting from $199.99 with 2-yr contract and for $459 without contract, and I think the price is very reasonable. As we heard that Droid 3 will be available online on July 7th, you can now head-over to Verizon Wireless and order your Droid 3 with the new tiered data plan as Verizon is not offering the unlimited data plan anymore.
The phone comes with a TI OMAP 1GHz dual-core processor, 4-inch qHD 960×540 display and has 16GB of onboard storage, 8 MP camera with dual LED flash and front-facing camera for video chat and it's a world phone. Just like we heard it will hit Verizon stores and BestBuy on July 14th, so grab it now if you can't wait for it.
So who's getting one from Verizon or no LTE 4G is a deal-breaker for you?