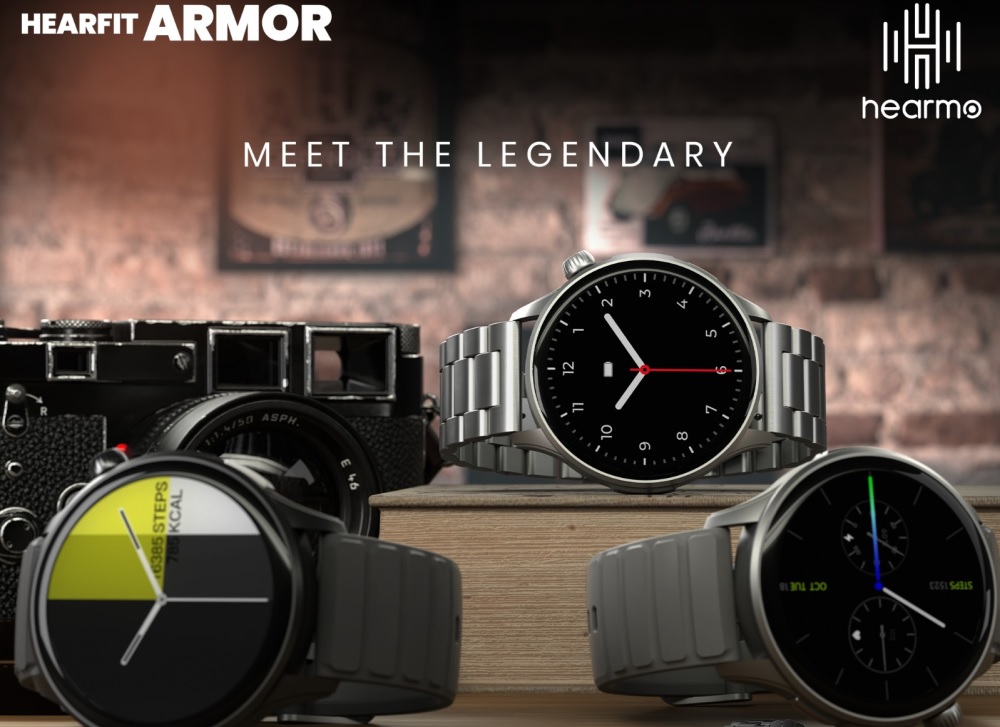 Hearmo has expanded its range of smartwatches by introducing the HearFit Armor smartwatch in the Indian market, following the recent launch of the HearFit VS model.
The HearFit Armor Smartwatch showcases an elegant and modern design, accentuated by its robust Zinc Alloy Body. Featuring a 1.45-inch Super AMOLED Display with a remarkable brightness of up to 1000 nits and a resolution of 466×466, it promises a visually appealing experience.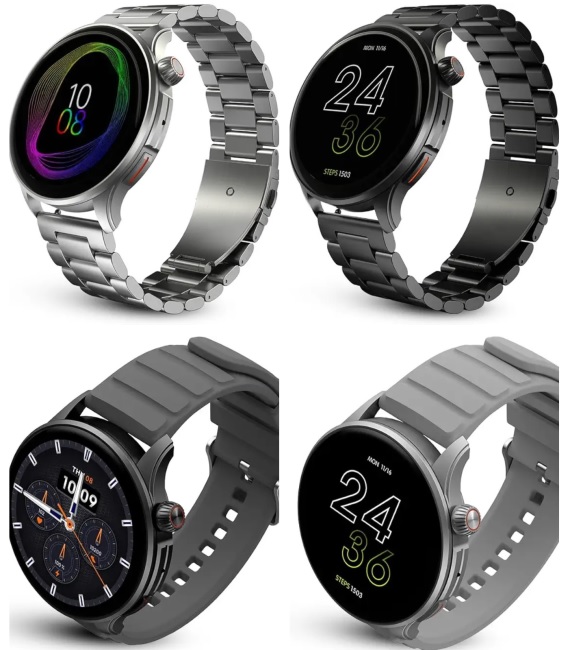 It offers an extensive selection of over 100 sports modes and incorporates essential health monitoring features, including Heart Rate Monitoring, Blood Pressure Tracking, SpO2 Monitoring, Sleep Tracking, as well as specialized functionalities for female health tracking.
Connectivity is seamless with Bluetooth 5.2, facilitating uninterrupted communication such as calls, message notifications, and data synchronization with your smartphone. In terms of endurance, it boasts a 300mAh battery and an IP68 Waterproof rating, ensuring both longevity and reliability in various conditions.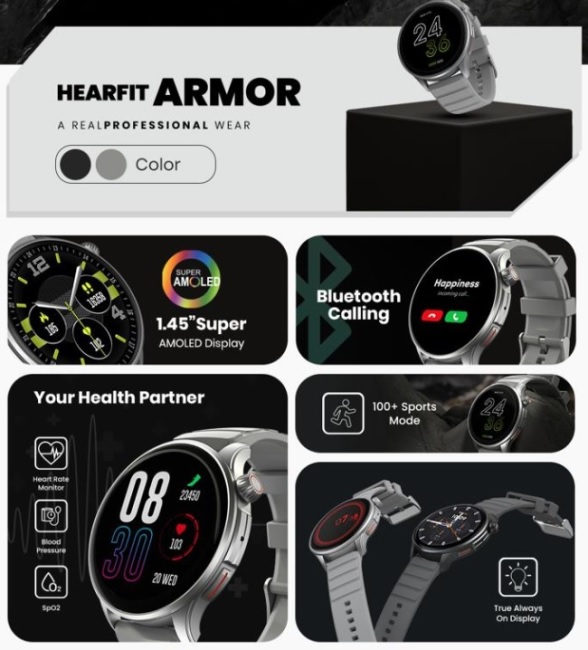 Quick specifications: Hearmo HearFit Armor
Zinc alloy body; Silicon and Steel Straps, Functional crown
1.45″ Super AMOLED Display, 466 x 466 resolution, 1000 NITS of brightness, Always-on-Display
Bluetooth 5.2; Bluetooth calling
In-Built Mic and Speaker
100+ sports mode
Battery: 300mAh;
Health Monitoring: Heart rate monitoring, blood pressure and Sleep monitoring, Daily activity tracking
IP68 Dust and water-resistant
Other Features: Smart Notifications, AI voice assistant
DaFit App
Pricing and availability
The Hearmo HearFit Armor is originally priced at Rs. 9,999, but it's currently being offered at an exclusive launch price of Rs. 4,999 (silicon straps) and Rs. 5,999 (steel straps) for a limited time.
The smartwatch is offered in Black and Silver variants, with both Stainless Steel and Silicon Strap choices. Starting today, it is available on Amazon.in and in offline retail stores throughout India.
Commenting on the launch, Mahendra D Jangir, Founder & CEO of Hearmo, said,
At Hearmo, we envision a future where wearable technology is transformed, offering high-quality products that perfectly combine elegance and innovation. We are firm believers in making advanced tech products accessible to all, enhancing their lives without straining their finances. Our HearFit Armor is a testament to this dedication, boasting an impressive range of features at a price that's easy on the pocket.