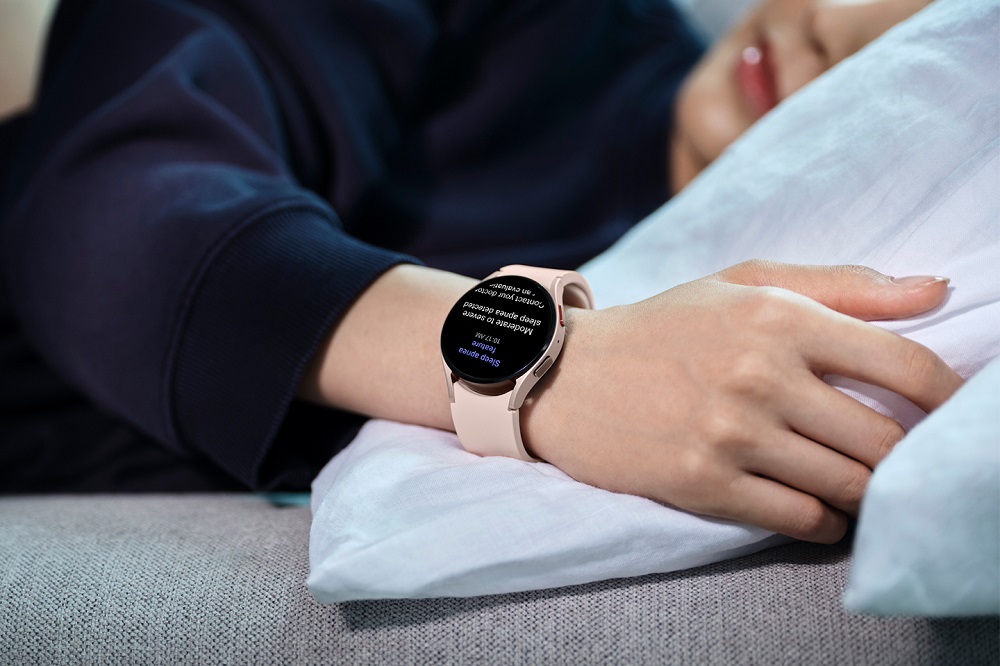 Samsung Electronics has announced that its new sleep apnea feature in the Samsung Health Monitor app has received approval from Korea's Ministry of Food and Drug Safety (MFDS).
Samsung said, the goal is to help people detect early signs of obstructive sleep apnea, a medical condition where breathing stops during sleep, often going unnoticed and untreated.
Sleep Apnea feature on Galaxy Watches
Sleep apnea is a common yet serious condition that can disrupt oxygen supply, affect sleep quality, and lead to health issues like hypertension, heart problems, strokes, and cognitive disorders.
Many people in the U.S., around 25% of men and 10% of women, have obstructive sleep apnea, but often they don't recognize the symptoms or seek treatment. This new feature aims to raise awareness, enabling early detection and reducing the risk of health complications.
Using the Galaxy Watch's BioActive Sensor, the sleep apnea feature monitors blood oxygen levels during sleep and identifies moderate to severe obstructive sleep apnea by analyzing changes in blood oxygen values. Users can simply track their sleep for more than 4 hours, twice within 10 days, to check for these symptoms.
The sleep apnea feature is now part of the Samsung Health Monitor app, which already includes functions like blood pressure monitoring, electrocardiogram (ECG) detection, and irregular heart rhythm notification (IHRN). This provides users with a comprehensive view of their health, all from their wrist.
Availability
The Sleep Apnea feature will become available on Galaxy Watch series (Galaxy Watch 6 and Watch 5 series) in Korea through updates to the Samsung Health Monitor app starting early next year.
Please note that it will only work on devices purchased in markets where this service is currently available.
Announcing the availability, Hon Pak, Vice President and Head of Digital Health Team, MX Business at Samsung Electronics, said:
Samsung continues to prioritize the delivery of cutting-edge technologies to Galaxy wearables, enabling more individuals to gain a deeper understanding and manage their wellness effectively. The introduction of the sleep apnea feature on the Galaxy Watch series exemplifies our commitment. This feature serves as an easy, proactive instrument for users to detect this disorder at the earliest stages, preventing any further deterioration of their condition.