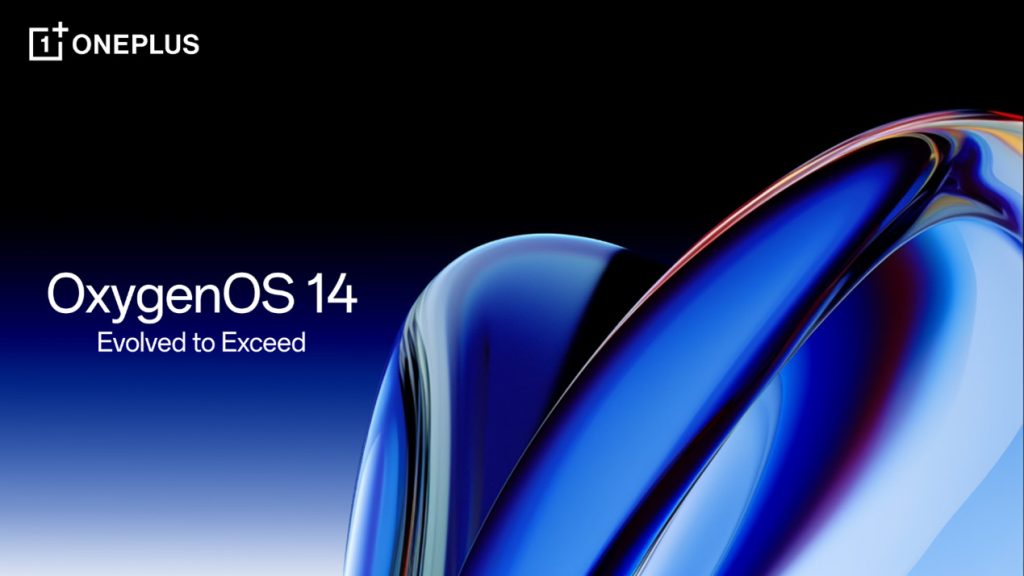 OnePlus just launched OxygenOS 14, as it had promised. This comes after the company started rolling out the OxygenOS 14 open beta update for the OnePlus 11 a few weeks back.
Upgraded Fast & Smooth Experience with Trinity Engine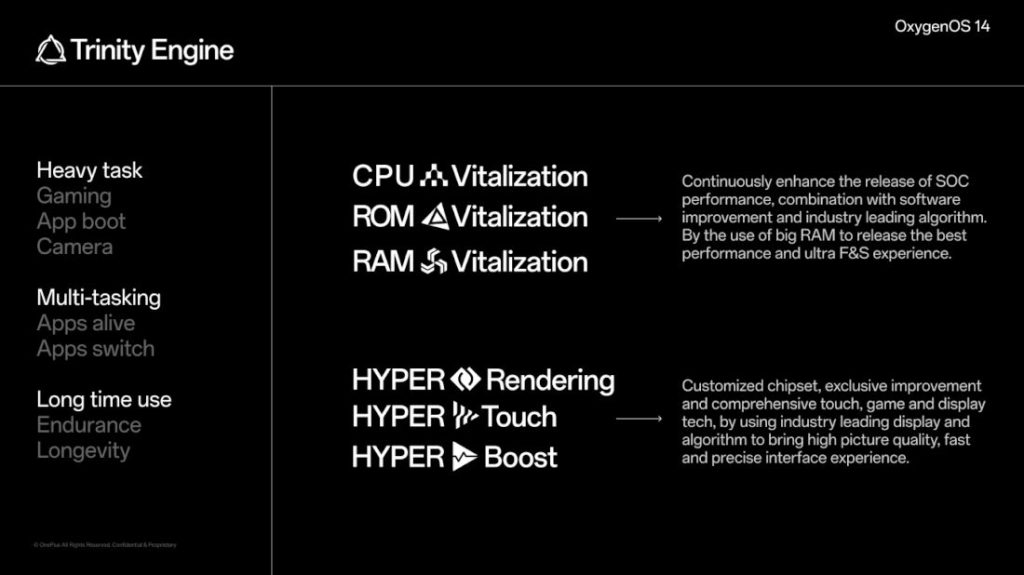 The OxygenOS 14 brings Trinity Engine, an advanced proprietary platform that incorporates six innovative technologies that intelligently unlock the full potential of smartphone hardware.
Trinity Engine is designed to better deal with demanding scenarios including multitasking, heavy tasking, and long-term usage, according to OnePlus.
The core of Trinity Engine is CPU Vitalization, RAM Vitalization, and ROM Vitalization, which intelligently allocates smartphone internal resources to achieve enhanced performance, extended battery life, and long-term smooth experience.
The CPU Vitalization system-level computing power scheduling technology adopts a sophisticated computing power model to determine the best balance between enhanced performance and reduced power consumption to fit different scenarios. This promises extended battery life for 20 minutes without compromising performance on the OnePlus 11 powered by OxygenOS 14, compared with OxygenOS 13.
RAM Vitalization that was first introduced on the OnePlus 11 with OxygenOS 13 is upgraded on the OxygenOS 14 to deliver a 10% improvement in smoothness during everyday use and to allow frequently used applications to run in the background for up to 72 hours.
In addition, ROM Vitalization contributes to providing a fast and smooth experience to OnePlus devices even after 48-months of typical use. It effectively addresses performance degradation issues that occur from long-term smartphone use by incorporating techniques such as efficient compression algorithms, file defragmentation, and memory acceleration.
HyperRendering, HyperTouch, and HyperBoost
HyperRendering, HyperTouch, and HyperBoost technologies promise a more immersive and smoother gaming experience with OxygenOS 14.
HyperRendering, an in-house graphics optimization algorithm, helps to generate better graphics quality in mobile games. HyperTouch ensures an incredibly smooth, precise, and stable touch experience by incorporating a comprehensive optimization of touch logic and full-scene anti-mistouch.
To address high power consumption without compromising stable-frame-rate experience, the new generation of HyperBoost incorporates AI machine learning, intelligent performance control, and graphics elements arrangement techniques.
Prioritized privacy and security protection with new features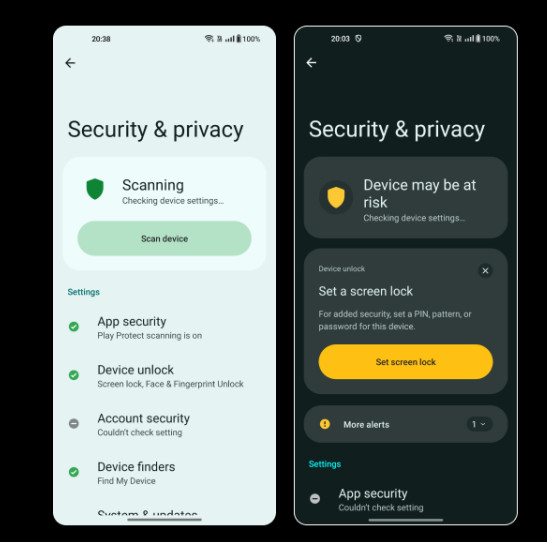 Device Security Engine 3.0 in OxygenOS 14 based on the Trusted Execution Environment (TEE) ensures effective device security reinforcement to prevent malicious cracking and de-compilation attempts.
The Security Center also receives upgrades for a new single interface which makes it easier for users to manage the device's security status and privacy options. It can also help alert you to potential security risks, providing increased transparency when it comes to data protection at the application level.
Moreover, a chip-level security encryption technology named Strong Box powered by Built-in eSE (embedded Secure Element) security chip is introduced on OxygenOS 14 to ensures third-party use of passwords is protected from the most fundamental data level.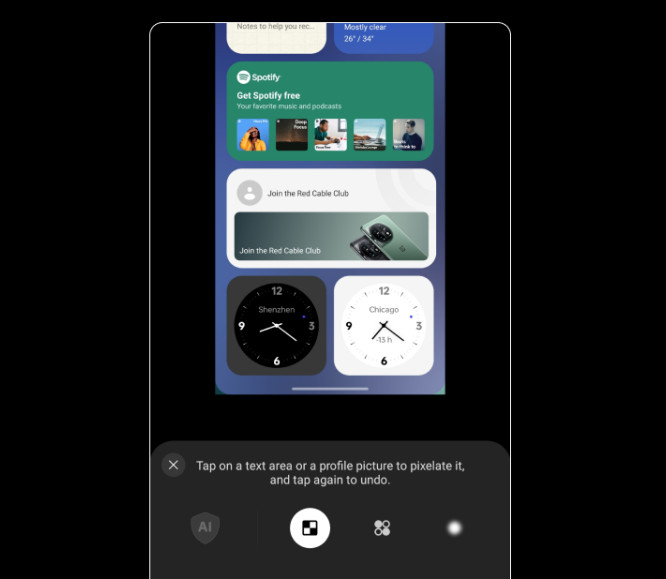 Auto Pixelate 2.0 on OxygenOS 14 can now hide more sensitive information, such as contact details and numbers like credit cards, when sharing screenshots.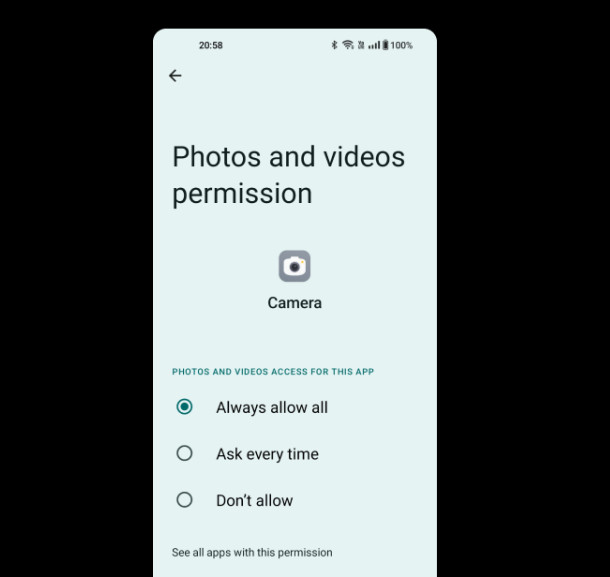 OxygenOS 14 gets a new permission management option for photos and videos as the "Ask every time" setting. When turned on, the application must request authorization through a pop-up window before it accesses photo and videos.
When the application requires photo and video permission, there is also an option in the permission pop-up window to allow the user to select photos and videos from the Gallery.
More Instinctive UI with Refined Design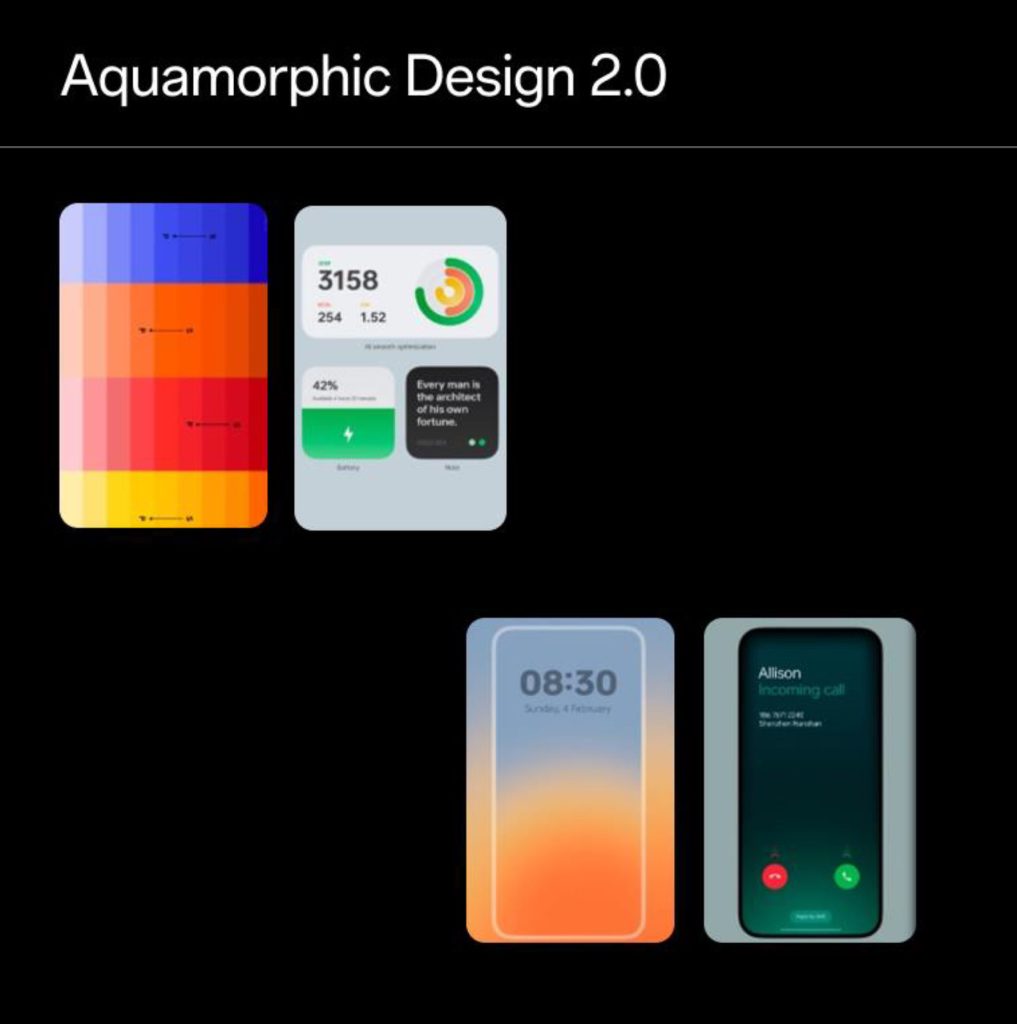 OxygenOS 14 continues the natural and simplified Aquamorphic Design first introduced on OxygenOS 13. The design philosophy of Aquamorphic Design 2.0 is to use its intuitive flow to guide you where you need it, instead of asking you to try to adapt to it. It brings new interactions, animations, music, color systems, and more.
The most prominent new feature of Aquamorphic Design 2.0 is Fluid Cloud. It enables a brand-new way to interact with information based on the Aquamorphic Design philosophy. Inspired by the solid, liquid, and gas structure of Aquamorphic Design, the Fluid Cloud presents notifications within bubbles, capsules, and panels in a naturally merging and flowing way.
This reimagined version of the status bar can present different forms of real-time services with minimal disruption at the top of your screen according to your personalized preferences and priorities. Moreover, the notifications in Fluid Cloud can be presented cross device for convenience.
The color system on OxygenOS 14 will change dynamically based on factors including time of the day, smartphone status, and content. For instance, the colors will intuitively change according to the status of your device and what you are doing.
When the phone is charging, the battery status card will display a gradient animation, or when you're working out, fitness data tracked on the phone will flow and change in color. Throughout the day, the background color of the lock screen will also change like the color of the ocean on the horizon to remind you of the flow of time.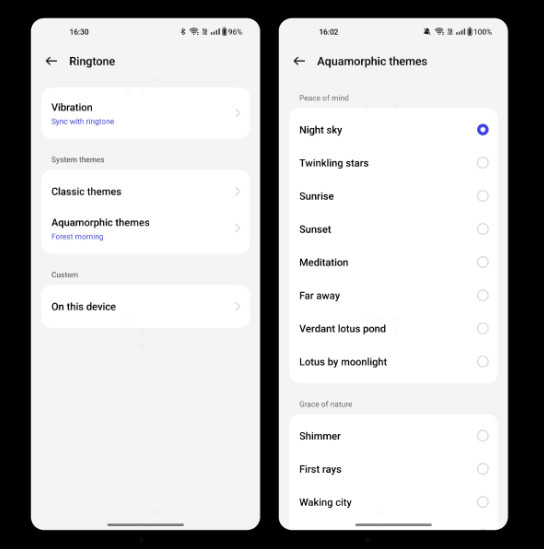 The sound is also redesigned on OxygenOS 14. There are nine sets of Aquamorphic-themed ringtones — including calls, alarms, and notifications — and eleven global UI sound designs have been added. Featuring clean and clear sound effects, these new sounds bring the vitality and calmness of nature to every digital interaction.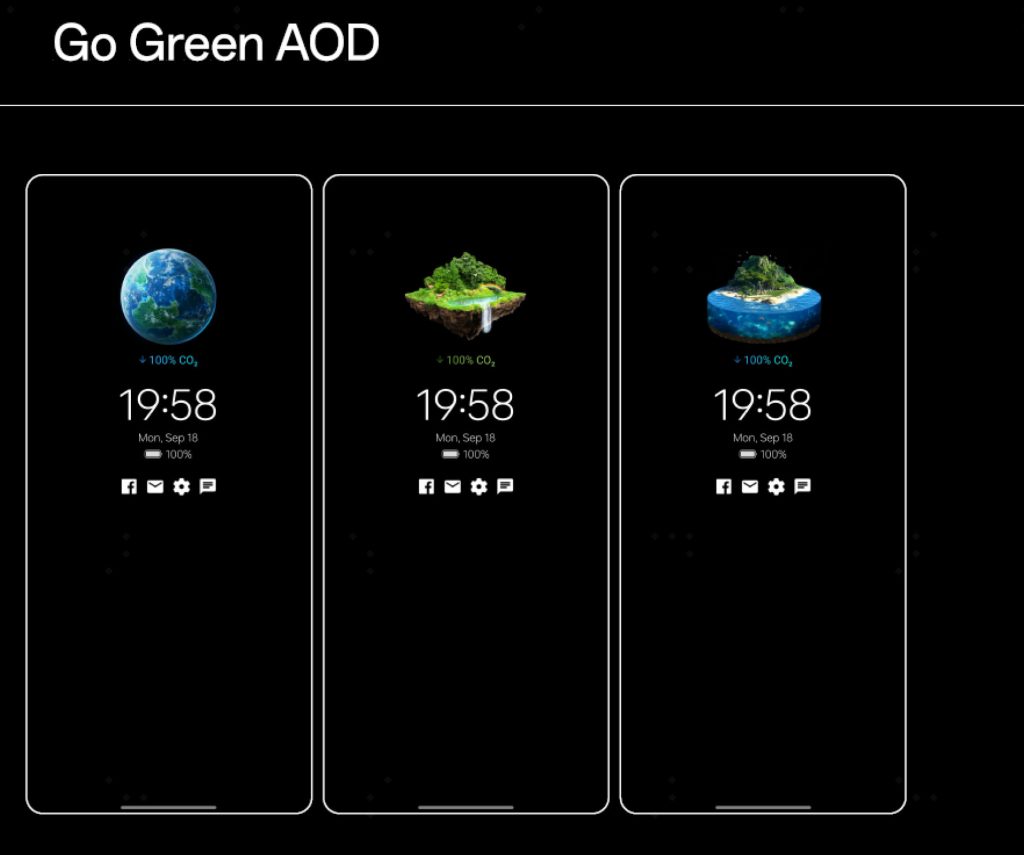 With Go Green AOD, it's easier for users to make more eco-friendly, healthier choices every day. The new carbon footprint AOD theme will change based on your daily step count, intuitively showing how more steps can lead to less CO2 and a better environment for our planet.
Enhanced Productivity and Immersive Entertainment with New Smart Features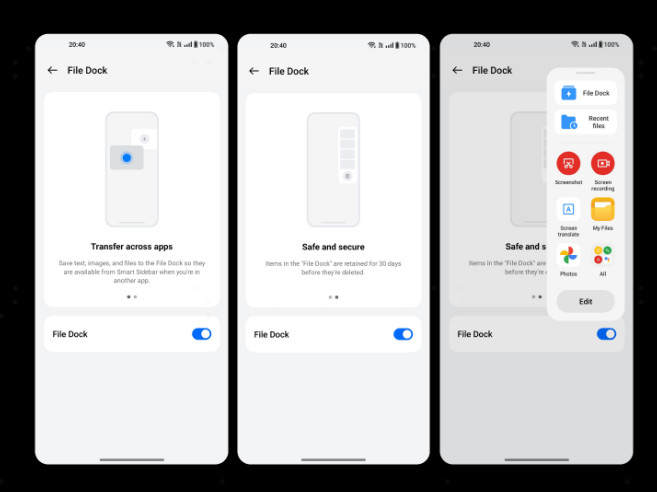 OxygenOS 14 provides a realm of smart and intelligent features to make life and work immersive and efficient. The File Dock feature enables collection, analysis, and sharing of global information through the Dock or other applications simply by making gestures. You can even use the collated content to work across different screens like phones and tablets by simply dragging and dropping.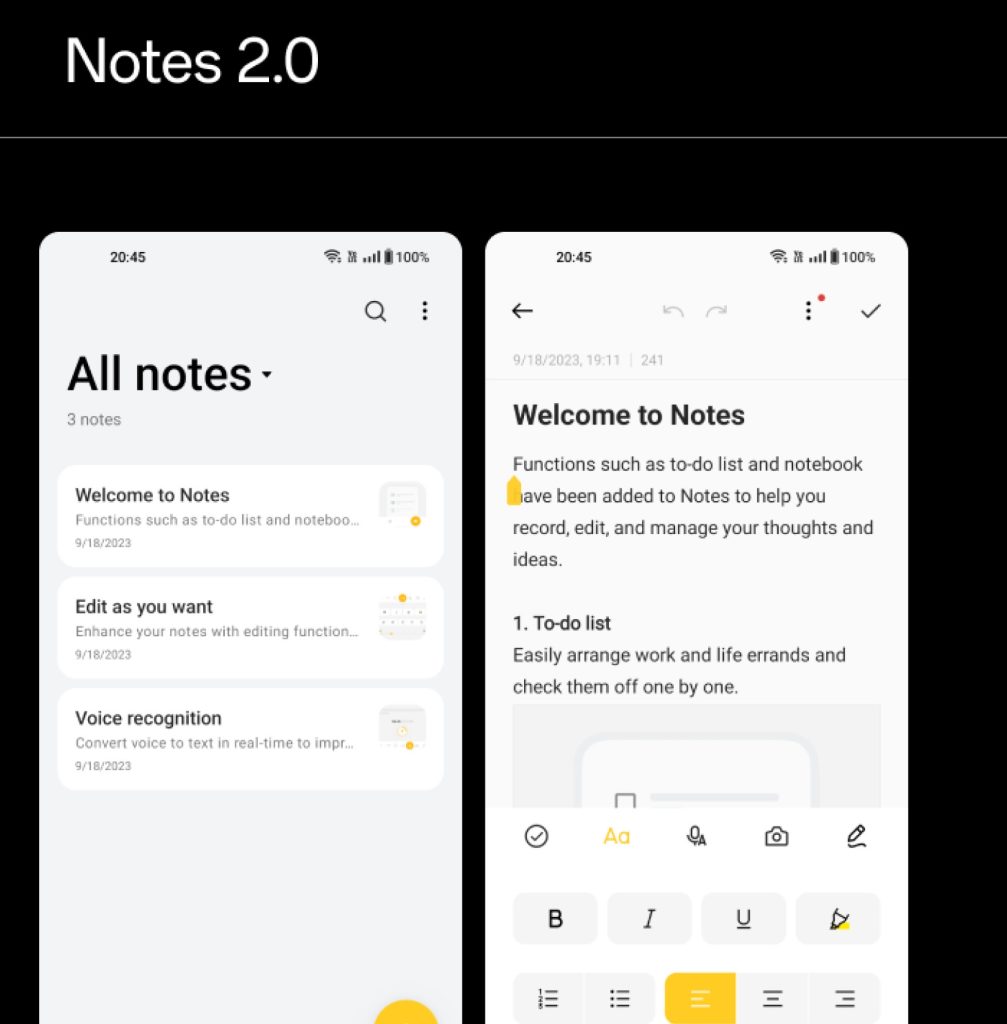 The Notes feature is also upgraded to enhance user experience by improving usability and providing more convenient, enriched, and intelligent editing capabilities on OxyegnOS 14. It now allows for various formatting options including colors, underlines, strikethroughs, and dividers. It can also create text templates by combining font sizes, styles, and colors for paragraphs, dividers, and more.
When using the same account, OnePlus phones and other devices like tablets running OxygenOS 14 can seamlessly connect to each other faster and more stable than ever before, and with much more intuitive operation. Once connected, you can not only share connectivity features between devices but also work across devices.
In addition, up to three subjects can be identified in a single photo and then cropped out for further creative fun by simply long-pressing the subject in a picture or video. The Smart Cutout feature is also able to accurately recognize and extract the subject from complex backgrounds, or background that shares a similar color scheme with the subject, or in group photos.
Availability
OnePlus has confirmed the OxygenOS 14 roll out for the OnePlus 11 5G first starting from mid-November. Other devices will get the update gradually. The company already confirmed OxygenOS 14 open beta update will roll out for several devices starting from October.
Commenting on the launch, Zach Lin, Lead of OxygenOS Product, said:
With OxygenOS 14, we refined user experience by providing a faster and smoother experience, more stable performance, more polished design, and increased productivity based on community feedback. With a range of self-developed underlying algorithms, OxygenOS 14 is one of the most intelligent software products in our history.